As one famous episode of South Park pointed out, it's easy to bash Starbucks, and sipping an independent competitor's brew does not necessarily equal moral virtue. Starbucks is clearly doing something right — millions of people line up to prove their brand loyalty every day.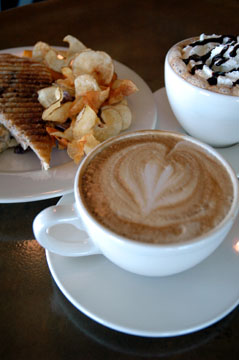 Opening a coffee and dessert shop in the climate of that near-slavish brand worship takes muy grandes cojones. And opening one just a few blocks from one of the 800-lb. latte-makers in question is just, well, possibly financial suicide. On the other hand, is anywhere more than a few blocks from a Starbucks these days?
The new Eurotazza Coffeehouse in Camp Bowie's Village shopping center offers the usual caffeine kicks — cappuccino, espresso, brewed coffee, hot chocolate, hot tea, and iced coffee confections as well as gelato, cakes, cookies, breads, and a small dinner/lunch menu that changes periodically. Everything but the coffee and the gelato is prepared by Bistro Louise, a restaurant-caterer that has entered into a partnership with the newcomer, partly in the hopes of making a dent in the dominance of chains around here, from coffeehouses to, yes, restaurant-caterers.
Championing small businesses often sounds like pleading or requesting pity patronage. But in the case of Eurotazza, leave your pity at the door. The food on a recent visit was delicious, highly affordable, and obviously hand-made, and the environment was suitably kicked back and drawing room-ish, with plants, couches, a fireplace, and a coffee table with magazines. And the coffee was comparable to the corporate cuppa joe that you're probably already spending five or six bucks a day for. This is America — why not let a small-business entrepreneur serve your legal addiction part of the time? After a while, exclusively patronizing one monolithic company starts to seem sorta commie, like Starbucks has become the equivalent of a state-owned business or something.
The chow from Bistro Louise is what really presents the alluring alternative here, however. One recent, scrumptious special was the Italian panini sandwich with brie and thick mushroom slices, served with curly, homemade sweet potato chips on the side. Panini bread is flat, chewy, and ribbed kind of like a griddle cake, making it the perfect foil for the gooey cheese and aromatic mushrooms.
The soup of the day was a hearty lentil spinach, almost like a chili with the signature tasty bitterness of the greens giving a nice edge to the rounder bean flavor. This made a nice accompaniment to the cheese tomato spinach quiche (assuming you love spinach), which had a soft pastry-like crust and sliced cherry tomatoes inside. The iced tiramisu latte was a diabetic killer in a cup — creamy, extravagant, and as ultra-sweet as the server warned, though he did promise to dilute it more if the sugar was overpowering.
Which brings to mind another nice touch at Eurotazza — the staffers, who were friendly and extremely attentive without seeming intrusive. Everyone's encountered at least one Starbucks' employee who's exhibited a little too much curiosity about your personal life while preparing your half-decaf venti latte. The smiles at Eurotazza seem relaxed, genuine, and not overly caffeinated. For a change of pace, bring your jones to these folks, and let them provide your fix.
 6323 Camp Bowie Blvd, Ste 125, FW. 817-737-EURO. Mon-Thu 6am-10pm, Fri 6am-11pm, Sat 7am-12am, Sun 7am-2pm. All major credit cards accepted.
Eurotazza Coffeehouse
Tiramisu latte $3.75
Italian panini sandwich
w/cup of soup $6.95
Tomato-spinach quiche $4.50