This year is all about change. First off, that sleeping panther. If he had any remaining hope of snoozing on a downtown street, we're putting the notion to rest. That cat is definitely wide awake. Second, take a gander at the list of nominees this year: Three years and four Music Awards ago, our ballot contained five bands in each category, and more than 80 percent of the entire ballot was taken up by groups from Dallas and, to a lesser extent, Denton.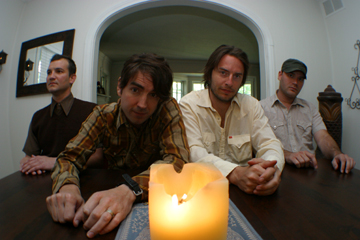 Well, lookie now: Not only has our ballot been primarily Fort Worth/Tarrant County-centric over the past three Music Awards, but this year's vox populi document is the biggest and most expansive yet. Categories have been added, subtracted, and changed, but that's not the big news. The most noticeable difference: With roughly the same number of categories, the list of artists has now reached an astronomical 100. And not just any 100 Fort Worth/Tarrant County (and occasionally Denton) artists, but 100 really good ones, bands and performers that our 12-person nominating committee (or "the people who help me and the other Weekly music scribes assemble the ballot") think are pretty darn good.
What explains the surge? It's hard to say. Scenesters who were around four years ago say that Fort Worth has always been loaded with talented artists but that audiences in Dallas and Denton were simply more receptive than the ones here. Another possible reason is that, well, as with other comparably sized cities, maybe there are simply more quality bands in town than there were back then.
Whatever the explanation, one thing's for certain: Geographic boundaries may not matter to any of this year's nominees, but for those of us who proudly call Fort Worth home, we're glad they're our friends and neighbors.
In addition to celebrating all of the hard-working guys and dolls who keep the music scene here buzzing, we're inducting another class into our Fort Worth Music Hall of Fame. A place for local artists who've transcended the "local" modifier but aren't necessarily household names in other parts of the country, the Hall of Fame now welcomes into the fold honkytonker Tommy Alverson; ax-men extraordinaire Stephen Bruton and Dave Millsap; Delbert McClinton, who was alt-country before alt-country was cool; and jam-band rockers Spoonfed Tribe.
We'd like to congratulate all of our Hall of Famers and also make sure y'all attend our 2006 Fort Worth Weekly Music Awards Showcase on June 25 — so big we had to spread it across four Sundance Square-area venues. We'll have ballot boxes at the event for last-minute votes. The event is free and features more than 20 bands, nominees all. If a panther is downtown on that fateful Sunday, you can bet he won't be sleeping.
ROCK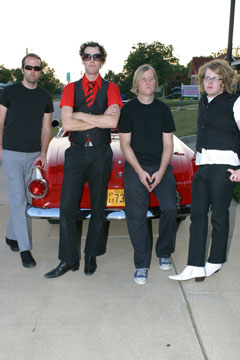 What do you think it says about our scene when none of the seven Rock nominees sound anything alike? Probably that "Rock" here ain't just of the "alt" variety (thank God). The four boys that make up Goodwin, last year's co-winners in this category with Hall of Famers Flickerstick, are radio-friendly but are too — how you say? — good to fit any commercially decreed "alt" format. The melodies, the '80s rock riffage, the stompin' beats — the Edge wouldn't know what to do with that stuff. Thundering New Wavers Black Tie Dynasty, however, are Edge darlings, but in the best sense of the term: 102.1-FM has given BTD's single, the dancy "Tender," a lot of corporate love, and deservedly so. It's killer. The '80s mod-rock mined by BTD's distant cousins Titan Moon comes straight from the Book of U2, all perfectly orchestrated atmospherics, the crash of tinny guitars, and cosmic vibes. In a similar vein but less sonically polished is The Color of May, a Joshua-based quartet that produces severely melodic pop-rock that'll shatter your kneecaps while melting your heart. At the crunchy-indie end of the spectrum is Modico, and all over the map is Calhoun, a band that frontman Tim Locke (Grand Street Cryers, Blue Sky Black, Coma Rally, Flickerstick) originally intended to be alt-country but that has become, well, a little bit of everything, including rock 'n' roll. — A.M.
LIVE BAND
Sure, there are local bands that put on transcendent, memorable shows that aren't bombastic, but c'mon: We're living in the oughties, the era of overwhelming spectacle — and the era of great competition for our entertainment dollars. Most of us work our butts off during the week, so when the weekend comes and we hit a club for a show, we don't necessarily want our hearts and minds engaged. We want our bodies rocked, and all of the nominees in this category satisfy. First of all, nothing says "wow!" and "getting your money's worth!" like brassy, sassy horns. JJ & the Rogues and Villain Vanguard do their best to blow concert-goers away — literally. The only pure rock band of the bunch, JustCause is one of the very few locals in the genre to try to take concert-goers on a ride, an experience full of highs, lows, and in-betweens. If boot-scootin' is more your thang, then you can't go wrong with The Insiders, the house band at The Pearl in the Stockyards led by the Rueffer brothers, Reggie (who occasionally plays with still-going-strong country-western superstar Charley Pride) and Chad. By pumping out an amalgam of reggae, rock, and dub, Pablo and the Hemphill 7 is the only band in this category that can pull off the seemingly impossible: stroke your heart, mind, and dancing feet all at the same time. Of final nominee Darth Vato, all we have to say is, "Ain't no party like a DV party, 'cause a DV party don't stop!" No, seriously, every time this trio of "back-stabbing pinche gringos" (the band's words) plays its favorite local haunt, The Moon, the crowd of booze-soaked party people is so thick that if you're not dancing to DV's Sublime boogie (har, har), more than a few stray elbows will find your chin. — A.M.
SONGWRITER
Most of the time, the songwriters whose music can't be easily categorized are the ones that a lot of other songwriters want to emulate. As if breaking the rules automatically equals good music. Hint: It doesn't. Actually, writing a catchy 3-to-4-minute pop song is pretty friggin hard. Exhibit A: Stephen Pointer. While the young TCU alum pens wrenching countrified tunes and can rip a mean lead guitar line, he's a proud card-carrying member of the Texas Music revolution — as you can imagine, he and his fellow revolutionaries prefer straight talk over experimentation. Exhibit B: Jason Eady. Though he's more Steve Earle than, say, Pat Green, the youthful cowboy poet also belongs to the Texas Music family. Finally, Exhibit C: Nuwamba. The smooth R&B musician is unabashed in his desire to become "the male Erykah Badu." As for the rest of the nominees here, they're all uncategorizable and, yes, excellent: Calhoun frontman Tim Locke churns out what he half-jokingly refers to as "crisco" (country-disco); The February Chorus' Brandin Lea melds operatic vocal melodies with ominous rock; Bosque Brown's Mara Lee Miller sounds like a ghost from the Old West; and Chatterton's Kevin Aldridge serves up his frequently morose-slash-absurd lyrics on a bed of rollicking '70s FM-radio rock. — A.M.
---
ARTIST OF THE YEAR
While the nominees in this category represent different genres and sub-genres (which bodes well for the scene's diversity, right?), they all have one thing in common: They ain't afraid of hard work. With the exception of R&B singer-songwriter Nuwamba, whose frequency of performances around these parts is limited by a lack of R&B-friendly venues, every one of the nominees probably spends as much time onstage or in the studio as at home. All of them have also been around for a while, and they're probably still thriving due to their dedication to the craft of music — making it, performing it, and promoting it. Look at how each performer has progressed over time: Black Tie Dynasty started out a couple of years ago as a respectful, tasteful New Wave cipher — today frontman Cory Watson and company can legitimately lay claim to having sculpted one of the most original anti-pop pop sonic thumbprints around. Same with Calhoun, a band that's gone from straight-up alt-country to something else again, and Triple-A rockers Green River Ordinance, whose knowing approach to a worn genre is way beyond the band members' median young age. The three remaining nominees are all on the country side of the dial, but to say they share the same wavelength would be awfully misleading. Stephen Pointer is Texas Music, plain and simple, and, while both Bosque Brown and The Theater Fire hark to old-timey folk-country noir, TTF has as much fun conveying shifts in mood as getting your toes a-tappin'. Mara Lee Miller's band, on the other hand, would rather pluck acoustic guitars softly, slowly, and ominously — before you know it, you've been seduced into its shadowy, dreamlike embrace. Some of the nominees have also experienced notable success over the past year or so. Bosque Brown received a rave review in Entertainment Weekly, Green River Ordinance got to open for Bon Jovi, and Black Tie Dynasty is getting some airplay on the Metroplex's only alt-rock radio station, The Edge. Getting there is half the fun, and bright lights ain't everything, but there's nothing says we can't toast the folks who've crept a little closer to the big S-word: success. — A.M.
MALE VOCALIST
The cool thing about men who sing — be they solo artists or band frontmen — is that they've overcome that silly suspicion that there's something, well, unmanly about expressing emotions under the spotlight. The male ego can scarcely get a better rub than being praised for its thenthitivity. Androgyny has always been a rock 'n' roll mainstay, and although vocalist-guitarist Chris Hardee of Alan doesn't wear eyeliner or fishnets, he does employ a sweet alto that contains more than a dash of preadolescent male heartthrob. Hardee is also probably the only frontman around who can send his voice above his band's powerful racket — without the help of a microphone. Like Hardee, Brandin Lea's also got a huge set of pipes. Most of the time, he puts 'em to use as frontman for long-time alt-rock heavies Flickerstick. But he also gets a good workout singing with The February Chorus, a channel for his solo stuff. His voice is particularly effective within the vampirish chamber-orchestra creepiness of TheFebChor's groove. Genius Tim Locke — the guy with the Lennon-McCartney-esque songwriting ingenuity — is currently riding high with Calhoun, and he makes the most of every note on his band's recent, outrageously good eponymous full-length. A lot of Locke's songs sound as if they're being sung in confidence to each listener. Nuwamba, meanwhile, is all about masculine grace — a hip-hop-flavored, Al Green-ish approach to dreamy balladry and keep-it-real chronicles of black manhood that suggest a level of sophistication far beyond his years. Speaking of ballads, Fort Worth-raised Stephen Pointer brings a laser-like focus to all of his tunes, especially ones about heartache and loss. He's often more richly emotive than the previous year's Academy Award winner for Best Actor. The short video of John Price's plainspoken environmentalist anthem, "Who Messed With Texas?," has received heavy play on local NBC-5. But the entire song, not just the 30-second spot, is a slight deviation for the young, lyrical melody-maker but everything you'd come to expect from him. Lastly, Sean Russell, whose carefully crafted Triple-A tunes betray something of a studio-nerd mentality, scored a hit with the Britpop-inflected "Tattoo" from last year's Big Music From the Dallas/Fort Worth Metroplex compilation. A snarky condemnation of body art as rebellion, the song perfectly embodies Lisa Simpson's observation that tattoos are nonconformist … in a conformist kind of way. — Jimmy Fowler
ALT-COUNTRY
The simplest definition of "alt-country" is: too traditional, too reverential, too knowledgeable of the genre's roots to ever be programmed, and thus too capable of upending the listener's expectations. With their upright bass and chatty mandolin, 100 Damned Guns perfectly define their tuneship as "insurgent country mixed with bluegrass." A song like "Put Me In the Ground," a gospel-flavored celebration of death as the ultimate break because the singer's "been running so long," has sharper electric guitar lines than your average pure country or bluegrass exercise. There's no young band on the local, national, or international scene that sounds quite like Bosque Brown. Frontwoman and primary songwriter Mara Lee Miller seems to have snatched some of the Carter family's groundbreaking genetic material, with her flat, lonely, so-artless-it's-artful singing and sharp, moody lyrics. We can't deny it — there's something about Joey Green's sensual, bad-boy sneer that sets our heart racing faster than a lovelorn teen's ticker. On tunes like the Velvet Underground-ish "The Cheating Kind," he and his band Defining Briscoe prove that "country punk" is not an oxymoronic label. Fort Worth scenester Phil Pritchett, who long ago decided he loved Tom Petty and Elvis Costello too much to surrender completely to Nashville's stylistic tics, keeps on championing his own brand of country pop-rock. And anyone who can sing onstage while wearing sunglasses and not look like an ass must have some real chops. The lavishly lauded Collin Herring can indeed pull off such rockstar clichés because, well, he's Collin Herring, a young, hell-raising singer-songwriter filled with enough hurt, somber melodies, and hard-charging guitarwork to choke Uncle Tupelo, Son Volt, and Wilco put together. In an era in which fast, loud, and urgent seems to rule the radio, the duo known as Quaker City is not afraid of the adjective "folk." Indeed, lead singer Kree Davis, with her plainsong approach to interpreting a lyric, proves that lilting doesn't have to be lazy. With its recent and supremely accomplished full-length album, Everybody Has a Dark Side, The Theater Fire continues along its own dusty gothic-Western path. What every other nominee in this category decidedly lacks is TTF's casual mix-and-match mastery of Americana, zydeco, '60s R&B-pop, and even a hint of show tunes. These folks relish being hard to label, but we keep on trying. — J.F.
---
AVANT-GARDE/EXPERIMENTAL
The term "avant-garde" can be literally translated from the French as "vanguard," meaning people who lead the way in a particular art form. Mostly it's just used nowadays to express an approving "We don't know what the hell they're doing, but we like it" opinion. Best FWends, two nutty mo-fos who keep their personal histories deliberately obscured, are proof that "avant-garde" isn't always humorless. Frantically gathering together the best sounds and motifs from disco, video-game and movie soundtracks, electronica, house, and novelty pop hits, these FWends still haven't worn out their welcome. Sebastien Lupus, Nicholas Greenback, and Bob the Phantom Shopper perform together as The Blonde Girls, and the name is a subtle indictment of our lust for all things golden and curvy. But there's nothing ironic or sarcastic about the trio's crashing, ear-splitting, and occasionally perfectly orchestrated noisefests. The name Eaton Lake Tonics comes from a misunderstanding of the word "electronics" in an Old 97's song. Lead singer and co-songwriter Domenic Ferraro claims that he and his band, in fact, are inspired by accidents and misinterpretations, although the bands that Ferraro loved as a kid — The Dave Clark Five, The Zombies, The Turtles — come through loud and clear in ELT's sound, but with a slacker twist. Taco stands, disgruntled bears, camera-stealing pigs, fruited gum — the characters and imagery that Eric "Fishboy" Michener sings and strums about in his super-earnest little-kid voice would not be out of place on one of the children's albums recorded by They Might Be Giants. An unabashed acolyte of TMBG, Fishboy creates free-associative folk for the obsessive-compulsive. Neil Diamond and Weezer, The Beatles and Chicago — these are the polarities between which Handclaps and Harmonies cheerfully swing. They also employ an angelic choir and as a result are probably sick of being compared to The Polyphonic Spree. But H&H, who share members with Eaton Lake Tonics, have ventured into a roughly similar territory of feel-good, '70s-inspired ear candy that's just a little off-kilter to keep you listening. Brack Cantrell and Lee Duck both identify the word "noise" as a musical talent. This duo known as sky eats airplane proudly makes what they call "Texas electronicore," music that slips in and out of sonic Armageddon even as it dares your ears to stop listening. Think of it as an apt soundtrack for the disaster movie about the horrors of global warming. "Bipolar" is the best description for Tame … Tame & Quiet. With one member wanting to rock harder and the other refusing to let the sound of his own wheels make him crazy, TT&Q sometimes conducts quarrels within single songs, switching tempos and time signatures and moods without a care for that hobgoblin known as "traditional tuneship." — J.F.
FEMALE VOCALIST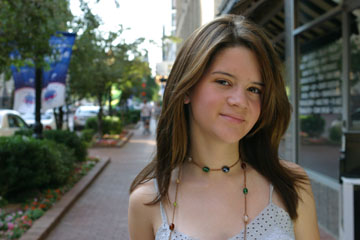 If the Weekly sometimes appears to heavily favor the city's male musicians over the females, it's because the boys waaay outnumber the girls on the scene. But following are uniquely able women who don't mind jumping in and messing around, especially where matters of the heart are concerned. Sara Donaldson might best be summed up as a "multi-hyphenate" performer — there's apparently little in the way of music that she can't sing, pluck, or play. This formally trained singer-songwriter has a crystalline voice that's equally at home within witty jazz phrasings or somber chamber-esque pop pieces. Bosque Brown's Mara Lee Miller might be the anti-Donaldson — self-taught, eccentric, and totally unconcerned with the traditional notions of vocal beauty. But there's no voice, male or female, that can haunt you as effectively as Miller's. The great Shemekia Copeland is the enfant terrible of American female blues vocalists today, yet Miss Kim (née Kim Pierce) can easily match shouts and 'tudes with the popular songstress. The daughter of the late Texas blues storyteller Lady Pearl, Kim is continuing mama's bizness with fine flair. Teen beauty Maren Morris is a tiny hurricane of blue-eyed soul. When she starts belting out the sorts of growls and moans that made Lou Ann Barton a Lone Star legend, you almost can't believe your ears. Along with bandmate Daniel Katsuk from A-Hummin' Acoustical Acupuncture, the dynamo known as Precious will soon relocate to the finer climes of Colorado. With her ability to sound grand and simple at the same time against AAA's tribal rhythms, Precious will be sorely missed around these parts. Lubbock-born Beth Wood has slowly been building a fan base across the South — she regularly fills clubs in Atlanta, where they particularly love her diaristic-folk take on life, love, and the blues. Wood pulls off the very difficult trick of sounding personal but not self-involved or ponderous. The Initials, a new jazzy outfit, couldn't have plucked a sweeter rose from anonymity than Christian Williams, a lovely young newcomer whose plaintive, soulful, sexy pipes would make Norah Jones blush. — J.F.
SONG OF THE YEAR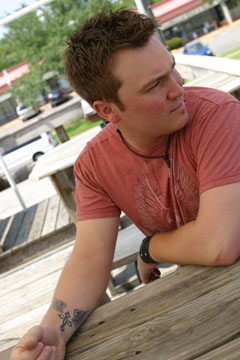 Remember: You don't have to be a great artist to make a great song. Being supremely talented doesn't hurt, of course, but a true stand-alone, fantastic tune is often a combination of luck, timing, and the chemical interaction between what the musician has to offer and what the listener wants to hear. Dentonite Fishboy is the reigning folkie Dadaist in North Texas, and he had to have generational sentiment in mind when he penned "Cheer Up, Great Pumpkin," a goofy but oddly poignant ditty that makes fantastic use of a children's choir. The neo-soul singer-songwriter known as Nuwamba is outspoken about his reverence for the late Marvin Gaye. Nuwamba's voice is deeper and grittier, but he's every bit the socially concerned romantic typified in his luscious tune "Forever." "Heartbreak" could double as a one-word summary of Stephen Pointer's artistic sensibility — no one 'round here does it better. Americana subversives The Theater Fire aren't generally known as a frisky outfit, but "These Tears Could Rust a Train" starts out darn close to peppy. Then that melancholy acoustic rhythm guitar line kicks in, and you've got another one of their mysterious, elegant, rustic reveries. With cymbals crashing like sea waves and an ominous primal drumbeat bashing along in the background, Bosque Brown's "Israel" is part countryside wake, part revival meeting, and all nameless yearning as Brown keens about the promise of sweet rapture she fears may never come. Probably the only jazz protest song to come out of North Texas, "Love's Bitter Rage" by Jhon Kahsen (né Johnny Case) pulls the interesting trick of being both harrowing and ornate, sometimes at the same time. — J.F.
---
FOLK/ACOUSTIC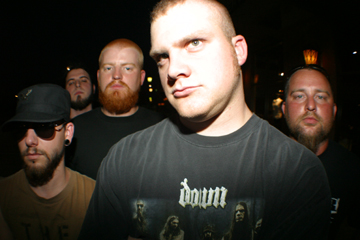 Last year's Artist of the Year, A-Hummin' Acoustical Acupuncture mixes folk, funk, rock, and Eastern and Celtic flourishes into what leader Daniel Katsuk calls "shaman soul music." The band's percussion-packed performances often rapidly turn into tribal events, tapping into the headlong rush of a Grateful Dead show but churning out beautiful music that's never sloppy. Cadillac Sky's sound is steeped in, but not mired in, the pioneering bluegrass music of Bill Monroe and Flatt & Scruggs, the more modern strains of New Grass Revival and The David Grisman Quintet, and other influences, including The Beatles. Still a relatively young band, Cadillac Sky already has songs that have been recorded by George Strait, Kenny Rogers, Mark Wills, and Neal McCoy. Lost Country finds its inspiration in honky-tonk, R&B, pre- and post-war Western swing, blues, boogie-woogie, country-rock, and, yes, folk. Along with David McMillan, Jim Colegrove, a founding member of the Fort Worth institution the Juke Jumpers, began building the band in 1998 and hasn't stopped since. Brothers Adam and Darrin Kobetich, who both spent 10 years in the experimental metal-and-banjo band A Million Pounds, started Electric Mountain Rotten Apple Gang about a year ago. Their influences range from campfire jams at the Kerrville Folk Festival to traditional bluegrass, the Everly Brothers, Charles Mingus, Bad Livers, Frank Zappa, and a whole helluva lot more. Three highly diverse performers round out this category. Aaron Sandoval began learning guitar at age 16 to deal with the grief of his grandfather's death and uses the stage to share stories as well as music. The Josh Weathers Band mixes '70s funk with '50s pop and has a tight, groove-oriented sound. Poor Rich Folk can simply be described as "spiritual." — Tom Geddie
BLUES
All five nominees, including last year's winner, James Hinkle, are familiar faces in this category. Hinkle grew up in Fort Worth learning the music of Freddie Cisneros, Sumter Bruton, Doyle Bramhall, Robert Ealey, and U.P. Wilson before going on the road as Marcia Ball's guitarist. His recent album Straight Ahead Blues? veers, in the best Fort Worth tradition of border-free music, into jazz, New Orleans-style R&B, and even early rock. Like Hinkle, Holland K. Smith pretty much ignores nicely defined musical boundaries while remaining rooted in the blues. Smith, an incendiary, inventive guitarist and vocalist, also mixes into his sound a lot of rockabilly and swing. Ray Sharpe — as much rockabilly as he is the blues — is one of the legends emulated by the rest of North Texas. Sharpe's "Monkey's Uncle," first recorded in the late 1950s, helped define the twang-heavy thread of rock 'n' roll. Sharpe's songs also have been recorded by musicians ranging from Neil Young and Rickie Van Shelton to swamp guitarist Danny James and bottleneck master J.B. Hutto. (Trivia: In 1966, Jimi Hendrix played guitar on two of Sharpe's recording sessions produced by King Curtis.) As for the final two nominees, Paul Byrd is still doing his B.B. King thing, and you haven't seen a more energetic show (replete with high kicks) than Miss Kim and her BTA Band. — T.G.
JAZZ
Last year's winner, Confusatron is once again the frontrunner in this category. Since forming a couple of years ago, the funk-jazz outfit just keeps getting better. They've evolved over the years from a straight-ahead-jazz cover outfit to a tight improvisational group that is as at home in small, elegant clubs as in the Wreck Room. Bertha Coolidge is a pedigreed, self-described "Texas garage jazz" band that honed its progressive, contemporary sound at Sunday night jams at Black Dog Tavern. Joey Carter (percussion, vibes, organ, piano), Paul Metzger (guitars), Aden Bubeck (electric and acoustic bass), and Rich Stitzel (drums) don't perform as much as they once did (Stitzel now lives in Chicago), but when they do, it's the can't-miss event of the season. Caffeine Chemistry jokingly describes its music as "African blues, Caribbean children's classical, country-electronic folk, traditional industrial jazz, Latin march, Middle Eastern military musicals, New Age novelty R&B, soul-rap and hip-hop reggae, and religious and devotional rock, pop theme music, and world fusion." Whew. Just understand that when they play, jazz predominates. In the tradition of Fort Worth native Ornette Coleman, The Mike Arnold Jazz Company goes after free jazz, and both the Dave Karnes Trio (sometimes bigger than a trio, but who's counting) and the 20-piece Jazz Monsters Big Band focus mostly on pre-fusion, straight-ahead standards. Berklee College of Music-trained drummer Karnes, co-chair of Fort Worth's Rock Camp U.S.A., also fronts Dave and Daver — if you've ever tuned into the only all-jazz station in town, KNTU/88.1-FM The One, or used to hang out at the Moon on Wednesday nights, you know the band we're talking about. The only local jazzbo whose stature as both ambassador of jazz and musician is larger than Karnes' is Jhon Kahsen's. Frontman of the long-time house band at Sardines Ristorante Italiano, Kahsen also delves into sonic art, and he began his career as one of the youngest Western swing pianists in the country. — T.G.
TEXAS MUSIC
With a soulful, introspective teen-age girl as one of the leading contenders in this category, some of the old boys here better be ready to check their machismo at the door. Just what the heck is "Texas music," anyway? For the moment, let's call it singer-songwriter stuff that leans toward country (but not country-pop) and has folk roots (without any prissiness). Lyrics count, and sometimes, among the rowdier practitioners, so does beer consumption. Maren Morris, who celebrated her 16th birthday in April, isn't into the beer thing. She's just a solid, serious songwriter who's had a huge voice since she was 12 or so. Ranging across country, pop, and the blues, she actually makes you think she's lived the decades of pain in "Walk On," the title track of her first full-length album. Brad Hines has been hanging around Fort Worth for a long time, hosting an open mic at the White Elephant Saloon, gigging wherever he can, and getting better however he can. Common themes in his country-folk music are redemption for a misspent youth and wanting a second chance at love. Jason Eady ended up in town after being raised in Jackson, Miss., and spending some time in the Air Force. Steeped in the tradition of Steve Earle, Townes Van Zandt, Guy Clark, John Prine, and Kevin Welch, Eady certainly ain't your typical Texas Music rabble-rouser. The Kyle Bennett Band blends Texas country and Southern rock, while scene veterans PrinceRodriguez — Jeff Prince and Phillip Rodriguez — describe their music as "country-rock-gospel folk-crap — but good." The other two nominees, upstart Stephen Pointer and the semi-traditional five-piece Unwound Band, have strong TCU roots. — T.G.
---
COVER BAND
The evil yin to the original artist's ethical yang, the cover band provides a valuable service to both club owners and live music fans. Cover bands (the good ones) almost always get nightclubs' cash registers a-ringin' while also providing a much-needed diversion from the seriousness that permeates a lot of joints. Child O' Mine harks to probably one of the best hard-rock bands of all time, Guns N' Roses (pre-dreadlocked Axl Rose). Granted, Fast Freddy's in Arlington isn't The Roxy Theatre (circa 1987), but with their sweaty leather duds and flowing scarves, Child O' Mine will transport you to the days of riding the Night Train while dancing with Mr. Brownstone. Similarly, Me and My Monkey resurrect the Beatles all the way down to the Vox amps and Rickenbacker guitars. Poo Live crew may have the worst name of all the nominees, but this trio does everything from '80s rock to, yes, tongue-in-cheek gangsta rap — and well. Velvet Love Box takes Poo a step further by adding certain, VLB-specific touches. Some VLB renditions of popular tunes may not even resemble their source material. The band's request chart, which sits in front of the stage at every show, attaches dollar amounts to certain famous songs. "Freebird," for example, costs $1,000. The chart is essentially the band's way of saying, "We're not playing 'Freebird,' so don't request it, you moron." Rounding out this category are the Prophets of Rage, an homage to revolutionary rockers Rage Against the Machine. — Justin Press
WORLD MUSIC
This category is filled with Latin sounds — plus Brothers 3. Mark, Tom, and Tim Menikos and friends focus on Celtic songs, music from their own Greek heritage, and other world traditions. Everything is funneled through standard instruments and synthesizer. Lazzo is straight-up Tejano, with Jorge Zarate on lead vocals and bajo sexto, Richard Cantu on accordion and back-up vocals, Raul Garcia III on saxophone and keyboards, Ely Gonzalez on drums, and Arturo Cavazos on bass. They gained national and international exposure on The Johnny Canales Show and regularly play venues from the Southwest all the way to Washington state. As a senior at Northside High School in 1975, Carlos D. Saenz began Latin Express, adding his brother Leo four years later. Perennial favorites in the Live Band category, the six-member Express has a sonic foundation of trumpet, trombone, congas, drums, bass, tenor and alto saxes, keyboards, and, of course, vocals. Latin Express played at the presidential inaugural ball in Washington D.C. in 2001 and frequently gigs in Fort Worth and across the United States. Amistad band leader Ramon Maldonado cites Linkin Park, Nine Inch Nails, and Celso Pina as influences, the ones responsible for making Amistad sound like, in his words, "a bunch of crazy-ass Mexicans who just robbed Guitar Center and Hot Topic for all they had." Los Maquinistas del Norte are old-school (yes, the band members wear those awesome flashy outfits), and Dia de los Muertos, the side project of A-Hummin' Acoustical Acupuncture frontman Daniel Katsuk, has a Latin feel but is so much more, including Middle Eastern, folk, and trance. — T.G.
ALBUM OF THE YEAR
A great album doesn't have any "filler," obviously, but more than that, the songs should be arranged to flatter one another and build momentum and dramatic tension. Few people listen to an album from beginning to end nowadays. But a truly exceptional recording makes you feel as if you're missing a great experience if you don't. The marketing label "neo-soul" is attached to warm, light jazz-R&B that can also be icy enough to keep your Cristal cold. Where Nuwamba departs from his colleagues in the genre is in injecting a gutsy blues undercurrent into the electronic beats and soft-color synths. Above the Water is a masterful saunter through the city, love, and life, with its feet firmly planted on the pavement. Sometimes an artist doesn't startle for her maturity and sophistication but for the unique sense of inspired naiveté and innocent beauty she conveys. Bosque Brown Plays Mara Lee Miller sounds like it could've been recorded by the ghost of a Tennessee sharecropper's 12-year-old daughter, singing to comfort herself about the miserable life behind her while eagerly searching for the door that leads to paradise. Our admiration for The Theater Fire is no secret, and Everybody Has a Dark Side backs up the accolades that have come TTF's way. Brooding and dark yet often lighter-than-air, TTF's second full-length is basically a masterstroke of old-world brilliance in a novel contemporary vernacular. One guy whom everyone should keep an eye on is singer-songwriter Jason Eady — and not just because he's handsome enough to bag a multi-million-dollar deal with the looks-obsessed Nashville suits. From Underneath the Old is a collection of highly literate country-folk gems whose surface modesty gives way, after repeat listenings, to a reflective power and musical grace that few of those guys with the mega-marketing campaigns could muster. Long Gone Thrill by Lost Country is another indictment of Music Row's perverse preoccupation with bared navels and muscle shirts. Mixing blues with country, rock, folk, and pop, long-time scenester Jim Colegrove and company have created what truly amounts to a cohesive genre-busting piece of polycarbonate. Top Secret's … shhh was assembled, piece by piece, over the course of a couple of years by maestro and former Pablo and the Hemphill 7 bassist Marcus Lawyer. From random, unique licks laid down by some of Fort Worth and Dallas' finest musos, Lawyer built a gorgeous Frankenstein, one that doesn't have two left feet and isn't afraid of dancy-jazzy-instrumental rhythms and melodies. One of the most accomplished discs in this category is Stephen Pointer's Sixes and Sevens, a collection of countrified tales of woe told in Pointer's Texas Music-inflected, almost-perfect masculine tenor. — J.F.
HARD ROCK
Though the hard rock scene around here has been in the doldrums, you wouldn't know it by the diversity of this category. Here we have indie-metal (Incendiary), Southern-fried Sabbath-esque metal (Legends of the South), blues-metal (the cut*off), shag-carpeted-van metal (The Me-Thinks), punk-metal (The Gideons), gothy-glam metal (Voigt), and, yes, metal-metal (Within Chaos, formerly Necrogazm). All of the nominees, we can unequivocally say, are tops in their sub-genres. We'd also like to extend a hearty "welcome back" to The Gideons, a Fort Worth punk band that years ago helped found the vibrant overall scene we have today. — J.P.
---
RAP/R&B
You'd never know that hip-hop is thriving in the Fort, and for good reason: To see a good show or buy a local c.d., you'd have to leave the beaten path for territory that's not too friendly to outsiders. But believe the hype. The frontrunners here are undoubtedly PPT. Made up of North Texas rappers Pikahso and Picnic with last year's winner in this category, Fort Worthian Tahiti, PPT went big time last month when their song "Rowdy, Loud, and Proud" won a popular vote contest to become the Dallas Mavericks' fight song. Hot on their heels is Nuwamba, the neo-soul crooner whose recently released Above the Water album is a nominee for Album of the Year. The rest of the nominees are gangstas but probably consider the term "gangsta rap" a pejorative. Smooth Vega, Playa Rabbit, and Immortal Soldierz have been around for a while now, and they're all gangsta-inflected but offer different, semi-jazzy, semi-funky takes on street life. Big Folk and 8-11 & Ph.d., however, take the technique of rapping in different shades of ominous monotones and make them, well, rowdy, loud, and proud. 8-11 & Ph.d.'s sophomore record, Line of Site, contains the wonderfully titled and crafted love ballad, "Let Me Split That." — A.M.
NEW ARTIST
The Greater Good is probably the most commercial-sounding of this year's nominees, but the fullness of their blue-eyed soul suggests there's more to hear than a nicely coiffed radio band. High School Assembly features ex-Yellabelly bandmates Ryan Higgs and Jon Carney, and they can certainly sate a jones for cream-and-gravel pop, replete with droning guitars, ample drums, and angst-ridden vocals. Speaking of secondary education, The Backhands' Brent Reiter and Jim Crye went to high school together, along with bandmates Ben Rhodes and Matt Thomas. Even though the band recently broke up, its reggae-and-pop-inflected groove-rock deserves kudos. The Burning Hotels seem to drink from the same well as earlier watershed acts The Clash, the Minutemen, and Gang of Four, to name a few. The buzz that broke out before the Hotels' first gig was not just hype. Bands twice the Hotels' age aren't nearly as tight or able. The Fellow Americans, rising from the ashes of the Rio Grande Babies and with the addition of singer-songwriter Jeff Price, dip a little further into the rich garage-band legacy, with nicely structured punkish rock anthems. A little closer to the singer-song writer vein, The Joe K Experience's Joe Kirkland regularly performs solo or with backing musicians, even though in the studio the young turk plays every instrument — and well. Lastly, Wonderful Façade is a folk-ish trio whose individual musicians have logged lotsa time on local stages. — Tom Urquhart
ROCK SONG OF THE YEAR
Black Tie Dynasty seems to have a leg up on the competition in this category — The Edge has given "Tender" a lot of spinnage. But don't count out Chatterton's heart-wrenching "A Good Place to Start," The Color of May's melodic and bombastic "My Movie Morning," The Burning Hotels' straight-up mood-rocker "My New Romance," or Green River Ordinance's crystalline "Piece It Together." The two remaining nominees threaten BTD's potential gimme even further: Darth Vato's "Seven Seas" has become a singalong anthem at the band's always-packed shows, and Calhoun's "These Are the Dead Days" isn't just a great song, it's a great song penned and performed by Singer-Songwriter Rex, Tim Locke. — A.M.
ROCK ALBUM OF THE YEAR
Surprisingly but deservedly, our nominating committee made room for two albums released this past April, Calhoun's eponymous sophomore effort and Black Tie Dynasty's first full-length, Movements. They offer different takes on "Rock" but are equally brilliant. The Underground Railroad's sonic concept album, The Origin of Consciousness, is the dark horse of the bunch, followed by Fishboy's semi-funny, semi-serious tribute to his hometown, Little D (as in "Not Big D"). Straight-ahead pop-rock fans are left with a single choice, Green River Ordinance's moving, colorful The Beauty of Letting Go. — A.M.
2006 Hall of Fame Inductees
STEPHEN BRUTON
This singer-songwriter and guitarist and his family still run one of the oldest independently owned record stores in North Texas, Record Town near TCU, and the Fort Worth native has played with the likes of Bonnie Raitt, Delbert McClinton, Bob Dylan, Ray Wylie Hubbard, Hal Ketchum, Christine McVie, T Bone Burnett, Willie Nelson, Waylon Jennings, Patty Loveless, Jimmie Dale Gilmore, and Alejandro Escovedo. He got his break in the '70s, when he was asked by Kris Kristofferson to fill an opening in the C&W legend's backing band. Bruton's most recent full-length album, From the Five, is a genre-busting gem.
DAVE MILLSAP
This native Fort Worthian is a bad-ass guitar player and has shared the stage with some of the greats of rock, country, and the blues, including Bobby Whitlock, Steve Cropper, Chuck Berry, Bonnie Raitt, Vince Gill, Jerry Williams, Lee Roy Parnell, Albert Collins, Ray Sharpe, Robert Ealey, Bruce Chanel, Sam Meyers, Boz Scaggs, Hubert Sumlin, Stephen Bruton, Kim Wilson, and Joe Ely. Millsap also served as touring guitarist for fellow Hall of Famer Delbert McClinton in support of McClinton's Grammy-winning Live in Austin album (1989).
---
DELBERT MCCLINTON
Other than the fact that he's Delbert McClinton, this Lubbock-born/Fort Worth-raised country-blues-soul artist is currently experiencing a career resurgence. For a moment, forget his brilliant past: that he played harmonica behind blues legends Howlin' Wolf, Jimmy Reed, Sonny Boy Williamson II, and Bobby "Blue" Bland; or that McClinton's sweet harp is what you hear on the now-golden oldie from 1962, "Hey, Baby!" by fellow Cowtowner Bruce Chanel; or that McClinton taught John Lennon (yes, the John Lennon) how to play harmonica; or that McClinton's songs have been covered by Emmylou Harris, Wynonna, Vince Gill, Lee Roy Parnell, and Martina McBride, among others; or that he's won a couple of Grammys. For a guy who started his singer-songwriter career in his 50s, his latest release, Cost of Living, has as much kick and punch as anything you'd hear from an artist half McClinton's age.
TOMMY ALVERSON
When this long-time honkytonking stalwart started getting some commercial radio airplay a couple of years ago for his catchy complaint, "Una Mas Cerveza," everybody in the country-western scene essentially said, "Well, it's about damn time." Anybody who's anybody in Texas Music has at one time or another shared the stage with Tommy A, including Willie Nelson, Jerry Jeff Walker, and Ray Wylie Hubbard, along with "young'uns" like Robert Earl Keen, Pat Green, Charlie Robison, and Jim Lauderdale. Alverson's Texas Music Family Gathering is also fast approaching its 10-year anniversary.
SPOONFED TRIBE
For a local band to succeed is one thing. But for a local band to succeed for going on 10-plus years — well, that's just phenomenal. This tribal rock 'n' roll jam-band/out-of-body experience is one of the best of its kind in the country. Name a multi-disciplinary festival, and these guys have rocked it, from High Sierra to SXSW to Lollapalooza.