For Mahmoud Alafyouny, the North Texas man whom the government branded and jailed as a terrorist, freedom apparently has become just another word for nothing more to say.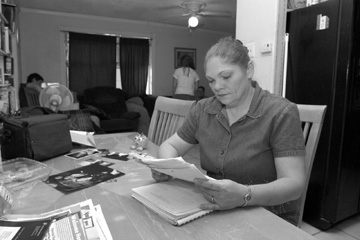 After keeping him locked up for more than two years, records show, the U.S. Immigration and Customs Enforcement agency released Alafyouny on June 2. The man whose major offense, according to the U.S. government, was raising small amounts of money for the Palestinian Liberation Organization in Jordan in the early 1980s, was considered too dangerous to remain free. Now the government appears to have changed its mind about that.
In the past, Alafyouny and his wife Rae, a federal security screener at Dallas Love Field, have openly talked about his case to reporters, as have his attorneys. Immigration officials also have discussed aspects of his case. Now that he has been released, however, no one — not the Alafyounys, not the lawyers on either side, not immigration officials, not even the American Civil Liberties Union — is willing to talk about the case. Further, they won't talk about why they won't talk.
What's more, although Alafyouny's lawyer referred to "terms and conditions" of his release in recent court papers, nothing publicly filed with the case specifies what those conditions might be.
Alafyouny came to the U.S. in 1996, applied for asylum, and married a U.S. citizen. He was placed in deportation proceedings after volunteering to immigration officials that he had raised small amounts of money for the PLO as a teen-ager more than 20 years ago. Based on that admission, the government accused Alafyouny of being an "alien who engaged in terrorist activity." He was subsequently picked up by immigration officials for deportation.
---
Alafyouny's wife has written letter upon letter to officials seeking Mahmoud's release. She first told his story to Fort Worth Weekly about a year ago. She's since helped a documentary filmmaker chronicle her husband's case. She helped the CBS Evening News do a story. But if you ask Rae Alafyouny today about her husband's release, she'll refer you to his lawyers.
Joshua Turin, the Dallas immigration attorney who apparently negotiated Alafyouny's release, has called his detention a McCarthy-esque farce based on no evidence that he's "ever done anything terroristic or threatened to." The Weekly tried to get Turin on the phone on the theory that, since he's won his client's release, he might have something to say about the victory. But Turin didn't return the Weekly's calls.
The normally talkative Judy Rabinovitz, senior staff council for the ACLU's Immigrants Rights Projects in New York, who appeared in the CBS Evening News broadcast about Alafyouny's case, also said she could not discuss the specifics of Alafyouny's case.
"We're glad he has been released, but we're still fighting his case," she said. "The issue is whether he will be able to stay [in the country]. The larger issue of what constitutes engaging in terrorist activities … involves many cases besides his."
Shane Reed, the assistant U.S. attorney who represented the immigration agency in Alafyouny's case, didn't return a phone call. Kathy Colvin, a spokeswoman for the U.S. attorney's office in Dallas, did, although it was only to refer questions to ICE's Dallas spokesman Carl Rusnok. "It's their case," she said. "It's a protocol thing."
Rusnok said the agency could not comment on Alafyouny's case because it remains on appeal. And he said the federal privacy act bars the agency from disclosing the terms and conditions of his release. Speaking generally, however, Rusnok said the agency sometimes requires people it releases to wear ankle-bracelet monitors or to submit to telephone monitoring or in-person reporting.
Even one of the Alafyouny family members told the Weekly that the couple has kept nearly everyone in the dark on the details of what might have been joyous news — his release.
Immigration officials obtained a final order of deportation for Alafyouny in April 2004 and, one month later, picked him up at the Mesquite tire store where he was working. A week later, Alafyouny challenged his deportation in papers before the U.S. 5th Circuit Court of Appeals and obtained a restraining order blocking his deportation until his case was resolved. The New Orleans-based appellate court, delayed in part by the aftermath of Hurricane Katrina, has yet to rule on whether the immigration agency can deport Alafyouny or whether he will be allowed to stay in the United States with Rae and her children.
As his appeal lingered before the appellate court, Turin filed another challenge to Alafyouny's detention, arguing that he should be released while the 5th Circuit ponders his case.
Then on May 19, U.S. Magistrate Irma Carrillo Ramirez of Dallas issued a ruling giving ICE 10 days to release Alafyouny or hold a hearing during which Alafyouny could present evidence showing why he should be released.
As the clock ticked on the judge's deadline, an attorney for ICE, which could have appealed the magistrate's ruling and kept Alafyouny in detention, asked for more time to "continue to discuss custody" with Turin, records show. A judge extended the government's deadline to June 15.
On June 5, Turin went back into court and announced that Alafyouny had been released three days earlier "on terms and conditions imposed by [the government] but agreeable to [Alafyouny]."
And there's no guarantee Alafyouny's freedom will last. If the appellate court rules in favor of the government, immigration officials might pick him up and place him in detention again while they attempt to carry out his deportation. That would leave Alafyouny the long-shot options of appealing to the U.S. Supreme Court or filing petition for release — and he might have to wait in detention for the outcome of either of those actions, as he did for the last two years.
During the period between the magistrate's ruling and the government's decision to let him go, the ACLU's Rabinovitz was still willing to do what she's not willing to do now — talk to a reporter about the case.
In an e-mail, she said the government could appeal the magistrate's ruling or decide "not to object to the recommendation and release him or give him an interview [in a hearing]." Granting Alafyouny a detention hearing is something the government had been unwilling to do, she said.
"He's been locked up for two years without a hearing about whether he could be released from detention,'' Rabinovitz explained. "It's a question of how much they want to fight," she said. "So far, that seems like what they want to do."