When he married Alicia Griffin last New Year's Eve, Scott Vernon — true to his independent inclinations — adopted her last name. Not surprisingly, the singer, co-songwriter, and guitarist for local rockers Sally Majestic is pretty adaptive.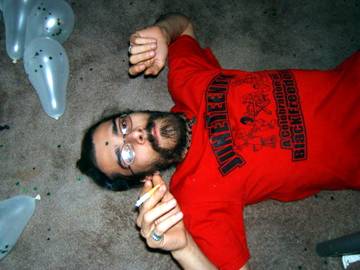 He plays several instruments, from the six-string to the drums, bass, piano, and, yes, the harpsichord, and he's proficient in a handful of musical styles, which means that even when he's not on stage or in the studio with Sally, he's on stage or in the studio with someone else. Good sidemen, as many local musos know, are hard to find.
Putting together his first solo album has been difficult, but Griffin's finally done it. Someone Like Me has been over a decade in the making.
The disc, he feels, is like "sharing my feelings. It's like publishing my journal, blurting my life out to the listener. It's a therapeutic process, and it makes me feel good to express that."
The music is a definite departure from Sally Majestic, and the lyrical content is also different. In Sally, Griffin, bassist P.J. Fry, and drummer Tim Cowdin churn out happy-sounding, fantastical tales of demented clowns and washed-up drifters. On his own, Griffin tackles real-life experiences, including the emotional fall-out from the recent birth of his son Escher, who arrived with severe complications.
"Music can be very uplifting," Griffin said. "It is very emotional, so it helps me connect to the source. It makes me cry, helps me calm down."
Sally and his solo stuff allow Griffin to satisfy his two strongest creative impulses: a calling to have fun that's so strong he says he has "no choice in the matter" and the need to express himself as an artist, humanitarian, and world citizen.
Someone Like Me's sound quality is nicely affected lo-fi, and the music falls somewhere between folk and country, direct links to Griffin's earliest musical influences. While raising three children single-handedly, his mother liked to flood the house with a lot of Alabama, Moody Blues, and Karen Carpenter.
Griffin doesn't plan to shelve Sally Majestic in any way, but he does want to round up some crack sidemen and play his solo material live. He admits he has high hopes. "Of course, every artist does want success," he said. "But really, I have some good songs, and I want to share them. So far, I have given away more albums than I have sold, but if it makes people happy, so be it. I do what I do to be the best. I just want people to listen to the songs. I'm not concerned about their judgment. I feel I'm about halfway as good as I could be. I have no desire to be a rock god, simply a truthful storyteller with a guitar.
"Everything is music," he continued. "Absolutely everything has a beat. It may need a human to design a melody, but everything is alive with music. I've never been so scared as now. I've never been so close to actually meaning it from the bottom of my heart."