Given that many aficionados of Vietnamese food love the cuisine's caffeine-spiky iced coffee with sweetened condensed milk, it was only a matter of time before someone opened a coffeehouse and pho shop — pho being the enticing noodle soup that many Americans appreciate as the quintessential Viet staple and with which millions of Vietnamese citizens begin and end their days.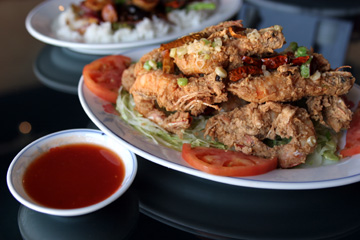 What's surprising about Lieu's Vietnamese Restaurant and Coffeehouse is the breadth and depth of its menu. Buttered fried frog legs and fresh clams steamed with lemongrass share the stage with iced black coffee, salty lemonade, and basil seed drink. And, oh yeah, there's also the standard seafood hot-pot soups, vermicelli bowls, and iconic beef phos to choose from.
The most interesting and satisfying selection at Lieu's turned out to be — hold your gag reflex, readers — the avocado shake. Lovers of the fleshy fruit who normally encounter it as guacamole should stop and realize that this confection makes sense: The full, round taste of the avocado actually does work wonderfully with sweet flavoring. The delicacy came in a chilled glass frappéd with heavy cream and including pieces of boba (the gummy candy bits popular in Vietnamese drinks). With each sip from the straw, the sugar snap hit immediately, followed slowly by the earthy avocado richness. It was delightful.
One of the biggest drawbacks to the meal could be summarized with this question: "Where the hell are they hiding the shrimp?" When a menu advertises items like shrimp spring rolls and vermicelli with grilled pork and shrimp, it's reasonable to expect that the lovable ocean bugs will make at least a co-starring appearance. There was one shred of shrimp flesh — not even one whole shrimp — in each of the spring rolls, which were otherwise nicely plumped with bean sprouts, cilantro, and paper-thin, pale pork slices. Similarly, only two medium-sized shrimp were included in the large vermicelli bowl, whose pork pieces had a wonderfully salty, roasted edge. These dishes dissatisfied only because they didn't deliver the sea fruit as promised; the other ingredients worked just dandy.
By far the best entrée proved to be simmered catfish in clay pot. Be prepared for a leisurely meal pace if you order this: The catfish takes more than 20 minutes to prepare, and it arrives at the table at a tongue-scorching temperature, so don't jump in too fast. The four filets were coated in a sticky brown hoisin-based sauce (hoisin is the sweet plummy condiment that's a predictable resident at every Vietnamese restaurant's table) that also had chives, fish sauce, and hot chile spices. The catfish was tender enough to eat with a soup spoon. Beware the tiny slivers of fish bones, though. Every bite had to be inspected before swallowing to avoid an unfortunate, noisy choking scene. But this simmered catfish was worth the time and the trouble.
Lieu's does a lot of things, from three-bean pudding to crispy salted squid, and it does most of them well if not always exactly as advertised. For a little joint hidden away in a strip mall, though, it has one of the most ambitious ethnic menus in the area. Stop on by for flavors that will surprise even the most jaded pho veteran. l
Correction
Contrary to what was stated in last week's review of The Covey ("Keg Stand-Out"), the restaurant does not serve caviar. Fort Worth Weekly regrets the error.
 Lieu's Vietnamese Restaurant and Coffeehouse
Avocado shake $3.00
Simmered catfish in clay pot $7.95
Vermicelli with grilled pork
and shrimp $5.95