Author and former major league baseball pitcher Jim Bouton once wrote that statistics are "about as interesting as first-base coaches." He has a point. First-base coaches are all about patting players on the butt, telling runners how many outs there are, clapping — basically, first-base coaches are cheerleaders.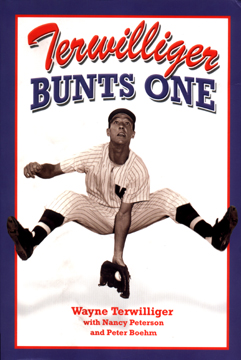 But Wayne Terwilliger isn't just any ol' first-base coach. As manager of the Fort Worth Cats independent minor league squad last season, "Twig" helped his team win the championship. This season, at the age of 81 and with 58 years of baseball under his belt, he decided to relinquish the day-to-day stresses of managing a team to focus on providing moral support.
In addition to knowing more about America's pastime than probably any other first-base coach in the world, Terwilliger also possesses way more entertainment value than stats. In Terwilliger Bunts One, the former utility man recounts his life, from World War II to baseball to hanging out with the greatest slugger of the day, Ted Williams. Co-written by Minnesota-based writers Nancy Peterson and Peter Boehm, who both knew Twig from his days of coaching the Minnesota Twins and St. Paul Saints, Terwilliger Bunts One pulls off a major sportswriting coup. By having no asses to kiss and no regard for who does or doesn't like him, Terwilliger lets the personal, captivating side of his public life shine through.
Even in something as traumatic as his time on the battlefields of Saipan and Iwo Jima during World War II, the former U.S. Marine manages to find some levity. He writes that occasionally after battle, the realization that he and his brothers in arms were still just "young horny guys" came on strong. They eventually created a way to "take care of business," 30 minutes of quiet time on Friday evenings. "Guys were probably doing this all over the world during the war," writes Terwilliger, possibly prophesying his future aptitude for management. "But I don't know whether anybody else had it organized like we did."
After the war, Terwilliger was drafted and signed by the Chicago Cubs. He got his first RBI by getting beaned with the bases loaded. He then played for the Brooklyn Dodgers with Jackie Robinson and for the New York Giants with Willie Mays, smacked a game- winning hit off Satchel Paige and played with Roger Maris in Kansas City. There's more. Twig's hitting coach was Rogers Hornsby. Movie and tv star Chuck Connors (The Rifleman) tried out for the Cubs in 1951 and pal'd around with Terwilliger during spring training. (They both liked horseback riding.) Twig played catch with a 19-year-old kid named Juan Marichal in the Dominican Republic in 1958, and he taught Twins' great Kirby Puckett how to ice fish during the 1990s. Every time co-owner of the St. Paul Saints, comic/actor Bill Murray, came to town to watch his team play, he partied with Twig.
Nearly every page contains the name of some celebrity, but Terwilliger never sounds as if he's bragging for no reason. His tone is matter-of-fact and not punctuated by any emphases.
Of all the stars here, Ted Williams gets the most ink, and deservedly so. The two had known each other from their playing days, but when Williams was named to manage the Washington Senators in 1969, he brought in Terwilliger as his third-base coach. Teddy Ballgame is the perfect quixotic leading man — always the center of attention, always tilting at windmills. And the little utility guy who couldn't hit very well (hence the book's title) was Williams' Sancho Panza.
Slugger Ted knows it all — when to hit and run, how to order steaks, even which domestic brand beer is best (Budweiser, not Schlitz). Williams also knows how to kill time on the road. In Cleveland one night, he and Sancho hit the "nudie movies" in individual booths. The best part, and the thing that seems to define the essence of both Terwilliger's autobiography and his life itself, is that he really is a relic from a bygone, less cynical era. "We'd watch for a while, and then he'd say, 'Hey, this one is not too bad,' so I'd leave mine and go over to his and watch that one for a while," Terwilliger writes. "We didn't stay there very long. Instead we went to the drugstore and had chocolate milkshakes."
They went to the drugstore and had chocolate milkshakes — after watching naked girls dance! What could be more American Dreamy than that?
Any fan of baseball will love this book and its more than 50 years of inside stories. But there's no doubt that non-fans will also find a lot to like about Terwilliger Bunts One. Like every other worker bee in the world, Twig busted his hump to get where he got. Sometimes he won. Other times, he lost. Through it all, he kept plugging away.
Terwilliger Bunts One
Globe Pequot Press
312 pps.
$16.95