"People on death row have better medical treatment than these women. After all, they [the authorities] want to keep the death row inmates alive and well so that they don't die before society has a chance to kill them. There is no such incentive for the sick women who have committed lesser crimes and are dying from neglect and indifference here at Carswell. I am here to witness for these women. I was once one of them."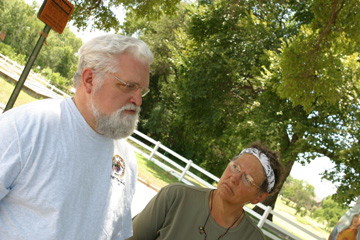 Kathleen Rumpf of Syracuse, N.Y., was explaining why she had set up camp in 100-plus-degree weather under the only shade tree on a cracked-asphalt parking lot just outside the main gate of the Naval Air Station Joint Reserve Base west of Fort Worth. It was July 27, the last day of Rumpf's week-long fast and prayer vigil on behalf of the women of the Federal Medical Center Carswell, the only full-service hospital in the country for chronically ill or dying women who have been convicted of federal crimes.
"I have been praying for some spiritual intervention … and a thorough investigation of this place by Congress," Rumpf said.