The name of Dallas filmmaker Israel Luna's new feature is R U Invited?: Five Guys & a Sex Party, and it's about, well, guess.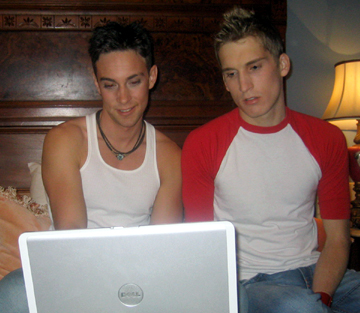 The movie makes its local premiere tonight (Wed) as part of Q Cinema, Fort Worth's gay and lesbian international film festival. One of Luna's previous outings, The Deadbeat Club, is a former Q Cinema award winner.
If you haven't already stormed out the door to buy tickets, please understand that Five Guys is not porn. Rather, it's a character-driven yarn revolving around a handful of interconnected adults who all receive e-mail invitations to a private orgy and say what the heck. Hopeful participants include Ben (John De Los Santos), a "kept" pretty boy, and his older, square boyfriend, Gordy; schmoopies Mondo and Jason; and coarse and slutty Charlie, Mondo's ex-boyfriend and Ben's best friend. Sparks start to fly when the men gather at one of their houses to take nude photos of one another — as part of the "screening process," not as a gratuitous attempt on behalf of the filmmaker to show naked boys on screen. Get your mind outta the gutter.
Tonight (Wed) at Four Day Weekend Theater, 312 Houston St, FW. Tickets are $6-8. Call 817-463-3368.