We've seen great movies about baseball, football, basketball, even soccer and golf. But we've never seen one about auto racing (Days of Thunder doesn't count as great), which is strange, given that the sport has been around a while and would seem to lend itself to the big screen. As good as Cars was, I walked out of it feeling that the great NASCAR film had yet to be made. Well, racing fans, the wait is over, because that movie is here. It's called Talladega Nights: The Ballad of Ricky Bobby, and it made me laugh more than anything I've seen all year.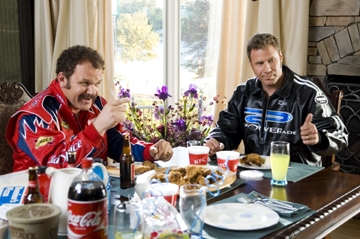 Will Ferrell plays the title character, a swaggering NASCAR champion from North Carolina who has it all: a huge mansion, a gorgeous wife (Leslie Bibb), two sons named Walker and Texas Ranger, and every title on the circuit. Those titles are due in no small part to his driving teammate and best friend Cal Naughton Jr. (John C. Reilly), who's happy to be Ricky Bobby's lapdog. The film re-teams Ferrell and Adam McKay, the director/co-writer with whom he made Anchorman: The Legend of Ron Burgundy. They've outdone themselves here, and that's not just because Talladega Nights is even funnier than Anchorman, though that'd be reason enough in itself.
What really gives this movie traction is the filmmakers' knowing exactly where they stand with Ricky Bobby, a multi-millionaire whose idea of a gourmet restaurant is the local Applebee's. Innocent, joyful, and driven to excel by his humble upbringing, he's also arrogant, obstinate, proudly uncultured, obsessed with winning, and crassly commercial. He even sells the windshield of his car for advertising space, using it to sport a Fig Newtons logo that he can barely see through. ("This sticker is dangerous and inconvenient," he observes in mid-race. "But I do love me some Fig Newtons.") In short, he's a blown-up version of NASCAR's mentality, and, by extension, red-state America's, and the movie manages to point out his foibles without losing its affection for him. Satire like this is hard to do without coming off as shrill or mean. This movie pulls it off in style, with Ferrell's brilliance and charm leading the way.
Nowhere is this clearer than when Ricky Bobby is brought low by Jean Girard (Sacha Baron Cohen, a.k.a. Ali G), a gay French driver who has made the switch from Formula One racing to NASCAR for the express purpose of beating the American, which he proceeds to do in humiliating fashion. Everything about Jean is calculated to affront Ricky Bobby and what he stands for; the Frenchman listens to opera, drinks espresso macchiato, and reads Albert Camus — all while he's racing! Ridiculous and effeminate, Jean is nevertheless a worthy match for Ricky Bobby, both as a driver and a trash-talker. "What has America given ze world besides George Bush and Cheerios?" he sniffs. "[The French] have given ze world democracy, existentialism, and ze ménage à trois." ("Those are three pretty good things," Cal admits.) For all the competitive hatred that flows between these two, they end up with a grudging mutual respect, realizing that they complete each other. "God needs the Devil," says Jean. "Even Diane Sawyer needs Katie Couric."
The material is heavily improvised by the actors, yet the story holds together much better than the one in Anchorman. Comic set pieces, such as Cal's confession of having once been a Playgirl model and Ricky Bobby's post-wreck panic attack, are followed up later on in the movie. The cast runs deep, and it's gratifying to see so many of them have their own memorable moments — Jane Lynch as Ricky Bobby's churchgoing mama, who slaps some discipline into her ill-behaved grandsons; Greg Germann as the head of Ricky Bobby's racing team and Molly Shannon as his eternally sloshed wife; Amy Adams as a nerdy assistant who does a mean impression of Tawny Kitaen in that old Whitesnake music video. Gary Cole dominates a good stretch in the middle of the film as Ricky Bobby's shiftless absentee daddy, who turns up to teach his traumatized son to conquer his fear of getting back behind the wheel. Among his methods: having Ricky Bobby drive with an enraged cougar in the passenger seat. Best of all is Reilly (an Oscar nominee, like Adams), who slips easily into this kind of comedy and almost steals the show. If you need proof of his improv skills, check the outtakes over the closing credits as Cal describes his relationship with Christ: "I like to picture Jesus as a figure skater … doing interpretive dances about my life's journey."
Believe me when I say that this review contains only a tiny sampling of the jokes on offer in Talladega Nights. Twenty years from now, guys will interrupt their conversations to quote random lines from this movie at each other before dissolving into laughter. That's what makes a comedy classic. Or, as Ricky Bobby would say, "I wake up in the morning and piss excellence!"
Talladega Nights: The Ballad of Ricky Bobby
Starring Will Ferrell and Sacha Baron Cohen. Directed by Adam McKay. Written by Will Ferrell and Adam McKay. Rated PG-13.