Until recently, Sorta was one of those bar bands whose music never quite lived up to the hype. When you asked people what they thought of the Dallas-based sextet, they uniformly replied, "Oh, yeah, man. I love Sorta. Danny Balis is cool." Balis, of course, is a radio personality on KTCK/1310-AM The Ticket and the band's bassist. Asked to name a favorite song or memorable performance, and Sorta/Balis lovers would without fail plunge a beer bottle into their pie holes — and keep it there — until you changed the subject or walked away. The impression was that no one really liked Sorta. They just enjoyed basking in a local celebrity's dazzle.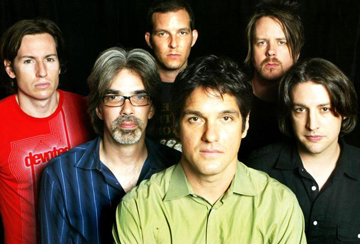 But that was then. With their new full-length, Balis and the boys no longer have to sup at hype's cruel table, with ravenous groupies in the seats and unimpressed critics in the waiting area. Strange and Sad But True ambles effortlessly through a cottony hodge-podge of guitar-based styles, including classic rock, calypso (!), and Texas Music, yet never devolves into pastiche. Variations in instrumentation, arrangement, and timbre don't always equal good music, but the guys in Sorta do it right.
Trey Johnson is also in a chatty mood here. The frontman and primary songwriter does a pretty good Robert Earl Keen impersonation on "85 Feet," a dadaist piece of flash fiction sprinkled with high, lonesome pedal steel and sardonic C&W posturing. Another nice bit of storytelling, "Pink and Baby Blue" is a heartfelt paean to a newborn.
Hands down, the album's strongest candidate for induction into the Texas music canon is "Lazy Bones." The golden, melancholy acoustic riff plucked from Dickey Betts' back pocket juxtaposed against intense, quick drumming, the parting of the clouds to let the bright bridge in, and Johnson's assertive yet distant vocals — it all adds up to a pretty friggin awesome two minutes and 57 seconds.
You can bet that when you ask someone in the future to name his favorite Sorta tune, "Lazy Bones" will be the first thing out of his surprisingly unoccupied mouth.
Fri w/Shibboleth at The Granada Theater, 3524 Greenville Av, Dallas. 512-389-0315. Thu, Aug 31, at Central Market, 4561 W Fwy, FW. 817-989-4700.