A Saginaw businessman who police say spent time talking dirty online to someone he thought was a young teenager has been charged with criminal solicitation of a minor — after a local woman joined a Yahoo chat room pretending to be a 13-year-old cheerleader.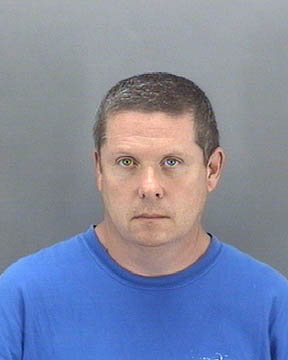 Robert Lee Turnley, age 41, was arrested on July 25. Assistant District Attorney Martin Purselley said he plans to take the case — based on online conversations that North Richland Hills resident Jane Patterson turned over to police — to the grand jury in September.
Turnley referred questions to his lawyer, William Reagan Wynn. "We are currently conducting a complete independent investigation into all of the facts and circumstances surrounding the allegations against Mr. Turnley," Wynn said in an e-mail. "He is looking forward to having this matter heard in a court of law where all of the facts and circumstances can be fairly presented and considered. Ultimately, we are confident that these allegations can be resolved in a manner favorable to Mr. Turnley and his family."
The arrest brought some satisfaction for Patterson, who for six months thought police might not do anything about the evidence she brought to them.
In January, after seeing news reports about possible predators lurking in internet chat rooms, Patterson went online, posing as a 13-year-old cheerleader with the screen name "acheerforu," to see if she could detect any sexual predators in her area. She didn't expect someone to take an interest in her imaginary, under-age character so quickly: After just a few minutes, she told police, someone solicited her. Patterson saved a copy of the lengthy chat on her computer, and provided it to the police, as well as screenshots of the profile posted on Yahoo by the person who engaged in the online conversation with her.
An officer got back online using Patterson's invented persona, but although the same person responded in the chat room, no further sexual overtures were made. After that, Patterson believed the police had lost interest. She called Fort Worth Weekly, and reporter Dan Malone wrote about the case ("Pitfalls and Predators," June 15, 2006).
In July, Fort Worth police arrested Turnley and charged him with online solicitation of a minor, a third-degree state jail felony. If convicted, Turnley could be sentenced to up to 20 years in prison and required to register as a sex offender for 10 years after being released.
Lt. Kevin Rodricks of the Fort Worth Police vice unit said that if a grand jury is convinced that Turnley believed the person he was chatting with online was younger than 14, he could be indicted on a second-degree felony, which carries heavier penalties on conviction. The case is expected to go to the grand jury next month. "For us to have submitted it to the DA's office, we [had to] have the utmost confidence in it," Rodricks said.
Turnley, who worked as an accounts manager at a local car dealership, posted a Yahoo profile under the name turnleyenrichment, featuring a photo of him in a tuxedo and listing his hobbies as surfing the web, working out, traveling, movies, football, and baseball.
Police included a transcript of Patterson's online chat in an affidavit backing up their request for a warrant to search Turnley's computers at home and work. In it, Patterson introduces herself as "Mary," 5-foot-1, 98 pounds, with black hair and blue eyes. And according to the transcript, the person on the other end introduced himself as "Rob," said he was 32, and asked if she had a picture to trade.
---
The chat continued, with Rob becoming more and more sexual in his questions and comments and Mary responding with short yes-or-no answers. He asked if Mary had a boyfriend, asked if she had ever made love, and then offered to teach her more. "Would you cheer for me in a thong if I pleased you all over?" he asked.
"Yea," she responded.
The talk soon turned to meeting, with Rob saying he forgot whether he was married and would love to get to know her better, including his phone number and days when he could meet in the chat room. He also directed her to his Yahoo profile to see his picture.
After that, a disgusted and shaken Patterson turned the information over to the police. In May, Officer Harry Husberg logged onto the same chat room using Patterson's "acheerforu" identity, and, police said, someone using the same e-mail account as in the previous chats contacted him. Although the ensuing exchange included no conversation about sex, police found that the internet connection used by the person to send the e-mail was registered to Turnley's place of employment.
In June, police obtained search warrants for Turnley's computers at home and at his work. In July Turnley was arrested, charged, and released on a $25,000 bond.
Lt. Rodricks said it took his department six months to make an arrest in the case because online predator allegations require a lot of investigation. "They're very complicated cases," he said. "We are grappling with trying to become more proficient in them."
He also said that, since the initial evidence was gathered by a civilian rather than a law enforcement officer, investigators took time to make sure Patterson had no ulterior motives in providing the information.
The case is based on a state law that took effect on Sept. 1, 2005, making it illegal to solicit someone posing as a minor online. Before the law was passed, the action was a crime only if the person being solicited actually was a minor. This new law has been used as a tool by law enforcement to catch sexual predators online, with less fear of accusations of entrapment.
Patterson said she is happy that the police went forward with the investigation "to make sure this isn't happening in our community." The internet "can be a wonderful tool," she said, but also one that exposes vulnerable kids to danger.
As for her experiment, Patterson said she would never do it again, and wouldn't recommend anyone else doing it, other than law enforcement officers. On the internet, she said, "People go beyond anything they would do in public."
Purselley, the prosecutor handling the case, said more internet predator charges are being filed because individuals and organizations like Perverted Justice are finding alleged predators and turning them in. Perverted Justice, brought into national prominence by multiple stories on NBC Dateline, is an organization of concerned citizens who pose online as minors and then turn over the information to police when or if an adult solicits them.
"I've always believed that this offense was out there and was going on. There just weren't enough officers out there working on them," Purselley said.
He said that many kids see the internet as simply a tool or appliance and that they shouldn't have to worry about being solicited or assaulted sexually because they log onto it. "A kid ought to be safe on the internet," he said.