Nathan Schneidewent, Titan Moon co-songwriter and guitarist, has just driven back from a Saturday night gig in Shreveport, and, boy, is his voice tired. It's a grateful weariness, at least for the moment, born of the knowledge that the ethereal, imagistic pop rock his quintet purveys is drawing new fans with every show. A few hours before the show, at a club called Flanagan's, Schneidewent said that he and his bandmates were all on their laptops, "hitting MySpace hard," trying to drum up Bayou State interest in their show.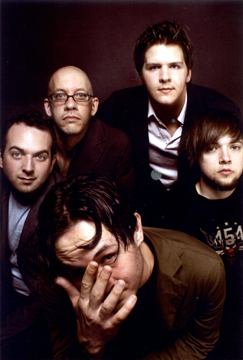 "MySpace doesn't usually let you down," he said. "People will turn out. I've come to prefer Mog.com, which is nothing but music people, but it's hard to badmouth MySpace. It's free, and on an indie level it's impossible to imagine not using it."
Titan Moon is not solely reliant on the web to get the word out, as befitting a band that would rather die than give up on hitting the big time. Liz Eschelman, who runs a full-service management company called Indie Kitten, has booked a national tour through January to promote the band's forthcoming full-length album, Fairies & Mermaids. (The tour may expand to include parts of Britain.) The promotion company Planetary Group is shaking its moneymaker to get Titan Moon mentioned on radio and the internet. And, as always, jazz producer and mentor Enrique Gonzalez-Diaz, who divides much of his time between New York City and his studio in Monterrey, Mexico, is twisting the knobs to help shape Titan Moon's music, an orchestral mélange of hooks, hard beats, and digital keyboard colors clearly informed by the likes of The Killers and Bloc Party. Schneidewent and Titan Moon's frontman, co-songwriter Tyler Casey, both Wisconsin natives and friends since grade school, met Gonzalez-Diaz by accident when their car broke down in Monterrey several years ago. The upcoming album is the first to bear the imprint of his boutique label, Pollymood Records.
It's not just the label name that's different. Song samples of Fairies & Mermaids reveal a sound that's punchier, more focused and grounded, more rock 'n' roll than fans might expect from an outfit that can happily geek out to King Crimson's more grandiose gestures. With its catchy, overlapping male choruses, Joe Burton's textured synth work, and drummer Trey Ware and bassist Zack Felton's propulsive rhythms, the first single "Someone Like Me" recalls Reckoning-era R.E.M. Schneidewent confirms and is flattered by the comparison.
"I think Enrique wanted to see how bad-ass of a rock record he could record," Schneidewent said. "We really wanted to get the Les Paul cooking for this album. We probably recorded twice the number of songs that we'll actually use. One of them [that will be on the album] is a tune called 'Science Fiction,' which has this part talking about Dr. Frankenstein and his monster. We heard it and thought, 'This thing kicks.' "
The singer-guitarist refers to Fairies and Mermaids as a concept album, though it's less about stringing a series of songs into a particular plotline than it is evoking a particular time and place, somewhere between childhood and the onset of adulthood. "It's sort of a Peter Pan thing," Schneidewent said, after casting about for the best way to describe the "purgatory" where the mysteries of being a grownup suddenly seem closer and more enticing to the eager adolescent mind. His description involves the way Sgt. Pepper's Lonely Hearts Club Band first enthralled him as a kid, and "the time when you discover girls, and you're, like, 'I'm not sure what this is all about, but I like it.' "
Gonzalez-Diaz is fine-tuning Fairies & Mermaids in Mexico while also working on a project with Wynton Marsalis. Titan Moon's album will be released in January. In the meantime, the band will perform a free set at Central Market tomorrow (Thursday) before embarking on a short tour that will hit Nashville, Detroit, Chicago, Minneapolis, and Los Angeles, among other cities. At some clubs, Titan Moon will headline. At others, the band will open for bigger outfits. (The Legendary Pink Dots and Under the Influence of Giants are two well-known national groups for which Titan Moon has already opened.)
Casey "is a classy guy," Schneidewent said. "And he handles a crowd pretty well. But [Eschelman] has been pretty good about getting us booked to open for bands that we actually like. So the secret to getting an audience on your side is, 'Hey, we're excited to see the headliner, too, and here's some other music to get you ready for them.' If that's your attitude, people will be receptive to your songs."
Schneidewent, who's married and has a small child, calls his wife "the greatest woman in the world," especially for holding down the fort while Titan Moon hits the road and spins its brand of "epic, intimately ferocious arena rock" (or so spake the press release). As most burgeoning bands know, touring ain't easy. Band members occasionally argue, and venues can be dark and smelly. But artistically speaking, he's still hungry, and that's almost a necessity for a band at Titan Moon's level.
"You spend a lot of your time thinking, 'I can't wait to get home,' " he said. "And then you wake up on the road the morning after a show, and you think, '300 people saw us last night who hadn't seen us before.' And then when you get home, part of you wants to be back out there again."