Songwriters find inspiration both from within themselves and from others. Rather than sifting through c.d. bins or navigating cyberspace for the next big thing, Stella Rose frontman Stephen Beatty simply attended shows in his West Berry Street neighborhood. In doing so, he discovered indie magician Tim Locke. Beatty speaks with a wide-eyed reverence for the long-time singer-songwriter and his various incarnations (Calhoun, Flickerstick, Coma Rally). Locke, who sits in the inner circle of 817's indie-rock community, befriended the tall young grunger, even playing guitar on a few tracks on Stella Rose's new and first official release, Starving Hysterical Naked.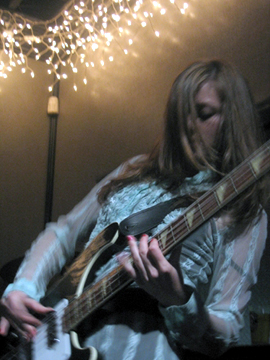 Bassist McKenna Madgett appreciates the benevolence of the closely knit group that asserts tacit dominion over the city's serious indie-rock scene. At Stella Rose's end-of-summer show at the Aardvark, Brandin Lea (Flickerstick, The February Chorus) joined her onstage for an impromptu rendition of "Me and Bobby McGee."
A quick look at the current state of the scene reveals a community that, while deeply rooted in tradition, is in transition. A new breed of up-and-comers, including Stella Rose, along with The Burning Hotels, Valhalla, The Red Herrings, and Denton's The Villains, are emerging, thankfully under the watchful eyes of mentors who have experienced the industry's fickle fluctuations.
As all three Stella Rose bandmates prepare to graduate from TCU in the spring, only Madgett is paying much attention to the choices she might make upon being thrust into the real world. She, Beatty, and drummer Matt Mabe are all majoring in film, but Madgett is the only one who admits to a genuine interest in good grades. Asked about plans after May, the guys both shrugged and answered, "Play music."
Beatty admires Locke, not only for his talent but for the professional choices he's made. "I'd be happy to follow the same path as Tim," Beatty said. "I'd be happy to be able to play music. Not have a job. Get to tour." Beatty embraces the bohemian lifestyle. The son of military parents, he grew up outside of Austin and chose to attend college only because it was "better than working in a video store."
Shared classes and musical taste — and an appreciation for cool clothing — brought the trio together about three years ago. Madgett and Mabe met on the first day of film class. They sat next to each other and eventually bonded over The Strokes. A few days later, then-stranger Beatty commented on Madgett's Velvet Underground shirt, leading to a jam at Mabe's parents' house in Burleson a week later.
Music has always been a mainstay around the Mabe household. Stella Rose's drummer also plays with his brother in Jefferson Colby and for his father's band, Flashback. The elder Mabe instilled an early love for music in his son by introducing him to Led Zeppelin. With the encouragement of Mabe's parents, the burgeoning threesome kept playing, tightening their sound, and eventually recorded a demo.
The demo gained them entry to a few clubs around town, and the momentum has continued to build. Starving Hysterical Naked is furious, a portrait of a band walking a fine line between rage and apathy. Mabe's impressive drumming skills generate a hurricane-like intensity, replete with thick cymbal crashes and a lot of nicely timed fills. Beatty has a unique, thickly evocative guitar tone (courtesy of a rare Ovation GP through a Fender DeVille amp). His rough, expressive voice draws from personal and emotional experiences.
Madgett's smooth transitions on the bass and subtle harmonies add a ghostly texture, tempering the testosterone with femininity. Beatty said, "A lot of people congratulate me on having a chick bass player. They say it's a good gimmick. But she's no gimmick. I played with a lot of different bass players down here, and she is definitely the best one."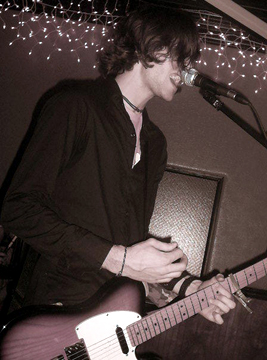 On top of the individual talent, the group shares friendship and good chemistry. Mabe has high hopes for the future. "I really want the band to last indefinitely," he said. "We play off each other really well."
Even though Stella Rose's new record has created a lot of buzz, a second effort is already taking shape. They love what they've done with Starving Hysterical Naked but hope the next album will be even better. Beatty describes the new material as "sophisticated, complicated, and not so blatantly Nirvana."
As its impressive catalogue of grunge-laden, progressive indie power gets larger, the band hopes to find management and a label to support the cause. Beatty said, "We're green, but people will never be disappointed in our shows." Mabe agreed: "We put everything we love into it."