A lot of chain restaurants spend billions of dollars and countless hours on trying to replicate distant and sometimes not-so-distant lands. Razzoo's sells New Orleans. House of Blues sells Chicago. Olive Garden sells an Italian-American household. The list goes on.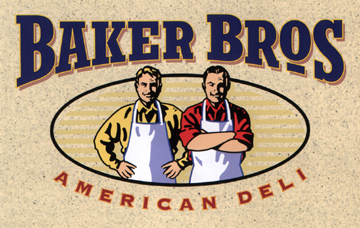 Sometimes, these places get the food and atmosphere right, usually because one of the bosses is familiar with the culture that his company is exploiting. Other times, though, these restaurants make you wonder if they can even locate their culinary wellspring on the map.
Which brings us to Baker Brothers American Deli. The Dallas-based chain claims to be a humble, homespun eatery. According to the web site, print ads, and press releases, the chain was started by brothers Tom and Ken Baker somewhere in the Midwest and boasts "original family recipes handed down through the generations."
First, most of the food doesn't have much to do with a real deli. (More on that later.) Second, there are no Tom and Ken Baker. The two men never existed. The chain was founded by Dallas-based restaurateurs Tom Dahl and Ken Reimer, two guys who helped launch Tony Roma's, Furr's Cafeteria, and Popeye's Chicken. The first Baker Brothers deli wasn't located in the Midwest, either. It opened in Plano.
Spokesman Ralph Kinder said the story of the brothers is merely a fable. "There is no intent to misrepresent anything here," he said.
Au contraire, Mr. Kinder. People who read the ad are going to expect no less than an "authentic taste of the Heartland."
Now, I was raised in the Midwest, and I've been to real delis, places where you can get corned beef sliced three inches thick and not pay an arm and a leg for it. And while I don't know what the Heartland tastes like (probably like dirt and grass), I do know that Baker Brothers' food is no more or less exotic or exotically Midwestern — or tasty — than what you can get at Potbelly's or Quizno's.
The names of some Baker Brothers sandwiches, though, may suggest otherwise. There's the Seattle sub, the Napa Valley sandwich, Kentucky club, New Orleans muffaletta, and several other offerings named after U.S. cities. The only item even remotely associated with the Midwest is the K.C. Old Fashioned (roast beef and provolone cheese).
Based on the contents of the sandwiches, you'd think they were actually designed by two Midwestern jabloneys. The Seattle sub has hard salami and turkey — but the Emerald City is not now nor has it ever been famous for hard salami and turkey. The North Beach, apparently named after that lovely "Midwestern" city in California, features a whole roasted chicken breast covered in pesto sauce. What chicken and pesto have to do with North Beach is anybody's guess. Roasted chicken, by the way, isn't deli food. A good rule of thumb is: If you can get it at Wendy's, then it's not deli food.
The least Baker Brothers could have done is tried to duplicate the real signature sandwiches of some American cities, like the Pittsburgh sandwich (meat, cheese, french fries, and spicy vinegar cole slaw), or the Buffalo sandwich, a.k.a. Beef on Weck (thinly sliced beef and horseradish on a caraway-seeded kimmelweck roll), or Chicago's famous Italian beef, the Carolina pulled pork, Maine's lobster roll, Louisville's Hot Brown, and dozens of others.
Not saying that Baker Brothers would be able to pull any of them off, but it's better than making stuff up.
I did try one signature sammy — and it wasn't the Philly cheesesteak. Restaurants three miles from downtown Philadelphia can't even get that one right. I doubt a place in North Texas can.
No, I tried the New Orleans muffaletta, a sandwich that's nearly as difficult as the Philly cheesesteak to re-create but has better chances of being done right in this part of the country. The hardest part is the chopped olive paste. Baker Brothers' bitter dressing overpowered the ham and salami. Worse, there weren't any spiced Italian meats. How can you call a sandwich a muffaletta when it doesn't have capicolla or mortadella? Basically, Baker Brothers' was a ham and salami sandwich with olive dressing instead of mayonnaise or vinaigrette.
Everything I sampled suffered from the same fate: decent portions and fresh ingredients but little distinctive flavoring. Of course, you can't expect the real thing from a chain deli, but you also can't expect a good New Orleans sandwich in Ohio. For folks who don't know what real deli food is or where Seattle is on the map, Baker Brothers is just fine. The sandwiches are hearty, the bread decent, and the sides of potato salad and cole slaw inoffensive. There's just nothing distinctive — or genuine — about any of it.