Have we underestimated Ashton Kutcher? You can hardly blame us if we have. There are so many good reasons to hate him. His starring role in a bunch of lame movies such as Dude, Where's My Car? and others that were almost as bad. His relationship with Demi Moore. His tv show, where his goofy shtick overpowered the much more talented Topher Grace and inspired an unconscionably long run for a rampagingly mediocre sitcom. His other tv show, where his practical jokes on fellow celebrities underscored the aura of smug self-satisfaction that always seems to emanate from him. (Impersonating Kutcher on Saturday Night Live, Justin Timberlake punctured this expertly, randomly shrieking "I'm awesome!")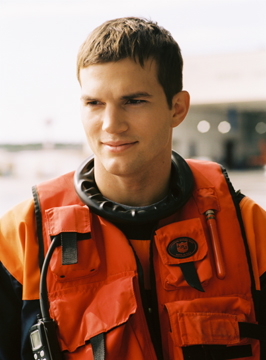 Most of all, though, we love to hate him because of his looks. Actors like Kutcher become famous because they're pretty, as opposed to handsome. Nonthreatening, feminine-looking guys like him are just the sort of movie stars that early-adolescent girls get their first crushes on. Best-case scenario, these pretty boys have enough acting chops to maintain their leading-man status for the long run (DiCaprio). In the worst case, they become national jokes once they hit their 30s (Corey Haim). Until recently, I would have figured Kutcher for one of the latter. However, this week's release of two movies starring him has given me the occasion to revise my opinion. Not drastically — he's not a great actor or even a terribly interesting one. Then again, neither was Rob Lowe, and he successfully managed to fade to the middle of the pretty-boy pack by becoming aware of his limitations and picking his projects accordingly. It wouldn't surprise me if Kutcher wound up doing something similar.
Open Season is a pretty good example of the sort of movie that makes us hate him. You'd think that he'd be easier to take when reduced to a voice in an animated film, since the format would spare us his relentless mugging. Not so. He gives voice to Elliot, an undersized mule deer who loses an antler after being hit by a truck. He meets Boog (voiced by Martin Lawrence), a bear raised by a well-meaning park ranger (voiced by Debra Messing). When the fully grown Boog is released into the wild, he needs a guide to help him survive, and Elliot volunteers for the job.