The restaurant-slash-movie-theater concept hasn't really taken off here. To sup-and-screen somewhere other than at our beloved Ridgmar Movie Tavern (comfortable, solid neighborhood grill fare), we Tarrant County folk have to travel all the way to the Addison Movie Grill, a spot that's a little more polished than RMT but not nearly as committed to quality food.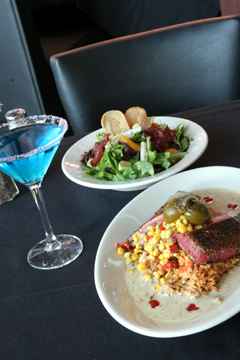 But just when you thought it was safe to take another date to RMT, along comes the Metro Cinema + Indigo Grille. An independently owned joint that opened last month in Colleyville, the place is essentially two eateries in one. The Indigo Grille is a quiet, upscale dining room adjacent to the lobby. The Metro serves up no-nonsense pub food and is where the munching and movie-watching goes on. Both areas draw from the same kitchen and fully stocked bar, and you can order from both menus while in the theater. (Naturally, the Indigo's fare is slightly pricier.)
Thirtysomething executive chef Sean Alvarez has been cooking for a decade and has worked under Tim Love (Lonesome Dove, Duce) and Clark McDaniel (Angeluna). His influences come through loud and clear in Metro/Indigo's food.
For example, at Indigo, the calamari served in a small cup of spicy-sweet chili garlic sauce was a near carbon copy of Angeluna's famous Angel Moon Calamari. Not that you'll be complainin'. The calamari was cooked to perfection (not too chewy, not too mushy), and the sauce came on strong and had a soft yet tasty afterbite.
The Lonesome Dove influence was manifest in Indigo's duck quesadillas, crispy flour tortillas filled with juicy chunks of quacker, white cheeses (goat, jack, and white cheddar), caramelized peppers and onions, and topped with black bean salsa. Talk about a hearty starter, the dish outdid almost anything from Lonesome Dove's appetizer menu and cost only $8.
As for the entrées, the blackened tuna had a nice red center and couldn't have been seared any better. Along with a side of crawfish basmati rice (a zesty, dense jambalaya of sorts), the fish was light and airy but had the zing of carb-tastic entrées twice its size. Though most of the textures were fluffy and milky, the kick was heavy.
The chili-rubbed pork chop on top of Monterey jack cheese grits with diced apple relish had the warmth of comfort food but a sharp snap of dazzling city fare. Equally decadent and delightful was the Maple Leaf Duck, multiple pieces of breast and a crispy fried leg drowned in a honey-soy marinade. Again, the rustic flavor suggested the Dove, but the sumptuous sauce was pure pan-Asian.
The Metro's food was also fresh, but the cooks got a little carried away with the saltshaker. The marinated BBQ chicken pizza and the Spicy T.L. Burger (jalapeños, sautéed mushrooms, onions, pepper jack cheese) called for multiple refills of water. The nacho cheese fries with pico de gallo, while not as salty as the other entrées, still could have used another helping of the pico to wake the flavors up.
Mild heartburn and nitpicking aside, the Metro Cinema + Indigo Grille is a thrill-ride. When hankering for a movie, going anyplace else would be illogical.
 Metro Cinema + Indigo Grille
Smoked duck quesadillas $8
Giant calamari $11
Maple Leaf Duck $18
Pork chop $17
Blackened tuna $19
Nacho cheese fries $7
Spicy T.L. Burger $12
Marinated BBQ chicken $13