There is a gravity to Bruce Hornsby's piano rock 'n' jazz, not an oppressive gravity that holds the listener down but one that keeps both feet firmly on the ground and under mostly blue skies. Not a trivial gravity, either, because he's not in the least reluctant to approach social justice issues along with his ration of feel-good songs.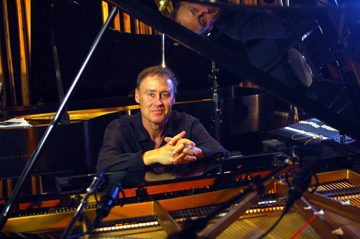 On Intersections 1985-2005, Hornsby, a three-time Grammy winner who played a hundred or so shows with the Grateful Dead, both recaps his past and points toward his future.
The box set includes four c.d.'s (53 songs), a DVD (nearly two hours long, with 22 songs), track-by-track annotations written by Hornsby, and an extensive photo/clippings scrapbook. Of all of the songs, 26 have never been released before.
Hornsby chose and sequenced all the songs, eschewing chronological order in favor of more personal groups. Disc 1 contains songs that charted on pop, country, adult contemporary, and AAA charts; Disc 2 is filled with piano solos and a mixed bag of other stuff; Discs 3 and 4 have performances of his most requested and favorite songs. The guest performers aren't shabby, either: Ornette Coleman, Elton John, Spike Lee, Branford Marsalis, the Nitty Gritty Dirt Band, Bonnie Raitt, Ricky Skaggs, Pink Floyd's Roger Watters. They reinforce just how far Hornsby's musical ambit reaches.
Hornsby's biggest hits came from his first two albums, 1986's triple-platinum The Way It Is, with its anthemic title song, and 1988's platinum Scenes From the Southside. Since then, he has said, he believes his music has become more interesting. Intersections 1985-2005, with so many new versions of his old songs, is his way of tracing his own evolution as a musician, a sort of starting point for what's on the horizon, namely a bluegrass c.d. and a jazz one.