About a year ago, when Terry Chandler and his wife, Jennifer, bought Fred's Texas Café from Terry's parents, the gourmet greasy spoon was known simply as a great, interesting place to get a home-cooked or fusion meal. Fred's is still that place, but over the past couple of months, the 28-year-old West Seventh Street-area institution is also becoming great for something else: live music.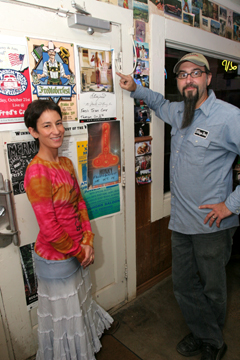 Fred's has always had some sort of tuneage going on. In addition to the annual Fredfest charity event, now in its sixth year, bluesman James Hinkle, country-western singer-songwriter Hank Hankshaw, and others have played the joint. Up until recently, however, the music seemed an afterthought. You went to Fred's for the come-as-you-are ambiance or the enormous Fredburger or one of Terry's rustic delicacies. Only hardcore fans went to see the bands.
Not that people will stop going to Fred's just to hang out and chow down, but in the future you may see more new faces, folks lounging at one of the picnic tables out back, there just to see live music. Recent local performers have come from all over the stylistic map and include fiery bluegrassers The Electric Mountain Rotten Apple Gang, southern-fried rockers Jasper Stone, creative Afro-jazz cover band Barber Mack, indie-metal-heads Sally Majestic, and others, bands that can hold their own at any live music venue in town.
Credit for the change is shared by Jennifer, a music lover and former attorney, along with Lee Allen, a manager at Fred's and a musician who hosts the Wednesday night invitation jams at The Wreck Room and, with drummer Dave Karnes, runs Rock Camp USA-Fort Worth. Allen also serves as booking agent. "Terry and Jen are very generous," he said. "They love music." There's rarely a cover charge, he said, and bands are normally guaranteed payment, "plus beer and a Fredburger."
Allen, a lifelong musician and instructor, knows the music biz from all sides. When the need for a booking agent at Fred's came up, Allen said, "I was already there three nights a week, so it was a natural choice." Weather problems aside, he and the Chandlers have managed to offer solid line-ups almost every weekend and draw decent crowds. "Business on the patio has definitely picked up," Allen said. The fan reaction to a recent performance by local country band Eleven Hundred Springs was "incredible — it was our biggest single night ever."
The past year hasn't been easy. Fred's was burglarized, then months later almost destroyed by a fire. Also, entertainment options in the restaurant's neighborhood have increased greatly over the past year and a half. "The music helped me enjoy life during that stressful time," Jennifer said.
Fred's has not only survived but is thriving, a trusty old friend amid the new clubs and faces around. Staff at nearby venues appreciate the extra business Fred's is bringing to the area. A bartender who goes by the nickname Jesus from nearby 7th Haven couldn't ask for more. Fred's has "awesome fries and better people," he said. "We hope this area will be the new hot spot, and we're all in it together."
To some bands, either tired of playing to the same ol' crowds at the same ol' haunts or whose music is hard to categorize, Fred's is a perfect fit. "I love playing Fred's," said Confusatron drummer Lucas White. "You get a wider audience of people — young people, old people, Democrats, Republicans, independents — everyone."
To accommodate the bands and the fans who now consider Fred's a legitimate venue, Allen and Jennifer turned October into one long Fredfest, with themed bills on every Saturday through the end of the month. The first Saturday saw EMRAG, Jasper Stone, and Kansas bluegrass band The Dewayn Brothers. The next weekend rocked a little harder, with Stooges cover band Stoogeaphilia and Austin trio Honky. Last Saturday featured Jennifer's favorite jam bands, Catfish Whiskey and Peach Truck Republic. The finale this weekend will offer a bill of hard-rocking locals: Poo Live Crew, Addnerim, Merkin, The Fellow Americans, Darth Vato, and Confusatron.
Earlier this month, San Francisco's Eric McFadden Trio played to the usual crowd of cowboys, hippies, and hipsters that Confusatron drummer White referred to. George Clinton's former mandolin player put on a loud, aggressive show; the wooden stage and wooden surroundings acted as a natural amplification system. Though in the middle of a coast-to-coast tour, McFadden and company enjoyed their Fred's gig so much that when Jennifer asked them to play an encore performance the following evening, they jumped at the chance. McFadden typically never attempts a double-header, especially on the road. "There's something special here," he said. "Everyone seems so genuine."
 Fredfest
Sat w/Poo Live Crew, Addnerim, Merkin, The Fellow Americans, Darth Vato, and Confusatron at 915 Currie St, FW. 817-332-0083.