In 2004, eight years after her debut, Madeleine Peyroux released her second album, Careless Love, and finally earned the recognition she deserved. While the first, Dreamland, featured a killer roster of musicians, from James Carter and Cyrus Chestnut to Marc Ribot and Vernon Reid, it cautiously approached the jazz standards she's spent her career interpreting. The second didn't have a killer roster of contributors, but through an obviously more refined and more uniquely Peyroux-ish tack, it is the better record.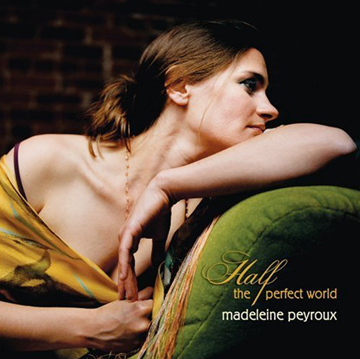 Now we have her third outing, Half the Perfect World, a collection of standards and some originals that shares with the previous album an enticing, smooth, organ-filled sound. The record politely nods to the first, Dreamland, by having a generally upbeat tone.
On Careless Love, Peyroux performed amazing transformations of familiar songs from Bob Dylan, Hank Williams, Leonard Cohen, and Elliot Smith, and she continues down that path here, with interpretations of two more Cohen tunes, along with others by Joni Mitchell, Charlie Chaplin, and Tom Waits.
Peyroux wrote only a few songs on her first album and co-wrote only one on her second. This time around, obviously a little more comfortable at the helm, she has co-written four, which fit in well with her great selection of covers. She also reintroduces the concept of guest help, in this case on the duet with k.d. lang for Mitchell's "River." And as on every album thus far, she teases us with a number in French.
On the crest of the female jazz vocalist revival, Peyroux is one of the few to offer a modicum of what is commonly referred to as authenticity. She owes much to her influences, including Billie Holiday, Josephine Baker, and Bessie Smith. Still, as indicated on Half the Perfect World, she is creating a mélange of forward-looking interpretations of forgotten traditionals while finally perfecting her own style.