The action a few weeks ago didn't seem like any kind of bombshell — just a vote by a Fort Worth City Council committee approving a redesign of the West Seventh Street bridge over the Trinity River. The project has been on the drawing board for years, and the transportation panel's vote didn't even include a timetable for rebuilding the bridge that links downtown to the Cultural District.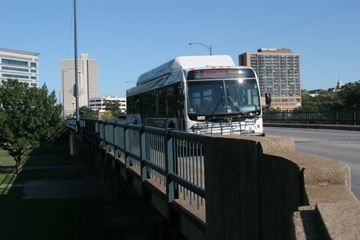 But the committee added one important item to the plans: The updating will accommodate light-rail mass transit, meaning that rail lines in the street and overhead wires could be added without tearing up the deck again. The $5.7 million project will be paid for mostly with federal and state funds, and there's no estimate yet what the light-rail infrastructure would add to that bill.
Whatever the cost, however, the change in bridge plans could mark a turning point for mass transit in Fort Worth.
About 10 years ago, Fort Worth began thinking that population and traffic growth might necessitate more than a bus system operated by the Fort Worth Transportation Authority. Under former Mayor Kenneth Barr — who was very interested in mass transit issues — the city came up with plans to build light-rail lines to link downtown to the Cultural District to the west, the Hospital District to the south, and the Stockyards on the north. But when Barr decided not to run again and Mike Moncrief was elected, the plans were shelved. According to several city hall sources, downtown business interests put pressure on the city not to spend hundreds of million of dollars on light-rail projects because they preferred seeing that money go for tax breaks to big businesses.
But major increases in Cowtown traffic, as well as other developments, are pushing light rail to the fore again. Council member Jungus Jordan, chairman of the transportation committee, said the council is considering light rail to help solve the city's transportation overload. "We definitely have to address mass transit and figure out how improved mass transit will help in decreasing our huge growth in traffic," Jordan said. "The light rail included in the bridge project was just a prudent thing to do. But I do see council thinking about all the options we need to explore. Light rail within the city is one of those options. And there are so many matching federal grants that the city is not taking advantage of."
In the Museum Place development in the Cultural District, where construction is scheduled to start Jan.1, developer Jagee Properties plans to include light- rail infrastructure. Fort Worth South Inc., a nonprofit development agency in the Hospital District, is studying routes through the district where light rail can link that area with downtown.
What's more — and perhaps most significant — some downtown interests now seem to be hopping on board. The Central City Redevelopment Committee, a city-council-appointed group that advocates on behalf of downtown business interests, is planning to unveil an informational and public relations campaign in the next few months advocating light rail. "There is a paradigm shift going on in the city right now," said committee chairman Fran McCarthy, a local real estate developer. "We need to be looking at long-term solutions to our transportation problems, and light rail is just one of the tools."
Paul Paine, president of Fort Worth South, Inc., calls the timing and action by the council critical. The problem with a bus-only system "is that bus ridership is always below rail," he said. "If we are going to be a modern city and get people out of their cars, we have to find different ways to connect the city. Now is the time to do it, because we have to get ahead of the growth that is going on in Fort Worth."
The rail lines being considered here differ from the Dallas Area Rapid Transit system, where train tracks, most of the time, run on dedicated lines that are close to but separated from highways and city streets. The version being pushed by some Fort Worth businesses leaders is called "ultra-light rail," similar to old-fashioned trolley lines. The trains would move with other traffic on the streets, powered by overhead electric lines. Ultra-light rail works best on shorter routes, while DART's version is better suited for longer rides. Ultra-light costs are less than half of traditional light rail — $25 million per mile versus $65 million.
In Tarrant County, the public seems to be on board with the idea of such trains. A recent survey done by the University of Texas at Dallas for area transit agencies found that more than 78 percent of Tarrant County respondents favored an integrated mass transit rail system and were willing to fund it with a half-cent sales tax. The level of support in Tarrant County was the highest among the eight counties surveyed — including Dallas, Denton, and Collin.
"It is quite apparent that people in Tarrant County support rail of some kind and appear to be willing to pay for it," said Dr. Charles Leonard, the UT-Dallas professor of mass communications who conducted the study. "The problem we had in focus groups is that people don't really know the difference between the types of mass transit rail lines. Commuter freight lines or DART-style light rail or smaller streetcar lines got the same response."
Fort Worth council member Carter Burdette sees that as a big issue for the city. "Fort Worth residents have to be persuaded to leave their cars, but we have to give them options they can explore," he said. "Smaller light rail that runs on the street might be a good way to introduce people to mass transit, a good first step in a larger plan. But we have to get moving on this, because these projects take years to develop, and we cannot wait until the congestion gets too severe."
Gaining public support, however, isn't the same thing as finding public dollars for such projects. The T, the public transit agency that now runs the bus system in Fort Worth and Richland Hills, has put its limited funding behind a $350 million proposed freight and commuter line between southwest Fort Worth and Dallas Fort Worth International Airport, with eight Fort Worth stops, including downtown and the Stockyards. Fort Worth could pass its own bond issue, separate from The T, and pay for rail lines with special tax-district dollars and fees. Or the city could set aside some of its Barnett Shale windfall over the next 20 years, to fund public transit. And a piece of legislation that local mayors are pushing for would allow voters to OK an extra half-cent sales tax for mass transit in certain North Texas counties.
The bridge redesign is only a first tentative step toward light rail in Fort Worth. But some residents and business leaders see it as part of a bigger change in local attitudes toward public transit.
"The majority of voters are in favor of this, and I think the voters are telling our politicians to get on the ball with this kind of project," said Adam Broyles, president of a financial services firm in downtown Fort Worth. Fort Worth politicians "seem to be listening more," he said. "We are developing inner-city neighborhoods with high density, [and] you need to have efficient ways to connect these urban villages. I just look at how much money DART is getting from the federal government" — $700 million for its most recent light-rail venture — "and it is a sad day for Fort Worth when Dallas is acting more efficiently.
"But the timing might be right for us now," he said. "We need to act before the transportation problems get so much worse."