Ricki Vincent is a large, bald, 47-year-old man covered in colorful tattoos who makes puppets do bad things. Not gossip or siphon gas from neighbors' cars, or murder people like that creepy dummy from Magic. The Fort Worthian simply makes his puppets strip and talk dirty.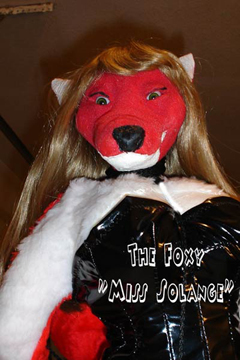 Vincent, a.k.a. Geppetto (the name of Pinocchio's "father"), has been "playing with puppets," he said, since he was a kid — "fat and bald and with no friends." He recently received a $45,000 grant for his production A Night at Miss MiMi's, a burlesque puppet show hosted by sexy swine Miss MiMi and starring comic Little Pauly Penguin, "Foxy" Miss Solange, Bubbles the Bunny, Josephine the Black Panther, and male dancer Ja Lion. In true Bunraku fashion, Vincent's puppeteers work the puppets from the stage, one puppeteer per character. (Recent Tony Award winner Avenue Q used a similar technique.) The puppets lip-synch along to pre-recorded music, burlesque standards such as "Lydia, the Tattooed Lady," "Peel Me a Grape," and Cole Porter's "Let's Fall in Love." The show is an hour long. All of the puppets are about 3 feet tall and were designed and built mostly by Vincent, and partially engineered by Denver's Cory Gilstrip. The puppets can blink, Vincent said, and "bump and grind."
Creative Capital, a 7-year-old, New York City-based nonprofit organization dedicated to supporting new artists, awarded Vincent the grant, to be disbursed over a three-year period. Past recipients include Sam Green and Bill Siegel, the documentary filmmakers whose The Weather Underground was a 2003 Academy Award nominee, visual artist Stephen Vitiello, and award-winning choreographers Jennifer Monson, Bebe Miller, and Yasuko Yokoshi. Creative Capital received more than 2,400 applications for the 2006 awards. Vincent is one of 11 performing arts recipients. No other Fort Worth artist has ever been awarded the grant.
Miss MiMi's opened with two shows in Phoenix, Ariz., last month. Both performances in the small venue sold out. Next month, Vincent and his crew will play San Francisco, followed by dates in Austin and New Orleans. In 2007, Miss MiMi and company will embark on a major tour that will take them from Brooklyn to Europe. No Fort Worth date has been finalized.
Vincent first got turned on to puppets via Saturday morning cartoons.
"My childhood was based on puppet shows," he said. Sid and Marty Krofft programs, especially HR Pufnstuff, were his favorites.
Inspired, Vincent began making his own puppets, from discarded scraps and fabrics. "I didn't have any real friends," he said. "So I made 'em."
Vincent, who with three younger siblings was raised by his mother, left home when he was 13. He quit puppeteering when he was 15, moved around the country, learned body piercing, and settled in Denver, where he opened Voodoo, a popular tattoo parlor. In 1996, when he was in his mid-30s, he got back into puppeteering.
"I was bored with the tattoo world," he said. "It was becoming more commercial. I wanted to get back into art. The most logical thing was puppets."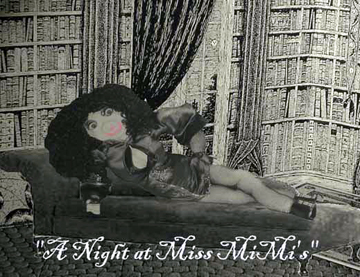 Vincent put together a successful half-hour cable-access program, Dante's Place, a variety show in hell hosted by a puppet named after The Inferno's author. John Wayne (there for being gay), John Lennon (for his joke about Jesus in the '60s), and other characters, famous and unknown, appeared in Dante's hot seat. Vincent produced 14 episodes, two seasons of seven shows per season. He said he spent about $300 to $500 per week on the show.
"That's not much money," he said. "But for no reward?"
Around the millennium, Vincent married and had a son. In 2001, after 9/11 and after he and his wife had separated, Vincent sold Voodoo and moved to California to do puppets full-time.
"I was making about $80,000 a year," at Voodoo, he said. "People thought I had lost my mind."
In Santa Ana, he got a part-time job at a tattoo parlor and began teaching outreach children's programs and doing street theater. In between, he worked on his puppets and the concept of Miss MiMi. He also designed puppets for avant-garde filmmaker Kevin Micce: an 8-foot-tall saber-toothed Sasquatch, a Jesus with stigmata, two aliens who resembled a certain disgusting part of the human body. Vincent still maintains a working relationship with Micce. The puppeteer recently dreamed up several 8-foot-tall voodoo skeletons for the filmmaker.
Vincent moved to Fort Worth two years ago to start a relationship with a single mother of two whom he met on MySpace.com. They married, and he began work at a local tattoo parlor. He was frustrated professionally.
"I had to do art on the side, as a catharsis," he said.
One day, owner Steve Spencer walked into the shop and saw Vincent stitching together an angry teddy bear. Vincent didn't look happy, either.
"So [Spencer] bought one," Vincent said. "And then two, then three."
A couple of weeks later, Spencer gave Vincent more than $10,000 to start a company to produce and market a line of gruesome bears, Scare Bears, and anything else weird that Vincent could conceptualize. Voodoo Dolls Productions opened as an online vendor about a year and a half ago. Immediately after he and Spencer shook on the deal, Vincent quit the tattoo parlor. He had been working there for about four months.
Vincent "is not just a great artist, he's a great businessman," said Spencer, a Fort Worth businessman and arts supporter. "It's been a rewarding experience for me. It shows great potential." Scare Bears and other Voodoo Dolls will be available at all forthcoming Miss MiMi's shows.
As for the idea of Miss MiMi, Vincent said he's always wanted to pay homage to old-fashioned burlesque — and if he pisses off some straitlaced farts, even better.
"Some 'philosopher' said, 'Life is a shit-hole, and if you take it too seriously, you'll go insane,'" Vincent said. "And art: If it causes a reaction or poses a question, it's art. There's nothing like taking a mere thought and bringing it to life."