Ricki Vincent is a large, bald, 47-year-old man covered in colorful tattoos who makes puppets do bad things. Not gossip or siphon gas from neighbors' cars, or murder people like that creepy dummy from Magic. The Fort Worthian simply makes his puppets strip and talk dirty.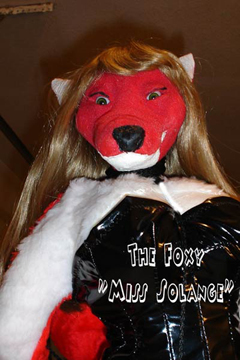 Vincent, a.k.a. Geppetto (the name of Pinocchio's "father"), has been "playing with puppets," he said, since he was a kid — "fat and bald and with no friends." He recently received a $45,000 grant for his production A Night at Miss MiMi's, a burlesque puppet show hosted by sexy swine Miss MiMi and starring comic Little Pauly Penguin, "Foxy" Miss Solange, Bubbles the Bunny, Josephine the Black Panther, and male dancer Ja Lion. In true Bunraku fashion, Vincent's puppeteers work the puppets from the stage, one puppeteer per character. (Recent Tony Award winner Avenue Q used a similar technique.) The puppets lip-synch along to pre-recorded music, burlesque standards such as "Lydia, the Tattooed Lady," "Peel Me a Grape," and Cole Porter's "Let's Fall in Love." The show is an hour long. All of the puppets are about 3 feet tall and were designed and built mostly by Vincent, and partially engineered by Denver's Cory Gilstrip. The puppets can blink, Vincent said, and "bump and grind."
Creative Capital, a 7-year-old, New York City-based nonprofit organization dedicated to supporting new artists, awarded Vincent the grant, to be disbursed over a three-year period. Past recipients include Sam Green and Bill Siegel, the documentary filmmakers whose The Weather Underground was a 2003 Academy Award nominee, visual artist Stephen Vitiello, and award-winning choreographers Jennifer Monson, Bebe Miller, and Yasuko Yokoshi. Creative Capital received more than 2,400 applications for the 2006 awards. Vincent is one of 11 performing arts recipients. No other Fort Worth artist has ever been awarded the grant.