Everyone checks out everyone else very intently at Fort Worth's Day Labor Center.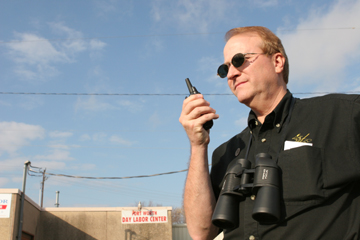 Walk into the waiting room and sign in looking for work, and the 75 or so other desperate men hoping to earn a day's worth of food money get a pissed-off look in their eyes. One more to compete against.
When a pickup truck driven by a contractor pulls into the parking lot, those wanting to work move closer to the front desk, hoping they can catch the eye of the man with the money. And when contractors walk in, they check out the prospective workers, getting a bead on who might work hard and not cause any problems on the job site.
Even outside in the smokers' section, surrounded by a wooden fence, potential workers are looking, through little peepholes that have been made over the years. When a contractor pulls in, the smokes are snuffed out, and everyone gets as close as they can to the front desk.
The observation game at the five-year-old publicly funded Day Labor Center might be getting a new player in the next few months. The North Texas Chapter of the Minuteman Civil Defense Corps — the group often portrayed as an anti-illegal immigrant vigilante group — which has been patrolling the U.S-Mexican border in recent years, may be moving further inland. The group thinks the day labor tradition — whether done from street corners or from publicly funded sites like the one here in Cowtown — is wrong in helping illegal immigrants get work.
The Minutemen, who say they are targeting employers and not undocumented laborers themselves, ended up in a confrontation at an informal day labor pickup site in Garland in September when they began taking pictures of contractors' trucks. In other states where the group has organized similar activities, confrontations between immigrant-rights groups and the Minutemen have occurred. And the group says that Tarrant is one of the next areas on its list.
Minuteman leaders say that, by operating day labor centers, Fort Worth and other cities are supporting illegal activity and exacerbating the immigration problem.
"If these day labor centers were helping citizens get jobs, that is one thing," said Clark Kirby, former president of the North Texas Chapter and new president of the statewide Minuteman organization. "Not only are the illegals catered to and get special treatment, but this type of activity has a negative impact on the city, and the taxpayers are paying for it.
"Hiring illegals is against the law, and the City of Fort Worth does nothing to weed out those who have no documentation that they are legal workers in this country," he said. Fort Worth "is guilty of aiding and abetting the hiring of illegal aliens."
The Fort Worth Day Labor Center was designed to move day labor pickup points away from businesses and neighborhoods in the city and to give the homeless and disadvantaged a chance at some work. Warren Harris, coordinator of the center, said contractors are encouraged to have workers fill out the proper worker identification forms, but "some do the right thing, and other don't." Harris also said the Fort Worth center has fewer illegals than many places, since many undocumented workers, who fear going into a government-run site, continue to congregate at pickup sites on Hemphill Street and Vickery Boulevard.
The Minutemen "are targeting the wrong group," Harris said. "Illegals are working in many places, but what we are dealing with is the bottom of the barrel. It is either work or starve. This is by no means a place that has the [large numbers of] illegals who cause the problem this group is focusing on."
The major issue for the Minutemen is that those seeking work at the day labor sites are rarely checked for the identification that all employers, under federal Homeland Security laws, are supposed to check. The Fort Worth Day Labor Center is not required to do any ID checks, as it is not the entity doing the hiring.
At the Fort Worth Day Labor Center last week, 10 workers interviewed for this story (none of whom wanted their names used) said they had never been asked by contractors for the required ID. "No one has ever asked me, and I have been coming here off and on for the past year or so," said one older Anglo worker hanging out in the smoking area. "It's just hop in the truck and get paid in cash. I can't even remember anyone taking taxes out."
The rules, however, are somewhat confusing. Domestic workers — part-time baby-sitters and lawn mowers — are exempt. So a contractor picking up people to do yard work might be exempt from getting worker verification, providing that the raking or mowing is done at the employer's home and not at an apartment complex.
Richard A. Gump, a Dallas attorney who specializes in immigration issues, said that most day laborers do qualify as employees who must fill out the federal forms. "I would advise any business that uses day laborers to get the proper paperwork, because the mood of the country now is that they do not want to tolerate anyone who uses illegal workers," he said.
At the publicly funded Garland Day Labor Center in September, the North Texas Chapter videotaped and photographed the contractors picking up day laborers. Those working at the Garland site then sent out several individuals to photograph the Minutemen. According to Clark Kirby, day laborers began to cross the street to confront the Minutemen, and the police were called.
The Minutemen used license plate numbers of the contractors' vehicles to get addresses and sent letters warning that they were violating Homeland Security laws. None of the contractors has responded, and the next step, Kirby said, is to send the information to federal officials.
The problem many see in the Minutemen's tactics is that day labor centers are just a very small part of the illegal employment picture. The Fort Worth labor center gets about 12,000 day laborers out to jobs each year, or roughly 40 per day. Federal immigration agents concentrate on larger companies like Wal-Mart or meat-packing plants or home construction businesses. To some, disrupting a system designed to help the unfortunate get work hurts more than it helps.
Fort Worth City Council member Sal Espino said the law is murky as to whether the day laborers are independent contractors who are exempt from the employment verification rules. But he raised a larger issue, namely whether cities like Fort Worth should be enforcing national immigration laws.
"Do the taxpayers of Fort Worth want the city to be engaged in immigration enforcement, and at what cost?" Espino said. "Day laborers who paint houses are not the big issue in illegal workers. Washington needs to set the standards and be clearer as to what needs to be done and how the laws are enforced."
But as the illegal immigration issue continues to simmer, the Minutemen's move to confront contractors at day labor sites is getting more attention. Chapters of the group in California and Arizona have been vigilant in their protests at day labor sites, some of which have been operating at Home Depot stores. In Arizona, a bill has been filed in the state legislature that would ban cities from using any public money for day labor centers.
In Tarrant County, the day labor/illegal worker issue is getting more notice. Dave McElwee of Arlington, president of the Tarrant Alliance for Responsible Government (TARG), said his group will meet this week to assess what steps TARG wants to take locally about illegal immigration. However, McElwee said, TARG members "like to work behind the scenes to come up with solutions, and we'd like to see that what the [Minutemen] are doing works in any way." McElwee said he is skeptical about whether confrontations at day labor centers will do much to curtail illegal workers and may instead be just a publicity ploy by the Minutemen.
But, he added, "if Washington won't act, then local cities need to act. There is gridlock on the national level, and the local units of government need to do something. We can't continue to have the nation invaded by people who don't belong here." What day labor centers are doing, McElwee said, is providing an easy way for illegals to get work. "What [the contractors] are doing is exploiting the illegals, and it is wrong," he said. "It is like slavery."
Whether the Minutemen will come to Fort Worth is up in the air. In a press release, the group said it would take up "internal enforcement" — observing and recording instances of illegal hiring — in Tarrant County in October, as it did in Garland. Thus far, however, the group has limited its Tarrant County activities to some observation at an informal day labor pickup point on South Cooper Street in Arlington, spurred on by business owners in the area who objected to workers hanging out and allegedly scaring off paying customers.
"We will go where the people want us to go," Kirby said of the 200 members in the North Texas chapter. "We haven't heard that this day labor center is a problem from Fort Worth residents. But if they don't want Fort Worth to be using their tax money so illegals can get work, we will go there and work to make sure the contractors hiring day labor obey the law."
The Minutemen may find that this issue gets little traction here. When it was setting up its day labor center, Fort Worth officials purposefully picked a site that is hidden, off I-30 near the Trinity River, in a warehouse area away from homes, businesses, and casual traffic. Most residents don't even know the center exists or that it gets about $200,000 in public money to operate each year.
And the day laborers want the Minutemen to stay away. "None of us want to be here," said the older guy in the smoking area, "but we need to work. So they might keep a few illegals from working by chasing off contractors. But the rest of us won't be able to work either."