The label "garage band" may have fallen out of fashion years ago, but that doesn't mean rockers no longer practice the art.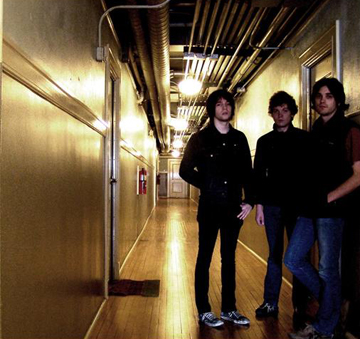 Though it may now go by a different name — "scremo," "post-punk," whatever — it's still the sound of young dudes jamming in a shack surrounded by half-empty paint cans, mounds of cat litter, and unused car tools, the magical detritus of consumer culture that somehow seeps into the music. The result has a directness, a pointed, palpable disregard for fussing around with poetry or complexity.
Fort Worth's Red Herrings are about as pure a specimen of a "garage band" as you're likely to find. Indeed, 23-year-old lead singer, guitarist, and co-songwriter Joe Hill said he and his two band mates — bassist Coby Queen, 24, and drummer Matt Lombard, 23 — have crawled out of the garage only recently.
"For the past year, we've just been sweating our asses off at [Lombard's] place," Hill said, "songwriting and practicing, practicing, practicing."
A couple of months ago, the Red Herrings pooled the contents of their penny jars to record a three-song demo at Rosewood Studios in Tyler, the joint where LeAnn Rimes burnished her young pipes. It was a one-day deal, with no overdubs, just a couple of restarts, and it was mixed and mastered before the guys split.
The result is more polished than you'd expect, but it's still only a shadow of the band's live shows. Onstage is where the tunes, "BB Gun," "Siren Song," and "Changes," plus other, recently written ones, come alive; it's where their bluesy hearts break and their freak flags fly. On disc, the three are a little too clean, too assured in their professional DNA. But live, they are realized as intended: raw, loud, and dirty.
Not that there's anything wrong with crisp, solid musicianship. You can't tell pros to play sloppily just 'cause the kids in other bands do (sometimes unintentionally). Same goes for the lyrics. The Red Herrings' are surprisingly layered. Compared to some tracks by The Strokes, Jet, and The Hives, Hill and company can seem downright Dickensian. "Siren Song," for instance, could've been just another buzz-guitar anthem about a hot chick. ("Are You Gonna Be My Girl?" — blech!) Instead, much of the song is told from the woman's perspective. At one point, the vixen warns one of her suitors: "Don't let everything you're looking for / Have to be something more."
Hill said he became the band's lead singer because "they couldn't find anyone else," but he's being a little modest. He likes to extend a note so he can shred it in the style of Jack White and Billy Corgan. As far as the Corgan influence, Hill said, "It's unconscious. I can't help it. Melon Collie and the Infinite Sadness came out when I was in junior high school. I listened to it all the time."
Vocal duties may be new for him, but Hill has a decent amount of experience. He's been playing guitar in serious and not-so-serious bands since he was 15. He attended the University of Texas at Austin and studied journalism, but he spent more time soaking in the glories of what he calls "the world capital of music" than fiddling with inverted pyramids and anecdotal leads. As for Coby Queen, he's been playing bass only for about a year now, but Hill said, "He got the gist of it pretty quickly."
The Red Herrings aren't looking too far into the future, beyond doing more shows in Fort Worth, Denton, Dallas, and Austin, and preparing to record a polished e.p. that Hill hopes, oddly enough, will better capture the rawness of the band's live shows. The young frontman doesn't come across as the overly cerebral type when discussing the 11 or so songs now in the bag. Basically, he said, they're all just messages that the band members feel a need to convey to the world. His main ambition for The Red Herrings is realistic and admirable. "I just want us to evolve," he said. "I mean, I think we're good musicians. We're better than we were a year ago. But I don't want to think this is the best we're going to be."