The new big-screen version of Charlotte's Web moves me to a sentiment that may be a first for me: This movie should have been an audiobook. E.B. White's classic children's novel was turned into a film once before, a rather ill-advised 1973 Hanna-Barbera animated affair with musical numbers. White didn't care for that movie, and he probably would have cared even less for the recent cinematic treatments of Stuart Little. This film is far more faithful to his work, and had it been directed with only a little more imagination and flair, it might have been as great as its source.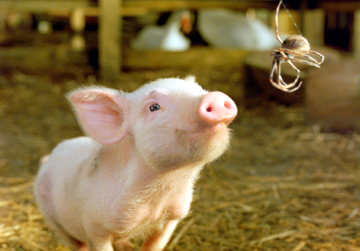 Dakota Fanning plays Fern Arable, a farm girl who saves a runt pig that she names Wilbur (voiced by Dominic Scott Kay) from being slaughtered soon after he's born in the spring. Fern's uncle and aunt, the Zuckermans, put up Wilbur in their barn with the intention of turning him into Christmas dinner, so it's up to an ingenious spider named Charlotte A. Cavatica (voiced by Julia Roberts) to find a way to convince the humans to spare his life.
You can't fault the vocal casting here. Roberts laces her warm, soothing voice with a beguiling love of mischief and an intelligence that makes it easy to believe that Charlotte is the intellectual among the animals in the Zuckermans' barn. Steve Buscemi plays well off her as Templeton, the food-obsessed rat, and Robert Redford manages to cut smartly against his movie-star image by giving voice to the cranky arachnophobic horse. The nicely mismatched Thomas Haden Church and André "3000" Benjamin (as he's known from OutKast) enjoy some of the best comic business as two crows whose attempts at poaching everyone's corn are repeatedly foiled by a scary man dressed in rags who stands in the fields all day and night. Sam Shepard narrates the story in the right folksy drawl. Susannah Grant and Karey Kirkpatrick's script gives them all funny lines and stays true to White's homespun charm.
It's too bad, then, that this is so uninteresting to look at. Director Gary Winick (who previously helmed 13 Going on 30) is handicapped by our memories of the Babe movies, which were revolutionary in their time in the use of special effects to make the animals appear to speak. His direction breaks no new ground and all too frequently resembles a paler third installment of the Babe series. Whether he's showing us Charlotte weaving words into her web or Templeton crawling through a lair decorated with human litter, Winick conspicuously fails to dazzle us with his cleverness or generate an atmosphere of wonder. He does come through late in the picture, when Charlotte's offspring are blown far from the farm by the prevailing breezes. This isn't enough, however, to make up for the rest of the movie's overwhelming visual flatness. All the necessary elements were in place to make Charlotte's Web a great family film. Yet it only sparks to life occasionally.
 Charlotte's Web
Voices by Dominic Scott Kay, Steve Buscemi, and Julia Roberts. Directed by Gary Winick. Written by Susannah Grant and Karey Kirkpatrick, based on E.B. White's novel. Rated G.