A c.d. with the title Hammer of the Honky-Tonk Gods, by a guitar player as hot for so many years as Bill Kirchen seems like it ought to rock out loud. That this one is also soulful and contemplative and still works is a tribute to Kirchen's versatility.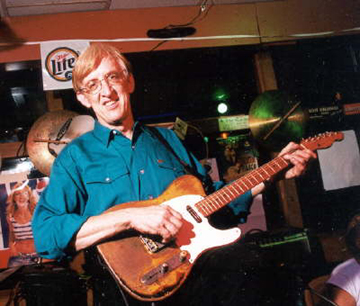 Kirchen, with his Fender Telecaster, was an instrumental part of Commander Cody and His Lost Planet Airmen, the band that cut "Hot Rod Lincoln," a Top-10 hit in 1972 and a song he still is expected to play during performances. The new c.d., his seventh solo disc, plays like it was created near the intersection where rock and country crashed into rockabilly, not far from the shack where old-style R&B was born.
The title song is a tribute to that guitar, which he still plays: "six strings on a maple stick," whose manufacturer "stuck it on a slab of ash."
From that opening song, Kirchen segues to his semi-existential "Rocks into Sand": "Long before fish ever walked onto land / Time was turning rocks into sand … / That slips through the hands of man." On Blackie Farrell's "Skid Row in My Mind," Kirchen, sounding a bit like Tom Waits without the rasp, has the blues. On his chorus-backed, Motown-soul interpretation of Shorty Long's "Devil with the Blue Dress," we understand why he has them.
Kirchen continues to be a guitar-playing presence, having performed with artists as diverse as Nick Lowe (who plays bass on this c.d.), Elvis Costello, Emmylou Harris, Doug Sahm, and Ralph Stanley. His stage shows with the late Ronnie Dawson at Sons of Hermann Hall in Dallas singed the dance floor. Hammer of the Honky-Tonk Gods shows another, also welcome, side of this durable musician.