Arlington indie rockers J Versus K played their first show last May.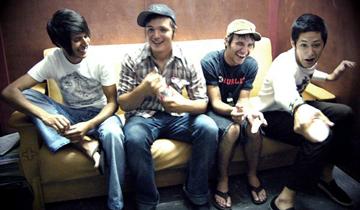 In August, they opened twice, in Houston and Austin, for Bloc Party, a major label indie-rock band from England and major force in hipsterdom. Why a recently formed group of guys ranging in age from 17 to 21 was plucked from the industrial wasteland of Arlington over a zillion other bands, from here and the rest of Texas, will remain a mystery. But there is something about J Versus K's proficient, jazz-influenced sound that distinguishes them from most workaday indie rockers in the region. The band's untitled e.p. from last year has a lot of pointy edges. The beats stop and start and hiccup, the riffs are almost uniformly staccato, and most of the songs seem to revolve around guitarists Josh and Larry's game of musical ping-pong: One will serve up a neat little jumble of individually plucked, tapped, or pulled notes, and the other will respond in kind. Some of the music is also borderline danceable, lending a hint of texture to music that is otherwise intentionally and often immaculately flat and devoid of echo, reverb, or other studio touches normally used to pad recordings.
Like Bloc Party, Mars Volta, and Minus the Bear, J Versus K pens lyrics mostly about self-enlightenment. They're not ideological per se. The strophes are more like the carefully devised thoughts of young men trying to make sense of their world. As arty young folks, the members of J Vesus K, rounded out by drummer Tommy and bassist Cory, allow their lyrical content to drift harmlessly to the left. The band, according to MySpace.com/jversusk, is writing a few more songs for a full-length album that should be out by the end of this month. Bloc Party won't be playing with J Versus K's at the Gypsy this weekend, but Jolt of the City and The Valentines aren't bad either.
Fri w/ Jolt of the City and The Valentines at Gypsy Tea Room, 2548 Elm St, Dallas. 214-74-GYPSY.