Remember last week when I praised Notes on a Scandal as an antidote to what I called "tea-and-crumpets" British cinema?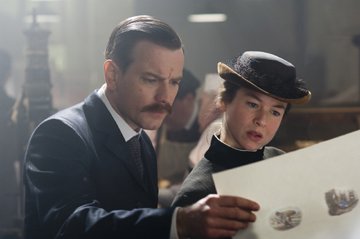 Well, this week we're getting a movie that's an all too perfect example of that. Miss Potter is a biography of the children's author Beatrix Potter, and even though it has a few wrinkles in its otherwise smooth surface, it's still a relentlessly tasteful and unexciting film.
The story picks up just after the turn of the century, finding Beatrix Potter (Renée Zellweger) as an aspiring author who has spent years trying to interest London's publishers in her book The Tale of Peter Rabbit. A pair of fusty brothers named Warne (Anton Lesser and David Bamber) finally agree to publish a limited run of her book, because they're looking for busywork for their youngest brother Norman (Ewan McGregor), who has been bugging them for a chance to supervise his own project. Unlike his brothers, Norman truly believes in the originality and wondrousness of Miss Potter's story and illustrations, and he works closely with its author — who has specific ideas about page size, print face, and price points — to make Peter Rabbit into a giant hit.
The rest is history, but it certainly isn't the stuff of crackling drama. Let's face it, Beatrix Potter's life wasn't that exciting, and this biopic suffers palpably as a result. The author came from a well-off family, and her literary efforts made her unfathomably wealthy. Her personal life was pretty much free of scandal, and her career was never plagued by large-scale failure or anything else in the way of adversity. The movie even exaggerates the leanness of those early years; Beatrix Potter published the first run of Peter Rabbit with her own money and only went to the Warnes after two successful runs of 250 copies.
The story here is so free of conflict that I can't help wondering if the filmmakers have acted against all good dramatic instincts and sanded down the edges of their subject's life. The movie shows us Beatrix's unsupportive mother (Barbara Flynn), but she's held firmly in place by her husband (Bill Paterson), a nurturing father who tells his wife, "Your daughter's a famous author, and you're the last person to see that." In reality, Potter's parents must have been quite forbidding; Beatrix's brother Rupert concealed his own marriage from them for 11 years.
Miss Potter is directed by Chris Noonan, the Australian filmmaker whose one previous directing job was the marvelous 1995 cinematic gem Babe. You might take heart at seeing his name on this piece, but his work here has none of that movie's scruffy energy. Instead, he directs most of this film in the foursquare Merchant Ivory style. He tries to break the tone in animated sequences when Beatrix sees her drawings come to life, like when she looks down into the street and sees her parents getting into a giant pumpkin coach pulled by a team of mammoth rabbits. These aren't bizarre enough, though, and they feel like they belong in a different movie altogether. The same goes for Beatrix's eccentric habit of addressing her characters as if they're flesh and blood entities.
The movie structures itself around her ill-fated romance with Norman and her parents' opposition to it on the grounds that he's a businessman and therefore socially beneath them. This objection is pretty weak, and the subplot exists mostly to allow Zellweger and McGregor to interact. The two leads previously starred opposite each other in the 2003 comedy Down With Love (a much more enjoyable picture than this one), and they have a pretty good fix on each other's conversational rhythms. What they can't manage to do is bring this romance between two decorous and socially awkward people to life. It's much more intriguing to see the scenes between Zellweger and Emily Watson as Norman's sister, just because the two actresses are such a study in contrasts and similarities — the former sharp-featured and petite, the latter tall and round-faced, and both sharing a propensity for odd outbursts of energy.
This is scant reward, though, for a movie with so much talent. Miss Potter probably gives you so little to watch because it's uncertain as to exactly what it wants to be. It falls flat as romantic tragedy, and it doesn't give much meaningful insight into the author's imagination and creative processes. It certainly doesn't work as an inspirational drama about Potter's attempts to carve out a self-sufficient career at a time when few women enjoyed one. It does give some play to her less-acknowledged career as a preservationist of the farmland in England's Lake District, but this is hardly enough to hang an entire film on. Altogether, the filmmakers here needed to expend their energy on another subject. After all, Beatrix Potter knew enough to make her story about Peter Rabbit instead of Flopsy, Mopsy, and Cottontail.