Arkansas native Effron White's vocal style has been compared to that of Bob Dylan, Tom Waits, and John Prine.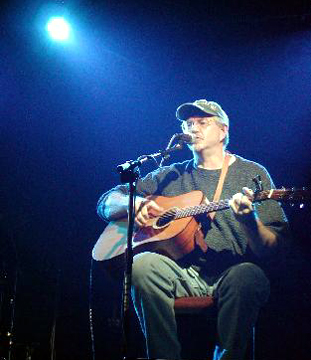 That's like saying "He sounds as if he's got strep throat, lung cancer, and tuberculosis all at once." But don't give the dude a lozenge. His jagged vocals are the perfect icing for his Americana country-blues music. Dylanesque croaking, earthy subject matter, and quality musicianship make White's third self-released album, Paradiso Loco, a keeper and reason enough to check out his Fort Worth debut and c.d. release this weekend.
Recorded in Austin, the album utilizes tasty Texas musicians such as guitarist John Inmon and drummer Paul Pearcey, and White revels in their company. Only one song goes splat, a maudlin homage to the Lone Star State, "Texas Heaven." Most are pleasurable, though, and a few are absorbing. The album flows with a nice groove and thought-provoking lyrical slices, especially when he sprinkles colors into his descriptions: "hair down her back like a red waterfall," "tears I'm crying in the blue light of our tv," "as I look out this black window." In "Misery's Mystique," he ponders the artist's life of embracing desolation in exchange for lassoing a muse. "You unravel every truth that lies beneath, deeper than skin, sharper than teeth."
White earned the Kerrville New Folk Award in 2004, putting him in exclusive company, along with Lyle Lovett, Robert Earl Keen Jr., James McMurtry, Darden Smith, and several other great singer-songwriters. He's got a ways to go before he's truly in those guys' class, but Paradiso Loco is a step in that direction.
Fri w/Annie Benjamin at McDavid Studio, 301 E 5th St, FW. 817-212-4280.