Editor's note: The newspapers and internet are full — as they should be — of remembrances of Molly Ivins, the brilliant, funny, folksy Texas columnist who died of breast cancer on Jan. 31 (also see Static, page 8).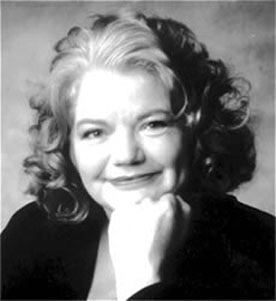 But former Texas-based food writer Ellen Sweets remembers her as much for the meals they shared as for Molly's skill at skewering and roasting hapless politicians. Cynics say you can either find a great paper in an icky town or an icky paper in a wonderful town, but I never believed it until I arrived in Dallas 18 years ago. Wonderful job, nationally respected paper at the time, but, well, it was Dallas. Not my cup of tea, but so what. The job slot was filled, the move made, the obligation to stay for at least one year without having to return moving fees — everything was very much in place. Rather than whimper about my newfound icky-city home, I resolved to join something where I might meet kindred yellow-dog populist spirits. So as soon as the Jefferson Day dinner ad appeared in the features section, I made a note, sent a check, joined the Dallas ACLU, and went along, repeating again and again to myself, "Hello, my name is Ellen Sweets. I just moved here. I don't know a soul." I was still repeating it in my little pea brain when I parked, followed the signs, and arrived at the entrance.
Sitting on a stone bench on an unseasonably chilly evening was a rather substantial woman. She looked up and smiled. I extended my hand and said what I had planned to say. Her smile broadened, she shook my hand, and replied in that unmistakably husky and resonant voice of hers, "Well, hello there, Ellen Sweets," she said. "My name is Molly Ivins." With that, she extinguished her cigarette, took my arm, and starting introducing me to folks she thought I'd like. And like dominoes, friends began to fall into place. So I had a Dallas crew to hang out with, and when I wasn't with them, it was off to Austin, where Molly hung her hat. I spent so much time in the state capital that people thought I lived there. One year we did a Cajun Thanksgiving, complete with seafood gumbo and turducken. We e-mailed plans back and forth, creating a timetable for making the sweet-potato casserole, the carrots sautéed in brown butter with shallots, collard greens, baby Brussels sprouts in Dijon-cream sauce, mashed potatoes, and giblet gravy.
The four-hour meal ended with cherry and pumpkin pie and various guests spread-eagled on the floor, bemoaning their lack of self-control. Molly's house became my stopping place. We often didn't do much of anything other than cook. The two of us in a grocery store was often a double-barreled disaster. We'd make a list and either forget to bring it or completely misunderstand who was to get what. Cruising Central Market, I'd think we needed more of this and less of that. She insisted that my sense of proportion was totally without merit, so I'd sneak in an extra something that she would promptly remove. We became adept at pointing out the error of each other's shopping ways. Molly's opprobrium was gentle and oblique, such that it often registered hours later that she had, in fact, called me a twit. When she screwed up, I just sputtered, lest some inappropriate vulgarity issue forth. A food writer is no match for a brilliant political pundit.
Deep breaths were especially required when "Chef Ellen" had to devise a way to stretch food for four into a meal for six — or sometimes eight or 10 — by the time Miss Molly had completed spontaneous invitations that were conveyed at quarter past the last minute. Over many years and many, many meals, there was never a dull one. Molly's dinner parties were a thing to behold, whether duck a l'orange with leeks and pureed potatoes, or chili with cheese and sour cream; barbecued chicken, potato salad and slaw; or a standing rib roast and baby vegetables. We drank, we talked, we argued politics, embellished the truth, and in all probability told outright lies. Several times I made it down for her beloved tree-trimming parties, replete with Elvis ornaments. I don't think any of us will ever forget Final Friday sing-alongs with the New Lost City Ramblers, the storytelling, or the slam poetry evenings.
For all the varied meals we consumed around that wonderful table, from fried chicken to poulet Basquaises, Molly always returned to two favorites when we cooked together: seafood gumbo and chicken soup. When I visited her at her home in December, I brought a container designed to get her through a couple of lunches. Molly promptly ate it all. We sat in the kitchen — with dear friends Del Garcia, Hope Reyna, and Betsy Moon — and reminisced about the Texas Observer party that had been dedicated to Molly a few weeks earlier. We even managed to extract laughter from the continuing foibles of, well, you know who. Native Americans have a belief that when a loved one dies, the spirit remains for 12 months to guide the living through their pain. I will feel her breath over my shoulder when I make gumbo again, telling me I don't need both okra and filé powder. I'll remember her especially when I forget a grocery list, or snatch up an item that was never on it anyway.
This article originally appeared in The Denver Post.