While Motown was getting a lot of well-deserved glory for its soul music successes in the 1960s and '70s, Stax was in the trenches digging up and sharing funky, Southern-rooted, R&B-based soul. The label put 243 songs on Billboard's R&B chart and 167 on its Hot 100 pop chart.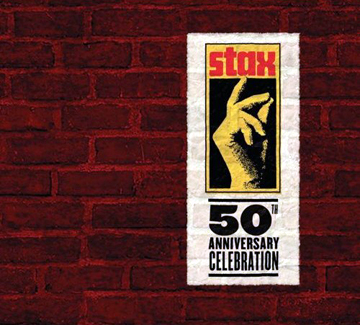 Stax 50th Anniversary Celebration — "a blast from the past," as the DJ's of the day would have said — features 50 of those hits, from the likes of Sam & Dave, Otis Redding, Isaac Hayes, The Staple Singers, Carla Thomas, Rufus Thomas, Johnnie Taylor, Eddie Floyd, William Bell, Little Milton, The Mar-Keys, and Booker T & the MGs (who were the "house band" for many of these recordings). The sound was generally upbeat and sassy, often focused on the never-ending, sometimes joyous war between the sexes, and almost never explicit.
Highlights among a c.d. filled with highlights are "Respect Yourself" and "I'll Take You There" from The Staples Singers; "Who's Making Love (to Your Old Lady While You're Out Making Love)?" and "Cheaper to Keep Her" from Johnnie Taylor; "That's What Love Will Make You Do" from Little Milton; "Dedicated to the One I Love" from The Temprees; "You Don't Miss Your Water ('Til the Well Runs Dry)" from William Bell; "Walking the Dog," with its wedding-march intro, from Rufus Thomas; "Tramp" from Otis and Carla Thomas; and "I've Been Loving You too Long (to Stop Now), "Respect," and "(Sittin' on) the Dock of the Bay" from Otis Redding. For old-timers, this collection is a reminder of seemingly simpler days. For youngsters, it can be a discovery of the roots of today's soul music.