More Behind The Picture Than The Wall is a c.d. filled with "leapers and weepers" — a mix of upbeat, banjo-laced, toe-tapping hillbilly dance tunes and slow, sentimental songs about loss — from one of today's most honored bluegrass bands, Doyle Lawson & Quicksilver.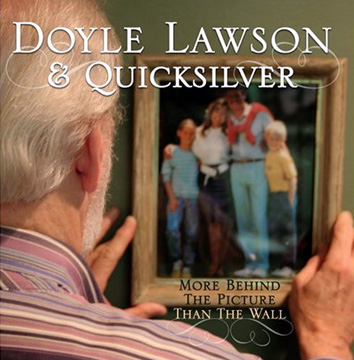 Principal singer Jamie Daily's high lonesome voice combines with the band's excellent harmonies along with banjo, fiddle, and mandolin, plus guitars and upright and electric bass in this auditory treat. Basically, bluegrass musicians play so fast because they're trying to outdistance their troubles. Even many of the upbeat-sounding songs are streaked with sadness, except for "Sadie's Got Her New Dress On," a celebration of a young woman's turning 21 and ready to find her a man, and of the men who are interested. Lawson takes the lead on "The Phone Call," about a rare midnight call from his dad, who just wants to tell him that he loves him and wants to say all he hasn't said over the years. Just as the phone call ends, his mom shows up on the doorsteps to tell him his dad died a few hours earlier. In the context of the c.d., it's not as corny as it might sound.
There's also a kind of depth to these 11 songs that casual listeners don't always expect from bluegrass. The title song shares a lonely old man's memories as he looks at his photograph of a family that scattered to the wind. The poetic "The Selfishness in Man" protests the uselessness of hate: "To think those tiny fingers might become a killer's hands / There's nothing that stands out more than the selfishness in man." It's no surprise that Doyle Lawson & Quicksilver have won six consecutive "Vocal Group of the Year" awards from the International Bluegrass Music Association. In 2006, Lawson won a National Endowment for the Arts National Heritage Fellowship for cultural authenticity and contributions to music, joining the select group of Bill Monroe, Earl Scruggs, Doc Watson, Ralph Stanley, and Jerry Douglas.