Although he's a professional Nashville songwriter who's had material covered by the likes of Brad Martin, George Strait, and Kenny Rogers, Cadillac Sky's lead vocalist and mandolin player Bryan Simpson didn't wander the streets of his childhood Fort Worth neighborhood, pen and spiral notebook in hand, scribbling down every poetic, sensitive thought that wandered across his little mind.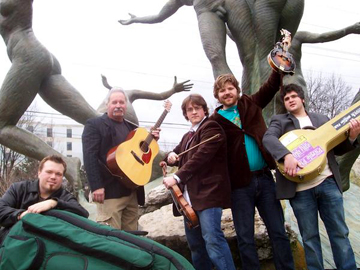 "I started writing out of necessity," the thirtysomething musician said. "When I was 18, I had a twin fiddle act with my 14-year-old brother. We just got sick of doing covers. So I asked my dad, who was a pretty good poet, to sit down with me and write some tunes. Believe me, I wasn't tapping into deep emotions." He was, however, honing a talent that would bring him a comfortable living after he moved from Texas to Nashville in 1996 as a session fiddle man for Sara Evans and other mainstream country up-and-comers. There, in 2002, Simpson fell in with a group of "great influences," he said — mostly anonymous but successful corporate songwriters in Music City. He soon developed a strong reputation as a composer. A couple of years ago, singer Martin took the Simpson original "Before I Knew Better" to No. 15 on the Billboard country singles chart. At the moment, though, it's Cadillac Sky's debut Blind Man Walking on Ricky Skaggs' Skaggs Family Records label that's got Simpson hyped. "I wear two different caps [as a musician]," he said. "There's the commercial music I write, and then there's the music of integrity that's very personal to me, the acoustic stuff." In other words, Cadillac Sky's stuff.
He and ace banjo player Matt Menefee formed the band about five years ago, not long after Simpson moved back to Fort Worth and got married. And in fact, one of Cadillac Sky's primary goals is to serve as a showcase for the kind of honorable music of which he speaks. Helping the cause is the rest of the band, guitarist/vocalist Mike Jump, fiddler/vocalist Ross Holmes, and bassist/vocalist Andy "Panda" Moritz. "Ideally, you'd like [pop and virtuosity] to meet somewhere in the middle," Simpson said. "But when you turn on the radio these days, you don't hear [that combination] a lot." If you catch Simpson driving around in his car, you're more likely to hear Flatt and Scruggs Live at Carnegie Hall in his c.d. player than Faith Hill or Brad Paisley. "I try to keep a steady stream of bluegrass playing through my head and my heart," he said. It helps keep those Cadillac Sky fires stoked.
And yet, like The Greencards and Nickel Creek, Cadillac Sky is conscious about trying to work what Simpson calls "a progressive edge" into the band's sound. Pure bluegrass, he said, had been lumped in with the generic "country music" label until the folk revival of the '60s gave the music its own genre. He defines bluegrass in technical terms. The instrumentation consists primarily of banjo, mandolin, fiddle, guitar, and upright bass, and the beat is 2-4. There's also that oft-cited vibe that every bluegrass performer aims for, that famous high lonesome quality. Cadillac Sky tosses some unexpected twists into the recipe, like, say, a funky rhythm borrowed from the '70s Southern rock that guitarist Jump loves so much, or stacked harmonies with one line sung in unison. To categorize Cadillac Sky's sound, Simpson employs the term, "newgrass," a sub-sub-genre that vaunted bluegrass muso Alison Krauss says is a lot more thoughtful, virtuosic, and hard-charging than what you'd hear from any old mountain men whose presence continues to hover like soupy fog around the music. "I didn't grow up in a cabin," Simpson said. "Most people who listen to Nickel Creek or Alison Krauss are not living on the sunny side of the mountain."
The lyrical content of certain Simpson compositions reflects this. Cadillac Sky has a song called "Can't Trust the Weatherman" that includes the lines "Her daddy hated her tattoos / But she loved her baby due in September." He identifies himself as a Christian and admits that the band's Skaggs Family Records debut has a more spiritual edge than even he was aware of while writing and recording it. But Simpson insists that he's interested in subject matter that transcends the "God, family, and country" platitudes that many people also assume are the point of bluegrass lyrics. "You can sing those songs [about God and country] in churches all day long, and people will think they've gotten [the message] whether they have or not," he said. "I'm interested in the way people live when they're not in church."
Much as he loves the hardscrabble sentimentality of certain numbers by Ralph Stanley and Bill Monroe, Simpson wants to write about "things people don't expect to hear in a bluegrass tune." He also wants to dress up a few tunes in bluegrass duds that audiences wouldn't expect to hear. Gnarls Barkley, Depeche Mode, The Rolling Stones, and Green Day have all fired up the boys' fiddle and mandolin strings. "I remember performing [Green Day's] 'Basket Case' one show, and seeing an older gentleman in the audience just enjoying the heck out of himself," Simpson said with a laugh. "But I was wondering to myself, 'Has he ever heard the original?' "
 Cadillac Sky
Thu, March 22, at Central Market, 4651 W Fwy, FW. Free. 817-989-4700.