Let's get one thing straight. The best Vietnamese food in town is in Haltom City, our Tarrant County neighbor to the east. It has a stretch often referred to as Little Vietnam. That said, there are joints closer to home that may not be as superlative but can deliver a strong Vietnamese-food fix.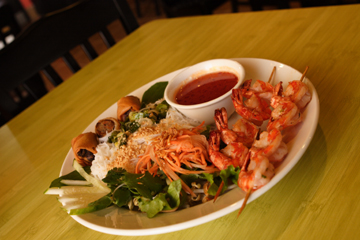 New among the solid non-Haltom City restaurants is Sonny's Diner, in a strip mall near the intersection of Bryant Irvin Road and Camp Bowie Boulevard. A restaurant whose humble storefront conceals a stylish, clean, and small yet spacious-seeming interior, Sonny's also gets points for doing Japanese specialties — and how! The best pro-Sonny's argument, however, can be found in the seats: Like 90 percent of the employees, a lot of the regulars are Asian.
Now, about Sonny's Japanese goodies. Teriyaki, whether from a fast-food dump or fancy sushi joint, is hard to mess up and almost always awesomely delicious. Some people will eat a piece of soggy cardboard as long as it's dipped in teriyaki sauce. But there's an art to doing teriyaki well, and Sonny's has it down. The sauce on their chicken teriyaki was the perfect consistency of gooey and smooth, and it was the heartwarming, lip-smacking color of homemade maple syrup. The saltiness and sweetness tangoed nicely — neither took the lead. As for the chicken, it arrived in neat strips about the size of a cigarette lighter and had that succulent smoky flavor you look for in Grade-A bird. The accompanying clump of rice was warm and sticky, as it should be, the ideal complement to the teriyaki's kick.
All of Sonny's teriyaki dishes include soup and a simple, small, fresh salad with "special" sauce, a white, flavorful dressing that tastes kind of like salty milk. In addition to Japanese fare, Sonny's dabbles in the food of neighboring Thailand, perhaps accidentally. With a little culinary legerdemain, an order of bún tofu, a Vietnamese staple, can be turned into something resembling tofu pad Thai. The necessary flavors are all there — sweet (lime juice), sour (tamarind pulp), spicy, and salty (chopped peanuts) — and so are the ingredients: noodles, veggies, and tofu. Just mix everything together, and — voila! — tofu pad Thai. And on Fast-Food Freeway, no less!
Or you could just go it the slow, old-fashioned way and plop each ingredient into your mouth individually. If you're really hungry, start with the vermicelli noodles. Sonny's were cooked just right, al dente, and they arrived in a big mouth-watering clump. The effect of hoisting the whole thing to your mouth and sinking your teeth into it may not be unlike stuffing your face with, say, a loaf of fluffy, freshly baked bread or, if you have a healthy imagination, one half of a medium pizza (rolled up, of course). There's just something about being able to max out all of the available space in your mouth in just one bite that's invigorating and life-affirming — if not attractive to watch. "Asian food" and "a stuffed face" usually don't go together, but at Sonny's, the potential is there.
Sonny's also does fruit smoothies — the strawberry-banana version tasted like liquid Bubblicious chewing gum! — and designer teas, which come in cute lil' anime-covered plastic cups. Don't pass on the strawberry green variety, a subtle blend of watery tea and fruit juice. Sonny's doesn't do everything right, and the most alarming and depressing example was the beef pho, Vietnam's signature soup. The steak strips were rubbery and, worse, not plentiful enough. Overall, the bowl sated a Vietnamese-food jones. But it wasn't anything to write home to Haltom City about.
 Sonny's Diner
Beef pho $7.25
Chicken teriyaki $8.50
Smoothie $3.25
Bún tofu $6.75