Local avant-garde and straight-ahead jazz pianist Jhon Kahsen already serves as the ultimate music educator in town.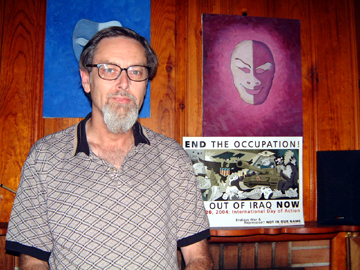 In addition to instructing willing ears about harmonies, history, and where the twain meet, Kahsen also rages against the machine. With his free jazz band, the Anarkestra, the Fort Worth icon will join Dallas free jazz master and instructor Dennis Gonzalez and his Eels of Steel at Arts Fifth Avenue on Sunday to raise money for the show's presenters, Peaceful Vocations, a national nonprofit organization that distributes information about non-military career options to high school students. Kahsen and Gonzalez have never played together before — for fans of flights of fancy, the pairing is can't-miss.
Peaceful Vocations' volunteers, according to the group, have discovered that trying to compete with aggressive military recruiters on high school campuses isn't easy. The money raised by the event, "Make Art, Not War," will help the volunteers create, produce, and distribute their propaganda more effectively.
Along with the music performance, spoken-word poets Silence, Froze, Zöe Pardee, and Tammy Gomez will also perform. Admission is $10 and includes hors d'oeuvres.
Sun at Arts Fifth Avenue, 1628 5th Av, FW. 6-9pm. $10. 817-923-9500.