Until the age of nine, 27-year-old singer-songwriter Jerrod Niemann spent countless hours at a place where a lot of kids start developing their social skills: the skating rink.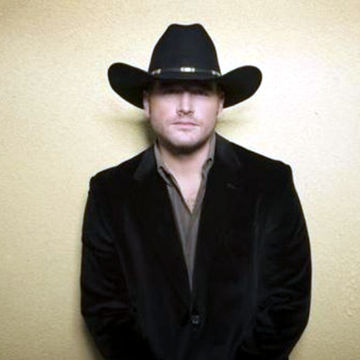 His parents owned and operated a rink and arcade in the small ag town of Liberal, Kansas. He acquired some choice profanity from the older skaters, donned the birthday-party Snoopy costume to whiz around and scare the younger customers, and absorbed a steady stream of the FM pop-rock singles you'd expect to hear at a skating rink in the '80s: "Another One Bites The Dust," "Walk This Way," "We Will Rock You," and others. "They were not big influences," he said. "They were just what I was around." It was, instead, his parents' sound system that sent out the sound waves that did manage to soak into his brain: George Strait, who became an icon to pint-sized Jerrod. After that, it was Garth Brooks, Chris LeDoux, Lefty Frizzell, Willie Nelson, Bob Wills, and a host of other pivotal c&w tunesmiths who eventually helped Niemann become who he is today: an uncommonly gifted, Nashville-based purveyor of '60s- and '70s-style bad-boy jukebox country.
Niemann had early success as a chart-topping songwriter. He co-wrote Brooks' recent tribute to LeDoux, who died in 2005, "Good Ride Cowboy," which went to No. 1 on the Billboard country singles charts. And now that he's gone solo, he and his backing band, The Saloonitics, are hitting the road for an intense national tour of clubs, fairs, and radio station spots to promote his crafty, irrationally catchy tune "I Love Women (My Momma Can't Stand)." It's the first single off his upcoming debut album with Category 5, a new Nashville indie label whose roster also includes veterans like Travis Tritt and Sammy Kershaw. "The longer you hang around Nashville, the more you're pegged as one thing," Niemann said. "I'd played my own songs for all the labels and agents a thousand times there, but somehow I became 'the songwriter,' and they forgot about the singing part."
And so in 2006, not long before Category 5 approached him with a contract, Niemann hired a booking agent, sold his truck, and bought "a 12-seat bus just to get playing on the road and get noticed. "I did it for Nashville's attention as much for anyone else's," he continued, "to remind them, 'I'm writing these songs for me, too.' " In Niemann's case, it's somewhat of a compliment that the suits see him as a composer. He writes melodically compelling, honkytonk-flavored ballads and rockers with uncommonly sophisticated images and wordplay in his lyrics. "I Love Women (My Momma Can't Stand)" is a grin-inducing list of all the qualities that Niemann the narrator digs in a chick: tank tops, four-letter-words, a taste for Jim Beam, and, most priceless of all, "red lipstick on a Daytona tan." Playful is not Niemann's only key. With its sharp details, the mournful "Behind This Microphone," the album's title track, de-romanticizes the unknown musician's bohemian lifestyle: "I went to sleep without a bite to eat / Just to fill the gas tank up." "Yellow Brick Road" is a wistful ode to his Kansas hometown, celebrating its "tornadoes full of hell and rain" and ultimately taking an interesting twist. Turns out he's singing not about some gold-paved journey, but about eventually seeing his name "written in stone" in a Liberal graveyard. Niemann delivers all of it with a rich, back-of-the-throat hayseed purr that recalls idols like George Jones and Conway Twitty.
"When I write, I concentrate on the memories of events, even the colors of things and the way they look," he said. "I also try to make the last line of the second verse the killer, the best line in the song." The sense of craft and discipline in Niemann's compositions is not accidental: He's been performing and writing tunes since high school. (Algebra class was one of his favorite places to write, he said.) He eventually earned a scholarship to the commercial music program at South Plains College in the West Texas town of Levelland. The school offers an intensive arts-style degree in everything from the verse-chorus-bridge basics of songwriting to live performance skills and studio recording. Lee Ann Womack and The Dixie Chicks' Natalie Maines are fellow alumni. "Most of the classes were one-on-one sessions with instructors, and they didn't mind telling you if your meter sucked or your lyrics were stupid," he said. "They wouldn't put up with you unless you really, really threw yourself into it."
After Niemann graduated in '99, he moved to Fort Worth, where his parents had relocated, and began waiting tables, playing gigs in the Stockyards, and "getting ignored by women because I was a singing waiter who lived at home." Figuring he could push plates in Music City as well as anywhere, he took off for Nashville. His very marketable mug landed him a first-look deal with Mercury in 2001, but it dissolved when his A&R guy was fired. Niemann found more lasting connections with songwriters like Whitey Shaffer (a personal hero that Niemann "practically stalked" to meet), Paul Overstreet, and Aaron Barker. He eventually landed a publishing deal with Marathon Key Music, but it was an old friend from South Plains who drew him into Garth Brooks' camp, where he co-penned both "Good Ride Cowboy" and "That Girl Is A Cowboy."
Now Niemann is hearing his own words in his own voice. "I Love Women (My Momma Can't Stand)" just cracked the Billboard Top 50 country singles chart, thanks especially to airplay in Miami, Phoenix, Portland, Omaha, and Dallas, among other places he's visited. Niemann believes he would've languished in Nashville forever as "the songwriter" if he hadn't bought that tour bus and forced himself back into live performance. There's a Music City phenomenon he calls "jaded roadie syndrome," in which otherwise friendly colleagues aren't particularly happy or supportive if you decide to do something new and unexpected. Still, he's tasted enough success — and holds out enough hope for his performance career ahead — that he can wax philosophical. "Somebody told me, 'If you want to survive in Nashville, you have to have a backbone, a wishbone, and a funny bone,' " Niemann said. "The funny bone is so you can laugh when they kick you in the tail bone, and believe me, it happens."