It's not so rare that a band claims to have formed out of inspiration from a single album as it is unusually honest. Most musicians want to be considered eclectic and well-listened even if only a handful of tunes truly served as motivation.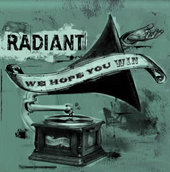 The four guys who formed the earliest incarnation of Radiant got together seven years ago as a result of a common obsession with Radiohead's then-divisive OK Computer. Several c.d.'s, some worshipful press, a few gigs with national darlings such as Better Than Ezra and The Killers, and a recent appearance on Jimmy Kimmel Live ensued. The North Texas band has now reached a point at which the release of We Hope You Win — a compilation of shoulda-been mod-rock hits and new tunes — seems, at the very least, like a smart commemorative pit-stop before moving forward.
We Hope You Win features 14 songs founded on unashamed art-rock-ish, symphonic soundscapes. Lead singer-guitarist-pianist Levi Smith and the band pen long-ish tunes of downbeat, minor-key elegance. The more he slows down to share his lyrics of melancholy hope, as in "Magician," the more he sounds like Rufus Wainwright with some of the airplane glue peeled off his lips. A gospel choir fleshes out the tinselly synth reverie known as "The Sound of Splitting Atoms" (the title track of a previous release). Despite the subdued pep of the percussion, the title chorus of "Everybody, Are You With Me?" is repeated so insistently that it betrays the singer's doubt about the answer (no). The slightly ponderous "Golden Hour" builds to a string-surging daze, and "She's Alright With Me" is a welcome ratcheting up of the tempo that jovially celebrates an imperfect mate.
It's unclear precisely where Radiant wants to go from here. Listening to We Hope You Win, you may get the distinct sense that the band is confident in its sonic identity but still needs to find its way to the next stage.