Pantagleize Theatre brings a couple of parents-to-be to life at a crossroads.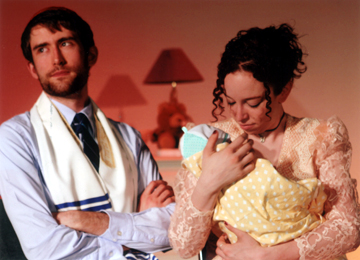 Someone once called live theater "the art of the improbable" because it involves people play-acting on a stage and yet hoping to convince the audience that there is some element of truth in what they're presenting. Fort Worth's Pantagleize Theatre Company is finishing its first full season with a staging of Ted Tally's Little Footsteps, and in that spirit of improbability, they're doing it in the unlikeliest of places: a converted warehouse space between the Exelon-Handley Power Plant and the Union Pacific Rail Line just off 820.
The show's playbill lists "our train" as one of the characters and explains that "the actors may find it necessary to pause until she pipes down." And indeed at a recent performance, the actors had to dawdle or shout in mid-performance as Union Pacific cargo caravans roared through. Theater spaces in town apparently are harder to come by than Alberto Gonzalez supporters, so while Pantagleize is likely grateful for its home, the noise factor may be problematic for everyone but the most hardcore, stage-hound suspenders-of-disbelief.