"Nothing here has any value — nothing here is real," croon the folks of The Clientele on the opening track of their new album, God Save The Clientele.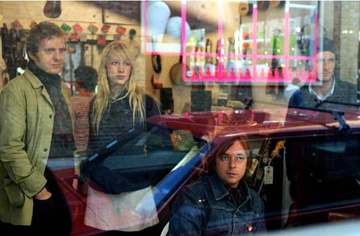 And the sentiment is at least half true: The tunes that are skillfully woven here do seem dream-like and indeed unreal. But the collection itself has plenty of value. Unabashed, subdued power-pop is a succinct yet quite accurate description of the sounds produced by these three boys and a girl who, oddly, share a label with indie-rockers Spoon, … Trail Of Dead, Teenage Fanclub, and Superchunk. God Save The Clientele is cleanly and efficiently produced, without coming off as slick or overdone, a feat rarely achieved in any pop genre these days. Few of the tempos ever make it past a light shuffle, though that doesn't mean the tracks themselves meander into morose territory. The lyrics are poetic and breezy, and the band's co-vocalists sound as if they've listened to the entire Fountains Of Wayne catalogue religiously, which isn't necessarily a bad thing. Steel and slide guitars abound, providing the whole affair with an overall serene, lullaby quality, and the sometimes-blinding string sections are well thought-out and maturely arranged.
Fans of indie gurus Belle and Sebastian and bands whose quirks declaim loudly would probably feel at home with God Save The Clientele. Despite some of the band's shortcomings, their songwriting prowess does seem fairly strong, and they never appear to be going beyond the limits of their abilities. Clever arrangements and fantastic harmonizing rescue some of the lesser songs such as "From Brighton Beach to Santa Monica" and "The Queen of Seville." "Bookshop Casanova," on the other hand, is a pleasure from start to finish that strongly echoes R.E.M.'s mid-'80s brilliance, as is "The Garden at Night." (A take-off on R.E.M.'s "Gardening at Night"?) The Clientele also betray a severe Brit-pop influence, not only via melancholy atmospherics but also by a crafty sense of space between their instruments and the differing vocal styles. "Nothing here is real" may have a double meaning for God Save The Clientele: The band doesn't create anything completely new and/or original, but it nicely builds on some of the best of rock's recent past.