It would be tempting to use a cliché like "hidden treasure" to describe the Camp Bowie eatery The Lunch Box.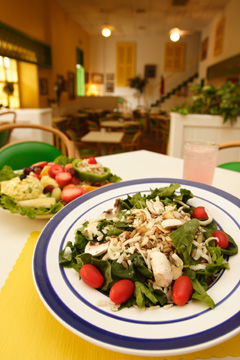 Indeed, the place is kind of concealed — to get there, you have to pass through a walkway and a small courtyard that sits between Stanley Eisenman Shoes and Tim Love's tapas joint Duce. But the venerable café is clearly well-known. On a recent weekday afternoon, the place was packed with merrily chatting professionals on their lunch breaks. There was even a short table wait. Inside, the place looks high tea at Mother Goose's. The color scheme is pale, sunny yellow and creamy white, which does create a calm-but-bright, Prozac-y vibe. (Or, for interior-design tastes that are a little harder edged, it's like dining inside a hard-boiled egg.) The simple, relaxed feeling carries over from the walls to The Lunch Box's yellow menu: sandwiches, salads, soups, a quiche du jour, and fruit plates. Because diners can make a lot of this stuff at home, a small-scale home-cooking place like this always has to work harder than the rest of the pack to impress. The Lunch Box, with its fresh and obviously hand-prepared ingredients, does — even if the results aren't exactly groundbreaking.
The Lunch Box's forté clearly is sandwiches and salads. The egg salad on dark rye was delish, especially for people who like their salad chunky and not mushy. The kitchen also goes light on the mayo here, emphasizing the flavors of the hard-boiled whites and yolk. The Reuben on whole wheat was a little less exciting: a normal-sized sandwich rather than one of those skyscraping, architectural wonders you often see at similar restaurants. The Lunch Box's ultra-mini-Dagwood was packed with slices of savory corned beef, Swiss cheese, a thin layer of sauerkraut, and a "special sauce" that seemed to involve mustard. More kraut or more sauce might've been nice — the meat and the cheese conspired to overwhelm the whole thing. The Lunch Box's specialty albacore tuna salad was something you might not think to make at the crib — and almost a homerun. The bottom layer was shredded iceberg lettuce; the next un-fishy, fleshy shards of tuna; and the top a mound of small-curd cottage cheese crowned with a black olive. Large slices of apple and avocado ringed the plate. All that kept the salad from greatness was the thick, almost gelatinous poppy-seed dressing — it was too fruity and ended up clashing with the other flavors. This somewhat jarring misstep contrasted with the overall Lunch Box experience: satisfying if never quite scintillating.
 The Lunch Box Egg salad sandwich $5.50 Reuben $6.50 Albacore tuna salad $7.95