When feminism was still known as "the women's movement" and associated with corset-wearing suffragettes, along came Nancy Drew.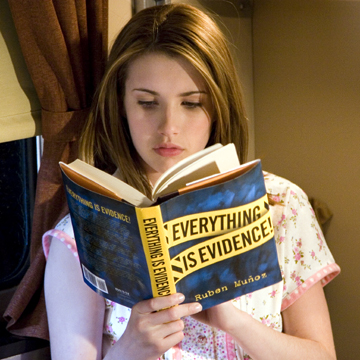 The plucky, defiantly modern girl detective was invented in 1930 by Edward Stratemeyer, and the first mystery novels containing her adventures were written by Mildred Wirt Benson under the pen name of Carolyn Keene, a pseudonym that has persisted along with the novels to this day. Along the way, generations of women have credited this character's resourcefulness and independence of thought with inspiring their own successes in life. Nancy Drew hasn't had the big-screen treatment since the late 1930s. The trouble with putting out a movie about her right now is that over the last decade or so, the whole concept of girl power has become so culturally ingrained (and in many cases warped) that the film has to work hard to distinguish her from all the other adolescent movie heroines out there. That task falls to Andrew Fleming, a filmmaker whose best work has been about adolescent girls (The Craft, Dick), and he responds by making Nancy into a hypercompetent oddball. Like much else about Nancy Drew, this solution isn't an unalloyed success.
The movie takes Nancy out of her fictional community of River Heights and plunks her down in a Beverly Hills high school — I may have read the wrong books in the series, but I don't think the literary Nancy Drew ever goes to class — so that we can see the contrast. She outsprints all the other girls in P.E., makes replicas of Gothic cathedrals in wood shop, and ignores the school's mean popular girls when they rag on her unabashedly retro tastes in clothes and music. Nancy's neatnik obsessions extend to carrying around a supply of home-baked lemon bars and blondies to hand out to people. One wonders if this Nancy's middle name might be Reagan, but making her unhip in this way is rather refreshing. Sadly, the choice of lead actress isn't as felicitous. As Nancy, 16-year-old Emma Roberts is pretty, with an impressive on-camera poise that's either inherited or learned from her famous forebears. (Eric Roberts is her father. Julia Roberts is her aunt.)
She's also unrelentingly chipper, and the "chipper" isn't the problem so much as the "unrelenting" is. Her Nancy comes off as a perky windup crime-solving toy, who reacts only with mild annoyance when people try to kill her. There is a scene in which Nancy reveals a bit of a troubled side, trying to recall her dim memories of her mother who died in her early childhood. It's a nice touch, having Nancy call this "the greatest mystery of all," but Roberts fumbles the scene and never seems to locate the character's drive. Of course, there has to be a case to solve and a dark secret tunnel for Nancy to explore with a flashlight, so our detective discovers that the delapidated mansion she and her dad Carson Drew (Tate Donovan) have rented for their stay in California was once owned by a Hollywood movie star who died under shadowy circumstances in the 1980s. The star is played by Laura Elena Harring — let David Lynch fans choke over this movie's echoes of Mulholland Drive. Nancy not only finds clues to the actress' death but also a struggling single mom (Rachael Leigh Cook) who may be a long-lost heir.
Is it me, or do most of Nancy's cases come down to property rights? Had the movie stuck to the case, it might have worked better. Unfortunately, it also includes way too many distractions, chief of them a precocious 12-year-old (Josh Flitter) who attaches himself to Nancy as a sidekick. The subplot with Nancy trying to hide her sleuthing from her dad turns out to be useless; one might sympathize with a widower who doesn't want his only child engaging in activities that routinely jeopardize her life, until one realizes that he isn't around much to ensure that doesn't happen. Nancy's relationship with boyfriend Ned Nickerson (Max Thieriot) is particularly off-key; of all characters, Nancy Drew shouldn't be wasting energy worrying about what a guy thinks of her. Then again, the thriller elements here never threaten to work, either. Fleming is fond of staging action sequences, which is odd because he's not too good at them. He winds up steering this movie into a trap that often snares the first installment of a franchise; he's so busy introducing us to the characters and the world they inhabit that he neglects to tell a cohesive story. This would appear to hold out some hope for a sequel that's superior to the original, but unless this lead actress gets a better fix on the character, I can't see it happening. Nancy Drew made me nostalgic, but only for the recently cancelled Veronica Mars, a show with much sharper writing, acting, and story developments than can be found in this likable but inadequate movie.
 Nancy Drew Starring Emma Roberts. Directed by Andrew Fleming. Written by Andrew Fleming and Tiffany Paulsen. Rated PG.