The bloozy garage-rock duo known as The Black Keys — singer-guitarist Dan Auerbach and drummer Patrick Carney — are town-proud: specifically, of their hometown of Akron, Ohio, where they've known each other since grade school and operated a lawn-mowing service during their early college years, around the time the two thirtysomethings began recording and playing together.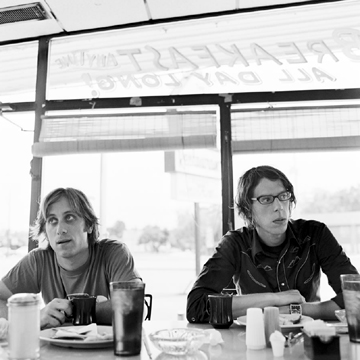 They claim they got canned from the lawn gigs for sloppy edging. They still call Akron home and still go to the same pool halls and pizza joints they did when they were trying to buy beer as minors. But since they formed The Black Keys in 2001, one thing has changed: Their reach has exceeded their geography. Local fans began to flock, the internet went abuzz, and The Black Keys were personally selected to open for Radiohead by Thom Yorke for that band's 2006 international tour. They were also cited by no less than Robert Plant as the greatest thing since … well, since white musicians turned blue.
Their sophomore disc for Nonesuch Records, The Live EP, is actually their fifth release, and it perfectly captures the fat, fuzzy grandeur that these two buckeyes manage to invoke. Auerbach used to sing Mississippi folk-blues at family events, and he's developed a low-key, drowsy vocal approach with great rhythmic timing. He's not just imitating various African-American voice traditions. He's lending them a stoner's depth, which perfectly matches the Keys' all-original tuneage that's both laid-back and wired-up. Drummer Carney can change beats on a dime, and he provides a rock-solid foundation for his musical partner's amped-up, frayed-guitar misadventures. Get tickets now. The show will probably be sold out. Tue, June 19, w/Dinosaur Jr. at Ridglea Theater, 6025 Camp Bowie Blvd, FW. 7pm. $15. 817-738-9500.