Metropolitan Classical Ballet came to grief with two new ballets at Bass Performance Hall last weekend, but Ballet Concerto's Summer Dance Concert in Trinity Park ended as dance entertainment at its best.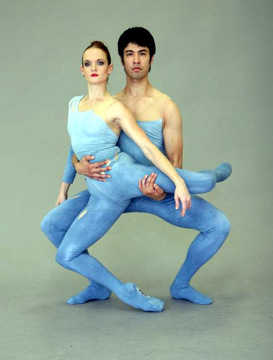 It wasn't the result you expected from MCB, with its stable of fine dancers and talented co-directors Alexander Vetrov and Paul Mejia. The dancing was as great as ever. Olga Pavlova, Marina Goshko, Anatoly Emelianov, and Andrey Prikhodko all went the extra mile in their performances, but the assignments didn't add up to a satisfying evening. Vetrov chose to choreograph Joaquin Murieta, composer Alexei Rybnikov's Russian rock opera based on the life of a Chilean adventurer who went to the old American West to seek his fortune but found only disappointment and death. A student of Aram Khachaturian (The Saber Dance), Rybnikov has a hundred or so film scores to his credit and is a pleasing enough writer, but the music here had no memorable tunes or galvanizing moments.
The relentlessly somber libretto is what pulls you down. Murieta leaves his country full of hope, marries the girl of his dreams, who is later gang-raped and killed, and meets his end avenging her death — the Russian theme of "life's a bitch and then you die" as melodrama, without any moral redemption. Emelianov danced brilliantly as the tragic hero, and Pavlova had some remarkable moments in their love duet, but the ballet stayed in the shadows and refused to come out. There was a communication problem, too, with the taped music sung in Russian. Occasional English surtitles flashed in flowery prose as guideposts to what was going on but proved a hindrance as much as a help. In opera, nobody moves much while singing, but in dance if you look up for a few seconds you miss something on stage and have to play catch-up. Mejia's new ballet, Jeux ("play"), set to the Debussy score, is an extended pas de trois for two women and a man, originally written for Vaslav Nijinski in 1913. Under the guise of a tennis match, the women — one bold and aggressive, the other innocent and demure — flirt with a young boob who gravitates from one to the other at the crook of a finger.
Sly commentaries on the comic side of courtship occasionally surfaced, but Mejia's everyday classical sequences unfolded more like floor exercises than parts of a finished ballet. Ballet Concerto had its own problems, opening its outdoor program with the Christine Hay version of A Midsummer Night's Dream. Asking young students and professionals to dance the complicated choreography and flesh out the characters in Shakespeare's convoluted comedy is a toughie. The educational value for the dancers may be enormous, but audience appeal is limited. Only after dancer-choreographer Luis Montero got through stomping in the flamenco section of the following section did the program open up — his choreography for Chabrier's Espana was exuberant. Given music they understood and steps they could handle, the dancers blossomed into a riveting ensemble, well rehearsed and full of life. The evening's high point was Inscape, a duet choreographed by Bruce Marks to music of Bela Bartok. A modern, brisk, taut, remarkably intricate piece that traces the sharp angles of a Bartok string quartet, the piece was blazingly danced by Michelle Gifford and Grant Dettling. Formerly with Texas Ballet Theater, Gifford has amazing extension and a sensitive musical ear.-Leonard Eureka
Dettling, never totally convincing in a classical setting, was right on the money in the modern idiom. He's a strong dancer and able partner. There was wonderful chemistry between the two that made the dance seem all too brief. The program closed with a revival of Fernando Bujones' Jazz Swing, set to Louis Prima's music. A joyous romp through the halls of early jazz, the ballet let the dancers cut loose. Ballet Concerto is the creation of Margot Dean, a co-founder of the original Fort Worth Ballet and a pillar of the local dance community. Her son Webster has developed into a gifted director, with a talent for remembering and faithfully realizing many ballets. The Deans' workshop has been a summer fixture and, if Fort Worth is lucky, will remain so for years to come.