They're playing. All of them. Everywhere. All of the time.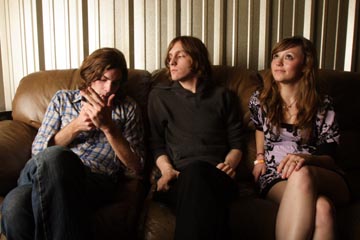 Down Hemphill, Pablo and his magnificent 7 roll, and in their thumping wake, plumes of smoke groove over bobbing heads of dreads and brew. Out on Main, Cadillac Sky drives a hoedown through the mandolin rain, and Tommy Alverson gets a mess o' boots a-scootin'. From the creaky boards of a haunted stage, the mustachioed Theater Fire gathers 'round and conjures sepia-toned melancholy. But be careful: Rumbling past outside is a Twisted Black gangsta who'll snatch your soul. Hep cats and blue hearts in fedoras and poodle-skirts feed dollar bills to gut-tar man James Hinkle, who in return cranks out smoking heapings of smooth boogie-woogie. Pounding and whirring over the gold horizon is The Blood of the Sun. They're all playing. Can you hear 'em? On a planet of billions, in a 24-hour, instant-gratification entertainment industry of millions, there may be no more visibly quixotic pursuit than making popular music. Knowing that smart folks with some folding money are mere mouse clicks away from an infinite number of songs, how does the workaday musician stand out? No one knows.
But the good news is that he or she doesn't have to have his or her face on the cover of Rolling Stone or SPIN (or even Fort Worth Weekly) to enjoy a long, fruitful career in music. Of the gigantic listening pie, made of zillions of perked — or perkable — ears, all he or she needs is a microscopic sliver. And all that the incredibly talented Tarrant County musicians need is you. Over the past decade, the Fort Worth Weekly Music Awards have spotlighted hundreds of local bands and performers. Ballots have been created, votes have come pouring in and been counted, awards have been handed out, and winners have been feted. However, the Music Awards are intended to energize the scene, not launch careers, which is where you come in. For the second year, we're going to take over downtown Fort Worth. Throughout the day on Sunday, June 24, a total of 30 nominees in various categories, from rock to C&W and R&B/rap, will perform in five clubs within walking distance of one another: 8.0, Bass Performance Hall's McDavid Studio, Embargo, Flying Saucer Draugh Emporium, and The Pour House. The event marks the last day of voting, and there will be ballot boxes at all of the clubs. We will be selling compilation c.d.'s of select nominees' music for $5 a pop — proceeds will benefit SafeHaven of Tarrant County, a shelter for abused and battered women and children. The show is free. Everybody's playing. Are you listening? — Anthony Mariani
Texas Music With Steve Earle and Townes Van Zandt as his muses, the understated Jason Eady represents the high-literate end of Texas Music — his voice is gentlemanly and reflective, and his lyrics are as delicate as silk. Kyle Bennett and his Band bring us back down to earth with lines like: "If that Copenhagen's fresh, pass it on down!" Their longhaired, Southern-flavored rock substitutes the state flag for the Stars and Bars. Maren Morris mixes it up with the best of the big boys. Her soft, lovely, coffeehouse twang is charged with fully rounded heartache. Curly-haired rabble-rouser Jordan Mycoskie proudly carries on in the troubadour tradition. His songs revolve around the secret lives of characters you'd see pumping gas into their pick-ups at the local truck stop. The backwash in Stephen Pointer's beer ain't nothing but tears. Saloon-ready tales of love and loss are his forte. The urgent, Marlboro-edged growl of Justin Ross and the funky bass lines of his band bring fever to the roadhouse. Kurt South, meanwhile, is on the softer end of the soul-country spectrum, spinning melodies with envious ease. — Jimmy Fowler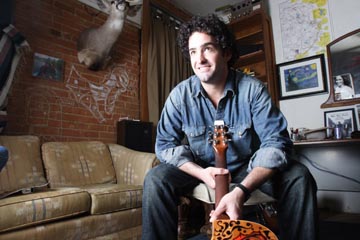 New Artist If anything unites this diverse list of artists who have popped up here in the past 12 months or so, it seems to be tightly crafted musicianship. Whether they're wailing or whispering or doing something in between, their musical message stays on beat and on target. Holy Moly proudly wears the "cow-punk" label. Distinguished primarily by lead singer Joe Rose's gleeful, nasally vocals — and sometimes-profane lyrics — Holy Moly is fine, jaunty, hillbilly thrash. Jefferson Colby's high walls of searing sound brings to mind some of the best backing that Big Brother and the Holding Company ever gave to Janis, with psychedelic, spiraling guitar riffage and rhythmically taut but emotionally chaotic drum solos. Tame … Tame and Quiet's bipolar sonic mood changes are united by moments of spacious but loud reverie. The Campaign is a piano-based, blue-eyed soul trio with a penchant for clever wordplay. The Red Herrings offer straight-ahead, dirty pop-rock that goes from brawny to boyish and is carried across by some awesome, head-bobbing beats. Thief, rechristened Peter Black and the Lifters, delivers blistering yet tenderhearted roots rock. Fronted by EJ Brown, the self-proclaimed "coolest white boy in high school ever," Get Well is a metal-hip-hop pileup that features searing guitar licks, fusion drums and bass, and a furious collage of fast-rhyming raps. — J.F.
---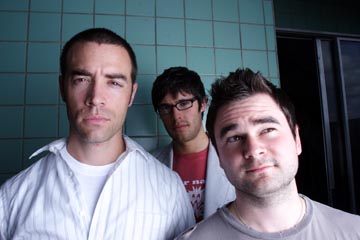 Song of the Year Dove Hunter's "The Sparrow Spooked a Crow" is among the most weirdly affecting tunes recorded this year, with its breathy falsetto vocals and angular, unpredictable melody. "Blind Man Walking," the title track to Cadillac Sky's Skaggs Family Records debut, is an unsentimental, surging bluegrass morality play on the consequences of abusive parenting. With its easy-listening vibe, feathery background vocals, and handclaps, PPT's "Frustrated" sounds anything but. Bach meets hip-hop in Twisted Black's "I'm a Fool With It," featuring a way-cool synth flute line and orchestral flourishes. There's a sweet, '90s-alternative, soft-rock feel to Josh Weathers Band's "Maria," a catchy, big-hearted, pop-rock number that follows the redemption of losers, loners, and lovers. Carey Wolff's "Million Stars" is as downright playful as an old-fashioned love song can be, mixing bouncy finger-plucked banjo and fiddle. Studio wizard Keite Young borrows some of the feel-good Zen of '70s soul on "Shine," an ode to human dignity that percolates with tropical beats and Keite's creamy, sweet, multi-tracked vox. — J.F.
Vocalist (Male) You wouldn't think that a vocalist who goes by the stage name of "Beefcake" (né Justin Williams) would be acquainted with Tony Bennett-style vocalismo, but Villain Vanguard's lead singer has a jazzy, rhythmically precise delivery that, oddly enough, complements rather than jars his band's raw, rapid-fire, fusion heartbeat. Old-timer Oklin Bloodworth is indeed an icon, and his gravelly, well-traveled voice suggests more than one life lived in a single lifetime. Justin Ross' voice has a breathless quality, and he uses it for fast and slippery wordplay before tearing into knife-edged attacks on the choruses. Twisted Black has a sliding, sloping sense of rhythm that lends his upbeat gangsta rap a casual but commanding quality. Black Tie Dynasty's Cory Watson has a deliberately emotive quality. Like the best baroque-pop romantics, he anticipates and wraps his voice around the lyrics. Carey Wolff travels stylistic distances depending on what his material demands, from gently introspective to wry, clipped, and defiant. Keite Young is a one-man chorus. He echoes some of the great soul voices of our time — particularly Sam Cooke, Al Green, and Luther Vandross — without losing a sense of his own identity. — J.F.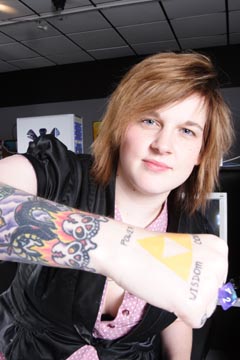 Album of the Year In an era of iPods, you can see why people would say that the full-length album is dead. But this year's nominees may prove otherwise. They've all produced coherent, compelling multi-track statements. Cadillac Sky's Blind Man Walking fuses bluegrass to pop-gospel without overselling the purity of either, determined instead to walk listeners through a series of neo-traditional character portraits, odes, and laments. An acolyte of Marcia Ball, Albert Collins, and Robert Ealey among others, Fort Worth blues mainstay James Hinkle flexes his songwriting chops on Blues Now, Jazz Later. A bluesy variation on the harmonica-and-horn-inflected Texas swing that he prefers, the album still has enough moments of Hinkle-ism (soulful, jazzy guitar solos, smoky and smooth vocals, grimy beats) to sound like nothing else but his handiwork. The nom de guerre for singer-songwriter Mara Lee Miller, Bosque Brown always sounds haunted by Old Testament prophecies. The backwoods Bjork's e.p. Cerro Verde is a dusty gem. Singer-songwriter James Michael Taylor's Slaughter Mountain could have been recorded 40 years ago. The stories in his spare, folk-acoustic classic are personal yet universal. From the spine-tingling "Decipher Reflections From Reality" to the dancy '80s throwback, "My Brightside," PlayRadioPlay's lustrous, tech-heavy The Frequency EP is a reminder that lotsa digital gear can bear strangely addictive fruit. Influenced by Parliament Funkadelic, Wu Tang Clan, Vanilla Ice, and Jessica Simpson, among others, PPT manages to shoehorn all of its influences into Tres Monos in Love, an endlessly listenable, inventive mélange that might be called hip-hop for pure pop lovers (or pure, proud pop for hip-hop fanatics). Keite Young does more than a bit of his own influence-surfing on the soulscape he's collected on The Rise and Fall of Keite Young, a testament for both believers and non-believers to the power of shimmering, sinuous melody-making. — J.F.
Vocalist (Female) Last year's winner in this category, teen-ager Maren Morris does sugary country-pop as expertly as women twice her age. Equally talented but less well-known, Sierra has a sincerity in her voice that ingeniously flips the DELETE on her winding tales of youthful folly and ex-boyfriends-turned-underwear-models. Bilingual folky Gigi Cervantes has an ethereal, sensual voice, which is perfect for her occasional forays into dramatic theater. On the opposite end of the female vocalist spectrum, MC Router is the self-described "first lady of nerdcore." Armed only with a laptop and rhymes about the current digitized age, rapper Router is as in-your-face as Easy-E and as hep to technology as B. Gates. Mara Lee Miller, a.k.a. Bosque Brown, has one speed, and, even though it's a dissonant and elastic twang, it perfectly complements her brand of desolate folk. — Caroline Collier
Jazz/Instrumental Earlier this year, Fort Worth Music Hall of Famer Jhon Kahsen started conceptualizing and arranging avant-garde performances on his home turf of Sardines Italiano Ristorante, introducing some much-needed new blood and new sounds to the local scene. Tributes to two Fort Worthians, sax-man Dewey Redman and free-jazz pioneer Ornette Coleman, were part of the monthly events. Pianist Daymond Callahan sits in for Kahsen from time to time and is known primarily for his unique combination of gospel, soul, and jazz. The Jazz Monsters, a large ensemble mainly of music teachers, unites monthly at 8.0 to bring big band tunes to life. Drummer Adonis Rose recently relocated here from New Orleans and is determined to keep Louisiana's ragtime jazz alive. His Fort Worth Jazz Orchestra is as educational as it is entertaining. Amistad blends polyrhythmic cumbia with hip-hop elements and arrives at a saucy kind of bodega fusion. For years, Fort Worth's best-known jazz impresario, thirtysomething drummer Dave Karnes, helmed the weekly Sunday night jazz jams at the old Black Dog Tavern, on Throckmorton Street downtown. The Black Dog's relocation and subsequent closing left him and his regulars, like Joey Carter, Paul Metzger, and Oklin Bloodworth, out in the cold, but Karnes and company are back, playing every week at 6th Street Live. — C.C.
---
Blues/Funk The blues scene in Cowtown is still based mostly on hierarchy, and hierarchy is still established mostly by showings at jams rather than in gigs or on albums. The top of the heap is still occupied by James Hinkle, the 2006 and '05 winner, and Holland K. Smith. Hinkle is a swing-master, pure and simple, falling somewhere between early rock 'n' roll and electric blues, while the funkier Smith remains an ax-man nonpareil. Having proved his mettle years ago, lanky, twentysomething redhead Dru Webber now has regular gigs at Fred's Texas Café and the 7th Haven. Bassist John Shook plays in two groups nominated this year, Barber Mack and Dirty Pool. Shook's bass lines lend a funk to Barber Mack's Afro-beat tribute to jazz pioneer Ernest Ranglin and give backbone to the classic-rock cover band Dirty Pool, where he's joined by guitarist John Zaskoda and drummer Jason Thompson. Classic rockers like Jimi Hendrix and Led Zeppelin also figure into the handiwork of another nominee, The Kul, a trio of young bluesmen in classic rockers' clothing. Liquid Bounce moves and grooves on the Soul Train. — C.C.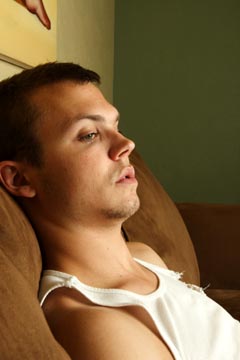 Live Band The only problem with seeing great local performances or musicians isn't finding them but choosing which ones to see. Last year's winner, Darth Vato, plays out a lot, and, as the old saying goes, there ain't no party like a DV party, 'cause a DV party don't stop! Uh. Anyway. Perennial nominee Pablo and the Hemphill 7 hasn't slowed down, even though bassist Marcus Lawyer decamped about a year ago to front his own studio project. But Top Secret … Shhh is no longer relegated to the mixing boards. The freewheeling trance-jamboree has two drummers, Lucas White and Scott Ivey, and is improvisational in the most structured, engaging way. Last year's winner in the World Music category, Sleeplab takes the stage every Wednesday night at Embargo downtown and lays down its particular brand of jet-age bossa nova over and sometimes behind break-dancing and spoken-word poetry recitals. One of Fort Worth's most intense groups, Villain Vanguard rings in the good times via a horn section, congas, a bass player who knows how to maintain a groove, and an extremely sympathetic guitar/vocal pairing. A different sort of live act, Texas Music singer-songwriter Jordan Mycoskie will basically rock your socks off — catch him in the Stockyards, his home base. Chris Plavidal's Stumptone relies more on fomenting quiet drama than shaking bodies. The result is as moving as any disco throw-down. The best part: somber trumpet coupled with somber indie-folk ruminations. — C.C.
Alt-Country Prone to flights of Flaming Lips-ish fantasy, Dove Hunter's self-described "country-tribal-fantasy rock" is a little more alt than country, but it certainly has a lot of rootsy qualities. Longtime singer-songwriter Scott Copeland ain't no stranger to the Music Awards, having won a few of 'em in the past, and he seems to be getting more serious about his music as he gets older, almost in defiance of industry and local scene machinations. Though past winner Collin Herring has been lying low over the past few months — he's putting the finishing touches on the follow-up to his award-winning debut, 2004's Avoiding the Circus — he's still a major presence on the scene. Rob Baird and the Whiskey Reunion have been spreading their brand of Southern-fried rock across the Southwest for a while now. But their most recent full-length, Past Tomorrow, is the most ambitious and fully realized to date. Easily the most eclectic band in this category, 2006 winners The Theater Fire serve up carefully crafted, spare, folk-inspired indie tunes and play out a lot. Rounding out the category is veteran singer-songwriter and former Woodeye frontman Carey Wolff, whose whiskey-soaked and nicotine-clouded voice and poignant, heartbreaking lyrics have never been put to better use. — Joshua Loewen
Avant-Garde/Experimental Venerated art-rockers Alan have been taking their time with their long-awaited follow-up to 2004's The Universal Answer is Both. Word on the street is that the band's sound has gone from baroque and powerful to baroque and loud and powerful. Electro-punkers Best Fwends, who split their time between the Fort and Austin, don't spread their brand of self-described "mosh-able pop songs" 'round here much. But our loss has been New York's and Los Angeles' gain — the dynamic duo performs there often. Though definitely more indie-rockish than experimental, Eaton Lake Tonics' tuneage still has just enough sonic tics to qualify. Almost a personification of this category, Ghostcar throws everything into a single pot — fusion, Latin-flavored rock, bebop, you name it — and somehow churns out distinctly Ghostcar-ish music. The River Oaks three-piece Merkin easily qualifies as avant-garde not because they do everything but because they do a limited number of genres — specifically metal, grunge, and prog-rock — and do them well. Teenager Dan Hunter, a.k.a. PlayRadioPlay, is a one-kid force, having signed to a Virgin Records subsidiary, worked with big-time producers, and recently been asked to join The Vans Warped Tour. Underground Railroad is a prog-rock band in the true, '70s-era sense of the term, combining powerful, fusion-esque keyboard with guitar riffage and out-there lyrics. — J.L.
---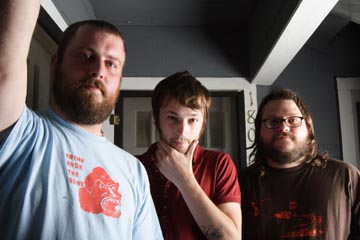 Rock You've probably heard the complaint: "The same bands are up again for 'best rock' this year!" Au contraire, mon ami. Go back as little as two Music Awards ago. The nominees were Black Tie Dynasty, Coma Rally, Flickerstick, Goodwin, and Titan Moon. This year, we have seven nominees, and only two — Black Tie and Goodwin — are holdovers from 2005. The rest are all newbies, though maybe not entirely new to the scene. Led by the brilliant Tim Locke, Calhoun started out as one of the singer-songwriter's many side projects but its music has grown into a monster of plush hooks, perfectly structured arrangements, and wavy riffs, all anchored by the frontman's sometimes comforting, sometimes harrowing, reedy voice. Green River Ordinance, even though all five bandmembers are barely old enough to drink legally and probably just started shaving, has also been a fixture on the scene for a while now. The quintet's brand of radio-ready mod-rock has Laguna Beach written all over it, but when your music is that good and when you're this close to hitting the big time, as GRO is, you could do a helluva lot worse than provide the mellifluous atmosphere to televised teenage romance. Another local stalwart but newbie to the Music Awards is Exit 380. Like GRO, Exit 380 has a radio-ready mod look and feel but is a little darker and moodier. New to both the scene and the Music Awards in general is Tame … Tame and Quiet. In borrowing from outré giants such as Radiohead and Pavement, TT&Q arrives at an entirely new sound. The trio effortlessly shifts time signatures and plays chords and riffs as if twin guitarists Aaron Bartz and Darren Miller and drummer Boyd Dixon are reading one another's minds. The two remaining nominees, The Burning Hotels and the cut*off, aren't strangers to the Music Awards, just to this category — and we have no idea why. The Burning Hotels have all of the pieces for indie-rock stardom in place: angular melodies, driving, propulsive rhythms (courtesy of super-drummer Wyatt Adams), youth, and, of course, the hipster look that all of the hipsters want to know better, the look that's all together. Almost the same could be said for the cut*off, another band of young'uns who rock hard but have tender hearts. Switching gears easily, from hillbilly punk to almost psychedelic country and all stops in between, the quartet is more responsive to its muses than to market forces. The proof is in the band's deliriously fun Rorschach EP. — A.M.
Hard Rock One of only a few hard-rock outfits that successfully unites thrash, death-metal, and experimentation, Addnerim goes "out there" and gussies up Tool-ish breakdowns along the way. Sky Eats Airplane mashes krautrock and black metal, and roars as violently as a jet engine on your shoulder. On the other hand, the three longtime musos of The Great Tyrant draw their subdued strength from the dark gravitas around which their organic and borderline experimental goth-metal orbits. As The Me-Thinks so ably prove, fuzzy "1, 2, 3"-rock hasn't lost any of its shaggy goodness over the decades. In much the same way, Stella Rose's brand of in-your-face, Mudhoney-esque grind still rocks metal-heads in flannel and grungers in leather. Blood of the Sun stomps through clouds of reverb and Looziana swamp-rock to arrive at a new kind of stone-beautiful bliss. Rounding out the category is HellYeah, a relatively new project by Vinnie Paul (Pantera, Damageplan) and members of Mudvayne and Nothingface. The band's eponymous debut album is out on Paul's Big Vin Records label, and as an indie release, it doesn't have to be accountable to a single corporate suit. The result is a flat-out excellent listen, even if metal ain't your thing. — A.M.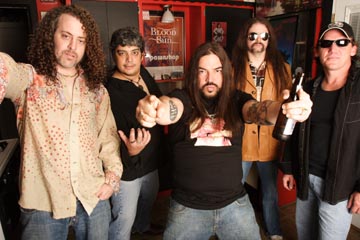 Justin Press Cover Band Poo Live Crew does ska- and SoCal-influenced versions of classic pop numbers, from Lionel Richie's samba-rific '80s chart "All Night Long" to Men at Work's outback epic "Land Down Under." The refrains are hip-shaking and -swaying, and the choruses are flush with loose, swishing high-hats and rollercoasters of power-chords. Another perennial favorite, Velvet Love Box shines up all kinds of gems from yesteryear into sparkling though almost wholly unidentifiable rockers. The rest of the nominees are tribute-oriented: Child O' Mine props up Guns 'N Roses, Stoogeaphilia tips its hat to Iggy and the Stooges, Prophets of Rage march in lock-step with Rage Against the Machine, and Queen for a Day sings along to Queen classics. — A.M.
R&B/Rap The gangsta rapper here with the most national name recognition is Twisted Black, who recently signed to major indie label Koch Records; he's also a convicted drug dealer who's sitting in jail now, awaiting his appeal, and insisting he's innocent. Another devout gangsta is last year's winner, Smooth Vega, who expertly and ingeniously drops his lyrics in front of, on top of, or behind his booming beats. Equally deft on the mic are the rumbling Royal South crew, Big Ben (who performed at last year's SXSW Music Festival), nerdcore rhyme-maker and funky white girl MC Router, good-timin' trio PPT, and sweeter-than-honey singer-songwriter and multi-instrumentalist Keite Young. — A.M.
Songwriter "Songwriter." Say it out loud, and try not to conjure up visions of Randy Newman plinking out some schmaltzy ballad or Christopher Cross' career sailing away. Fortunately, that sort of songwriter has little to do with Fort Worth's best. This year, the nominees are a little bit country, a little bit rock and soul, and talented across the board. Take Carey Wolff. His countrified, dog-eared snapshots are like the type of buzz achieved when you find out your tax return won't fix the roof but might be enough for a bender: bittersweet. Then there's Maren Morris. While your kid is inexpertly puffing cigs outside the mall, she's in her room penning another gritty heartbreaker. Like those of a teenage Aimee Mann, Morris' tunes are borne on introspection and a voice like a down-on-her-luck angel's. On the more experienced side, James Michael Taylor has been there, done that, and seen the other side of the mountain. His gentle, gut-wrenching tunes are like opening a well-worn paperback that brings a lump to your throat. At the other end of the spectrum are Josh Weather's snappy funk and Keite Young's honey-brown R&B. Weathers delivers enough rock to separate his outfit, the Josh Weathers Band, from possibly being just another corny jam-band, while multi-instrumentalist Young's tuneage would work as well on mainstream radio as college radio. But where these dudes really shine is in the lyrics. Weathers' bluesy, Southern funk is stuffed with smoky roadhouse imagery, and Young is socially conscious enough to give even his panty-droppers a touch of keepin'-it-real. Think the blues is tired, and not in a good way? James Hinkle pulls it out of the sports bar and plunks it on the front porch where it belongs. His easy-going picking and sliding are matched only by his sly wordplay and vivid visions of done-me-wrong. His gritty drawl of a voice ain't half-bad either. In fact, it's damned good. — Steve Steward
Acoustic/Folk Find a musician who's written a song without an acoustic guitar, and you'll find … well, you'll probably find a rapper. Anyway, Fort Worth is blessed with a wide gamut of acoustic artists, from the experimental to the rootsy. Bosque Brown, the stage name of singer-songwriter Mara Lee Miller, is what Radiohead might sound like if Thom Yorke embraced Americana instead of electronic inscrutability. Drowning in minimalist, ominous songscapes, Miller's wintry folk is as haunting as it is beautiful. If Miller is a little too brooding and spooky for you, perhaps Lori Dreier is your cup of tea. Or coffee. Her acoustic toe-tappers are a welcome return to the days when a girl and her guitar carried weight and poetry rather than pre-packaged girl-power a la a Starbuck's compilation c.d. Of course, even further from Starbuck's focus groups is Guthrie Kennard, a sort of Texas Dylan. His voice is dusty, scuffed, and honest, and his tunes revel in contemplative melancholy but gracefully sidestep Kerrville-Folk-Festival clichés. Also forgoing the hill-country dreadlocks and patchouli-oiled finger-picking is the Electric Mountain Rotten Apple Gang. If not for the precision musicianship, you'd never believe that EMRAG arose from the ashes of a metal band. But rise it did, and the Kobitech brothers' experimental spin on Appalachian roots music is compelling. Rounding out the acoustic nominees are: James Michael Taylor, whose brand of folk is less fire and rain and more black lung and empty lunch pail; Russ Walton, known for his spacey, one-man guitar adventurism onstage, and who is also rather prolific in the studio — recorded versions of his work are similarly intrepid and stripped-down but fully textured; and The Wonderful Façade, which wears its heart on its sleeve yet manages to avoid angsty emo poses or descents into moments of pissy hipster privilege. The trio's mid-tempo rockers have the hopeful abandon of a last-ditch love letter — just try to listen to them without thinking about the one who got away. — S.S.
C&W What would Cowtown be without both kinds of music, country and western? It wouldn't be Cowtown, would it? Thankfully, Fort Dub's C&W scene is as vibrant as it is diverse, full of old hands and newcomers who ride off into the sunset on a lot of different horses. Tommy Alverson has been at it for years, and when he started getting some commercial radio airplay a couple of years ago for his catchy complaint, "Una Mas Cerveza," everybody in the scene essentially said, "Well, it's about damn time." Anybody who's anybody in Texas Music has at one point or another shared the stage with Tommy A, including Willie Nelson, Jerry Jeff Walker, and Ray Wylie Hubbard, along with "young'uns" like Robert Earl Keen, Pat Green, Charlie Robison, and Jim Lauderdale. Alverson's Texas Music Family Gathering is also fast approaching its 10-year anniversary. Basically, if there is such a thing as Cowtown Country Music's elder statesman, he's it. And if there's such a thing as a Cowtown Country Music White House, it's his old haunt, the White Elephant. Though Phil Pritchett isn't as old as any of his idols, he's a solid country and alt-country journeyman who's spent enough time in Nashville to know that he'd rather be here playing to his loyal Texas following. Keeping honky-tonk's home fires burning, The Insiders pay tribute to George Jones, Ray Price, and the best of '60s-era rug-cutters. Imagine if 95.9-FM The Ranch was a band — that's The Insiders. Perhaps presiding over old-school revivalism is the unofficial mayor of the Stockyards, Brad Hines. Yeah, he hosts an open-mic night. Yeah, he's paid his dues on White Elephant bar stools, belting out the best of Merle and Waylon and everyone else. But his originals are killer: folk-based Texas country musings that are neither tear-in-your-beer nor lovelorn but something cool in between. History is great and all, but so is new blood, and Fort Worth has it in spades. Cadillac Sky blends jazz, bluegrass, and Beatlesesque songcraft into a wholly original, homegrown sound. 100 Damned Guns venture into outlaw rockabilly territory without tripping over Grease stereotypes. In other words, their music is cool, authentic, and guaranteed to make your beer go down smooth. — S.S.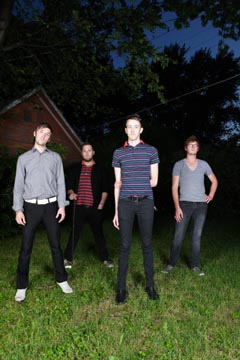 ---
Rock Album of the Year Imagine a multicolored tank of newness rolling casually over entire cities of craven charlatans in Thom Yorke masks, indie poses, and Puma sneakers: That's how fresh and powerful Tame … Tame and Quiet's Tin Can Communicate is. Yes, my sweet, the soundtrack to blunt, stinging heartache has a name, and it's the 85 Mirrors EP, The Burning Hotels' latest masterstroke of kicking staccato guitars and charging, impossibly crisp beats. Gravel, the stench of blasted amps, and a lot of bong-water fuel The Me-Thinks' Make Mine a Double-EP, a collection of smoky paeans to life in the beer-belly of Haltom City, the trio's hazy turf. Running cleaner than a baby on Ex-Lax, The Rocket Summer's Do You Feel sets the scribblings of fifth-period English class to a score of ragged alt-pop beats, chiming guitars, and cranky but endearing vocals. Singer-songwriter Jeff Price also has a little whine to go with his yearnings and musings, but on Limitations, his rusty, yawning voice can't help but ring true — the woeful lyrics etched into his walls of buttery mod-rock demand utter resignation. Swilley's Living for the Weakend goes snap, crackle, and punk-pop, and Stella Rose's debut disc, Starving, Hysterical, Naked, is as big, heavy, and grimy as a manhole cover. — A.M.
Artist of the Year Tame … Tame and Quiet is a trio of giants who harness the power of a million wild, fire-snorting stallions into concise blasts of raw, clanging riffage, epically sweet melodies, and crashing drumsmithery. Having elicited enthusiastic applause from audiences and highly skeptical hipsters across North Texas, the band cannot be denied. Alongside TT&Q are the four serious, smoking lads of The Burning Hotels, a veritable tower of angular, hungry post-punk from which long, serpentine torrents of dark thoughts and cigarette smoke stretch skyward. Relatively new signees to Skaggs Family Records, the gold standard of contemporary bluegrass imprints, Cadillac Sky puts the pedal to the metal headlong down country roads toward constellations of bright mandolin riffs and sloping, gaping fiddle lines. On the streets is where silver-tongued rapper Twisted Black lurks. The stomp of his gangsta beats is what rattles your windows at night, and his proclamations, pleas, and threats are as sinewy and circuitous as the weed-choked alleys and streets of the 'hood. Even though he was arrested (for alleged drug trafficking) mere days before his new album, Street Fame, was released, his label, Koch Records, is fully behind his opus of narrative movers-and-rump-shakers. What do you call a band whose members cue shifts in tempo and crunchy chord progressions nigh telepathically? Addnerim, that's what. The power-prog-metal trio is as prolific as it is devoted to mapping new, metallic sonic terrain. In just a few months' time, the band issued two-thirds of a planned album trilogy, plus a live DVD. Equally committed to eating, sleeping, and drinking music is Dan Hunter, a.k.a. PlayRadioPlay, the teenage singer-songwriter, multi-instrumentalist, and tenderoni who sprinkles anesthetizing electro-lullabies on the rumpled heads of young dreamers across the land. Having recently signed with an Island Records subsidiary, Hunter is currently on tour and is undoubtedly being trailed by miles of widely smiling, zonked fans. Singer-songwriter and multi-instrumentalist Keite Young likes to get on his knees and send prayers heavenward, albeit sometimes from the sweaty retreat of the boudoir. The sacred and the profane, as Young elucidates gloriously in his thin, golden falsetto, share a lot more in common than you may think. The Rise and Fall of Keite Young, his debut album on huge indie imprint Hidden Beach Recordings, is a grooving artistic statement written in '70s soul and pop. — A.M.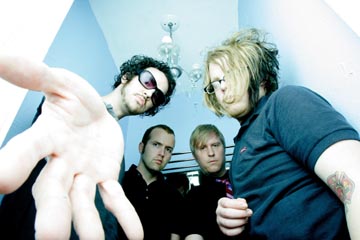 Rock Song of the Year For local rock bands whose best tunes didn't make the cut, you must not have gotten the memo: Apparently, our nominating committee wanted driving melancholy. From a simple molten bass line, "The Christmas Tree" expands into clumping, ravenous, absolute despair. Toward the end of the track, when Stella Rose singer-guitarist Stephen Beatty begins to yell agonizingly, desperately — "Where've you gone?! / Where've you gone?!" — bassist McKenna Madget and drummer Matt Mabe hammer into shape a nightmarish tableau of deafening, roiling storms and quaking earth. The February Chorus' "On a Train" is also dour and almost as ominous, but not because it's thick and loud. Written by Brandin Lea (Flickerstick) and performed by Lea and a crack team of backing musos, the epic gets its desolate, minor-key brilliance from the repeated pounding of a propulsive bottom end and cranking guitar — there's nothing ahead, the rhythm says, but more empty tracks. A similar engine powers Jeff Price's "Cary Ann," a soaring two-minute veiled threat to an unruly lover, highlighted by wordless, whispery "ooh"'s during the refrain. Pairing a roaring Hammond B-3 organ with thunderous Bonham-ian bashing, Blood of the Sun's "Burnin'" churns and glows like a 20-foot lava lamp. Brittle both emotionally and sonically, The Burning Hotels' "Stuck in the Middle" derives its killer punch mainly from the call and response between singer-guitarist Chance Morgan's twanging machine-gun guitar and singer-guitarist Matt Moody's handsome Brit-poppy vocals. On "Helicopter," the single from Flickerstick's forthcoming album, the rapid-fire drums, hiccupping guitar riff, and zigzagging vocal line hit on all cylinders. Blink, and you'll miss it. — A.M.
THE FORT WORTH AWARDS 2007 HALL OF FAME Robert Ealey (1925-2001) "I like music when I party." These are words that have echoed across the years and should stay in the hearts of musicians and fans alike. These are the words so often spoken by Robert Daniel Ealey. Born and raised in Texarkana during the Depression, Ealey joined the military when he came of age and served during World War II. He began his musical career by teaming up with legendary guitarist U.P. Wilson to form the Boogie Chillen. The duo featured Robert singing and playing drums while U.P. laid down guitar licks that few can match to this day. In the 1970s, Robert raised many Blues Chillen of his own at his famed Blue Bird School of Music, a.k.a. the New Blue Bird, in the Lake Como area of Fort Worth. Many of the players who crossed the stage are now legends in their own right, but all remember Robert and his club. You want names? How 'bout the T-Bones — Walker and Burnett — the brothers Vaughan, the Bruton boys, Lou Ann Barton, Jim Colegrove, Delbert Mc Clinton, and the list goes on. Robert taught many a musician by example how to play his or her own blues. He thus taught one of the greatest lessons we can learn: how to be yourself. This is how we musicians tap into that deepest well of expression, our souls. This is why we honor Robert Ealey and his legacy. — James Hinkle
Tom Morrell (1938-2007) As a teen, Tom Morrell revealed an amazing talent for playing both standard guitar and steel guitar. He was soon working with the best dance bands in Texas, New Mexico, and the entire West. His innovative ideas in the construction of pedal steels led to his becoming a founding member of the revered MSA pedal steel manufacturing firm. He left the company in the 1970s to return to making music. He played R&B gigs on standard guitar. As a jazz soloist on pedal steel, he played on recordings by Calico, Willie Nelson, and me and my brother, Jerry Case. In 1990, WR Records in Weatherford began releasing volumes of Morrell's Western swing music, mostly his work with his legendary backing band, the Timewarp Tophands. The series, How the West Was Swung, contains 15 volumes and has been heralded by devotees as among the finest of its kind ever recorded — Tom is captured presenting the music as a fresh and developing art rather than a museum piece. Additionally, many folks cherish Tom's offbeat humor and his wild antics, expressions of the unchained spirit heard in his music. — Jhon Kahsen
Dewey Redman (1931-2006) Legendary tenor saxophonist and University of North Texas graduate Dewey Redman didn't make his name here — New York City was where he spent most of his professional career — but "here" is sort of what helped him make his name. His fat tone was often attributed to his upbringing in laid-back, chicken-'n'-grits Cowtown, where he played in the I.M. Terrell High School marching band along with fellow future international superstars of jazz Ornette Coleman, Charles Moffett, and Prince Lasha. Redman's name, unfortunately, has almost become synonymous with "overlooked genius." — Anthony Mariani
Q.T. Tubb (1925-2007) My troubles and heartaches are all up and gone The moment you come into view And with your hand in mine I could dance on and on I could waltz across Texas with you "Waltz Across Texas" is a honkytonk anthem, and its simple melody and lyrics have filled a thousand dance floors in the decades since it was written by an unassuming Fort Worth fellow named Quanah Talmadge "Q.T." Tubb, whose creed was "kill people with kindness." There weren't many people kinder than Q.T., who wrote lots of songs over his lifetime, such as "Seamen's Blues" and "Jealous Lovin' Heart." But it was "Waltz" that most captured the public's attention. Q.T.'s uncle, the ol' Texas Troubadour himself, Ernest Tubb, recorded the song in 1965 and then re-released it in 1982 as a duet with Willie Nelson. "Waltz" is now considered one of the top country songs of all time. Q.T. was born in Crisp (yes, that's in Texas) in 1925, served as a gunner's mate in the U.S. Navy during World War II, and then formed the American Life and Accident Insurance Co. in Fort Worth, spending most of his life here before retiring and moving to El Paso. While Tubb never made a living picking and singing in bars, he knew how to write a song — and his Uncle Ernest made sure ol' Q.T. Tubb's name will live on for a long time. He died on Jan. 3, 2007, and chose his beloved Fort Worth as his final resting spot. — Jeff Prince