Maybe even more than movies, architecture seems to be the one thing we're all experts in. Everyone has an opinion, everyone's ready to share it (whether we want to hear it or not), and everybody else is wrong.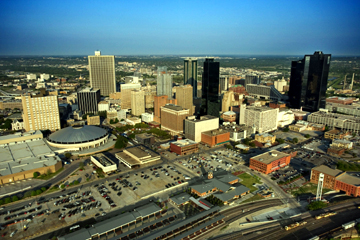 But that's the beauty of it. All of us — rich, poor, educated, uneducated, born here, born in the Himalayas — are affected by the built environment. We all have to live and work somewhere. Or at least near somewhere. We almost can't help but have an opinion. This month, the Fort Worth chapter of the American Institute of Architects will publish the results of its "Favorite Building" survey. Compiled from responses to questionnaires sent to local folks, city planners, and architects, the list is part of a larger public awareness campaign. In February, the national professional organization, as part of its 150th anniversary celebration, released the results of its public poll, "America's Favorite Buildings." Naturally, bickering — or as the mainstream media like to call it, "lively discussion!" — erupted, and, naturally, most of the spit flew from the mouths of architecture buffs. For the record, the poll is ridiculous. But, really, when you ask Joe Public what he thinks about something not related to fast food, sports, or movies, what do you expect? All you can do is laugh. To wit: No Fort Worth buildings made the cut — not even the Kimbell Art Museum, the best lil' structure in Texas. The only North Texas building that did was the American Airlines Center (No. 113). Hahahaha! See?!
Still, AIAFW president Stephen Darrow hopes that the local survey will start just as many "lively discussions!" as the national one. "I'm quite positive that most of [the] general discussion will center on how stupid we were to include this building or exclude that building," he writes in AIAFW's July newsletter. "If we can ignite even a small discussion, we will have a great opportunity to understand what the public values in the built environment and an equally great opportunity to help the public understand what we value." No doubt, AIAFW's survey will set lips a-flappin' — and there are a lot of 'em attached to architectural brains here. By the amount of blogging devoted to local architecture and development, you'd think that the architects in our midst were rock stars. "Lively discussion," I predict, will light up the three main architecture/development/culture blogs in town: TheCaravanOfDreams.Blogspot.com, FortWorthology.com, and the forum at FortWorthArchitecture.com. Now, excluding the obvious (the Kimbell, the Modern, the courthouse, the T&P, the Sinclair) here are some of my faves, in no particular order and not that you asked:
University Tower (1976), 3113 S. University Dr.
Go 'head. Laugh it up. Get it all out. But for a Gen-X'er like me who grew up in the '70s surrounded by gaudy Modernism, University Tower is an old Fleetwood Mac song. Its rhythms are straight and square, and its melodies are, like its gold glass exterior, brilliant and delicate. A gaudy Modernist building is great. But there's just something about a distressed and largely ignored gaudy Modernist building that gets to me. Maybe I see it as some sort of relic from the past. Maybe I see it as a physical manifestation of lost childhood wonderment. Or maybe I drink too much cough syrup.
City Center Towers (1982), 201 Main St.
Another pick for nostalgia's sake. The City Center Towers bring me along a little further through time, to the '80s, when these two magic sticks were built. Instead of Fleetwood Mac songs, now I'm reminded of the Fortress of Solitude, Legos, and space robots. For most folks, the towers' winningest attribute is the glass exterior — it has the amazing, singular ability to not only reflect natural light but also kind of trap it. But what wins me over are the seemingly superfluous gaps and blockish protrusions near the top, and the towers' overall sleek yet miraculously warm presence. Just FYI: The towers aren't exactly twins — they look a lot alike, but the only pure architectural feature they share is a pinwheel floor plan.
Producer's Corp. Grain Elevators (1962), 2000 S. Main St.
Built in phases starting in 1930 and completed in 1962, this complex of old grain elevators ain't pretty, and no one would confuse it with the Bellagio, but c'mon. Nothing says "old-world charm" like a complex of old grain elevators. Also, the ones here on South Main just look cool. Kind of like a six-pack of tall-boys viewed from the side. I mean, don't you just wanna work there? Ride the elevator up, drop off some grain, ride the elevator back down, pick up some grain, catch your breath, and repeat? OK, maybe not. But still: I love industrial facilities, mainly because they're big, tough, and, as architecture's bastard children, effective counterpoints to strokes of formal grace. In older cities, mainly in the Northeast and Midwest, the interplay between brutishness and beauty creates a unique frenetic dynamism. I'm glad Producer's Corp. gives us a little.
500 W. 7th St. (1961)
Skidmore, Owings, and Merrill probably took about two minutes to design our imposing white monolith, but, hey, even a B-grade SOM is still pretty good. The firm is legendary, having done the Hirshhorn Museum and Sculpture Garden in Washington, D.C. (a project on which my father, BTW, worked as an indepedent contractor) and John Hancock Center, a.k.a. "Big John." The firm currently is working on World Trade Center Tower I, the first building to be erected on the site of the World Trade Center in New York City. Scheduled completion date is 2011.
Marty Leonard Chapel (1990), 3131 Sanguinet St.
OK, so the Marty is an ode to joy in angular wood and glass, directed skyward and composed by an AIA Gold Medal winner and Frank Lloyd Wright protégé, E. Fay Jones, and everyone knows about it. However, not many of us gets to see or experience it on a daily basis. Sandwiched between Central Market on one side and World Market on the other, the chapel — the tallest short building you've ever seen in your life — is a buried treasure if ever there was one.
Contact Kultur at kultur@fwweekly.com.