Although these weird, Old Testament-style rains and floods don't appear to have ended, there has been a little more sunshine lately, which might seem an odd time to enjoy a dimly lit restaurant atmosphere.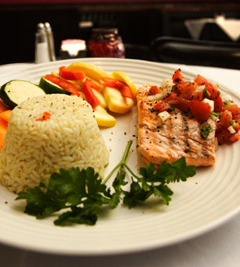 And make no mistake: The recently opened Al Covo on Camp Bowie West is a wee bit cavernous, from the rose-colored walls to the shadowy alcoves lined with bottles of red wine, to the dark chairs and leather booths contrasting sharply with white tablecloths. This place feels like a secret rendezvous where business best withheld from daylight's scrutiny could take place. Even the phone number is unlisted, which is both a shame and a mystery, because the proprietors of Al Covo should be proud of their conscientious and sophisticated but down-home Italian fare. The stuffed eggplant is listed on the menu as an appetizer, but it could easily serve as an entrée. Al Covo takes a rolled-up, cannelloni-style approach to this sumptuous dish. Take thinly sliced pieces of the veggie, lightly coat them in breading and fry them, then roll twice or thrice around like a tortilla, and stuff them fat with pale, pungent gorgonzola cheese, fire-roasted hot red peppers, savory artichoke hearts, and chewy chopped pine nuts drizzled with a spiky pesto-cream sauce. It was the visit's second most delicate collection of flavors.
The first belonged to the entrée dubbed "fettuccini bravissimo." Folks who order this relatively simple-looking plate might peer enviously around them at the red, white, and pink entrées on display. But there's no need to. The flat, wide pasta strips were tossed lightly in "EVOO" (an acronym for "extra-virgin olive oil" in culinary Italianese). But the pasta and olive oil stood back and let the other ingredients strut their stuff: fruity sun-dried tomato bits, those thick, pickled artichoke hearts, spicy-nutty capers, the very aromatic presence of fresh, finely ground garlic, and black, brine-cured gaeta olives, with a smoky tartness not to be believed. The chicken selvatico appeared as two thin, boneless, skinless chicken breast filets grilled with a peppery marinara sauce that's definitely on the hotter end of Italian red sauces you might have tried. It's served on a bed of long-grain white rice with sliced zucchini and onion layers, green olives, and a feta cheese that's cooked until it's soft and silky.
The tortellini gorgonzola may have been the most decadent offering, especially if lowering your mouth into a steaming, garlic-rich alfredo sauce is your idea of sin. Tortellini are fat, vaguely circular pasta shells normally stuffed with cheese; in this case, the aforementioned cow's-milk gorgonzola, which had the sharp, full-bodied taste of an aged cheese. The chopped green onions didn't at all conflict with the heavy garlic taste. Al Covo may be in the dark as far as its storefront atmosphere, but you're denying yourself a really sophisticated tour of flavors if you let the shadows scare you away.
 Al Covo
Stuffed eggplant $7.50
Fettuccini bravissimo $8.50
Tortellini gorgonzola $9.50