Singer-songwriter and multi-instrumentalist Bryce Avary, a 24-year-old Grapevine native who performs as The Rocket Summer, is walking in and out of a sound-check for a sold-out headlining show in Orlando, trying to make himself heard through his cell phone amid the interruptions of thundering drums and squalling guitars. He sounds a little bit tired but also content.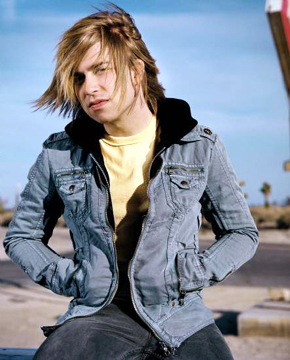 Given how his national profile has grown since his self-released, self-produced 2000 debut e.p. — which he did when he was 16 — you'd think that Avary would be bouncing all around like Pooh's pal Tigger. After all, the young man is one of the country's most popular purveyors of so-called "sunny rock," a type of music in which hope, faith, and perseverance prevail and there's always the potential for triumphing over every obstacle that comes our way. Avary also does a brand of introspective, solo-boy rock that could be classified as "emo." But he wants to set the record straight. "I think there's this idea that I'm a super-happy person 24/7," he said, with a slight laugh. "That's not true." He said that his "band," the musos with whom he's been touring non-stop since February as part of the Vans Warped Tour, can attest to his less-than-sunny sides (though he didn't provide details). Plus, all of the music that he says inspired him — Nirvana, Smashing Pumpkins, Weezer — wouldn't qualify as anything other than dour and cynical. "But one of the main reasons I became a musician is to try and bring hope to people, to inspire them that they can get through the dark times," he said. "Maybe that's clichéd — I don't know. But we have an insanely loyal fan base in a lot of cities. They come out and sing along with every lyric. I'm very grateful."
It just so happens that The Rocket Summer's major label debut, Do You Feel, on Island/Def Jam Records, strikes a graceful balance between faith and doubt, love and disappointment, celebration and criticism. Though occasionally cluttered by somewhat conflicting sounds, like classical piano with ragged guitar and arena-rock drums, all 13 tracks nevertheless manage to present Avary's takes on the sweet and the sour of life with impressive clarity. And by the way, he played almost every damn instrument on the disc himself and co-produced the thing. Helping out behind the boards was Jim Wirt (Hoobastank, Incubus). When Avary was in high school in Grapevine, he daydreamed his way through every class until the bell rang and he went home, put on his Walkman, and played along to drum or guitar parts. He says his music obsession happened almost overnight, when he still wasn't old enough to drive. "I think my parents were nervous," he said, "because I changed so quickly. Plus, I'm sure my versions [of Nirvana and Smashing Pumpkins songs] were pretty awful, so that gave them a more demented edge."
Thanks to airplay on The Edge's Adventure Club, Avary began to play North Texas clubs and house parties. Before long, he signed a two-album deal with the indie imprint The Militia Group. They sent him to shows in Europe and Japan, and the natives ate up his good news. (Avary is Christian but not a spiritual exhibitionist — he doesn't neatly fit into any Christian-pop genre.) Avary's sense of mission, he said, was forged in some tough personal times. "I don't really like to discuss it," he said of a particularly painful time during his teenage years. "But I wound up in the hospital. I was afraid I was going to die, and then I was afraid I was going to kill myself. I feel like God rescued me from a sinking ship. So I want to share that." It was after a few years of hardcore touring and modest success as an indie artist that Avary signed his multi-album contract with Island/Def Jam. Of course, he was a bit nervous. He'd heard the stories of North Texas acts that got signed and then weren't promoted or discovered via the internet that they'd been dropped. But Avary jumped in, and so far — so far, he stresses — the experience has been positive.
Avary said he was sort of floored after he'd inked the deal. "They asked me to record three new songs, which I did. Then they told me to go into the studio and record an album, and I did, and they really liked it. They didn't ask for big changes.
"Wirt," Avary continued, "was more like a coach, pushing me to sound better than I would've pushed myself but always being easy to work with." You can almost hear Avary crossing his fingers across the phone as he says, "So far, so good. We'll see. If Do You Feel doesn't sell, maybe they'll put more heat on me." Right now, he's psyched. He's got a big, comfortable tour bus, a talented backup band, a tour manager, a sound-check guy, and a guitar tech, and he'll be on the road until December. And for the moment, he's been given the creative freedom to continue spinning his wall of happy-with-tinges-of-melancholy sound. "I really feel like I've been blessed," he said. "My situation feels so different [from other artists]. There's this fairly well-known national band from Los Angeles that I've run into at parties. Their c.d. was released the same day mine was. But their label made them re-record the album three times after they thought they'd finished it."
Then you can almost hear a shudder across the cell line as he ponders his own future potential fortunes and pitfalls. "We shall see," he said, with a nervous laugh.