Angela Smith thought she was doing a pretty good job as the executive director of the Tarrant County Housing Partnership (TCHP), a nonprofit housing agency that provides assistance to low-income families.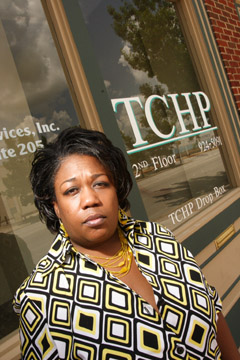 The federally funded agency had seen its share of rough times. A former agency official had been accused of stealing, though the allegations were never proven. Smith became the first African-American woman to hold the organization's top staff position. The early days of her tenure, in 2004, were marked by turmoil, as she and her staff tried to recover from the damage caused by years of what she characterized as mismanagement. But on her watch, she said, the TCHP survived. In fact, in the last couple of years, the organization appeared to be turning a corner, which is why it was so baffling to Smith when members of the board's executive committee showed up in June with an armed police officer and fired her and her assistant, Yolanda Coleman. Another employee, Chris Breland, was put on administrative leave.
Smith and Coleman said that none of the three had ever received any formal disciplinary action, and none were given a satisfactory reason as to why they were being fired or suspended. The two said they were told only that they had been accused of nepotism (although none of them are related) and that the matter was not up for debate. They did have a few things in common: All three are African-American, and all were at odds with another staff member who they believe has an unusual amount of sway with the board. In one move, the TCHP board had cut its staff almost in half, simultaneously — though temporarily — purging the non-profit of all its black employees and some of the key figures who had been there during the group's recent turnaround.
Both Smith and Coleman are suing their former employer for wrongful termination. In a press release, the two claim their termination was racially motivated and called for the TCHP board to be dissolved "so a more cohesive and tolerant board can be appointed." When Smith initially took the reins of the TCHP, the state of the organization was "just horrible," she said. "I uncovered a lot of little things when I first came on: how they handled estimates, how contractors subcontracted, and they were not following federal guidelines. In October 2005, the company was considering letting two people go because we just weren't doing well financially. We were one step from shutting the doors. We had to pay back $100, 000 to previous buyers because we didn't give them as much of a discount as we should have. "But a year later, we were back on track, receiving more funding, and things were looking OK," she continued. "By late 2006, we got another grant, which I wrote, and we received about another $750,000 in grant dollars to continue. That helped us keep the doors open."
The numbers appear to back up her claims. According to TCHP records, the grant money that the organization received hit its low ebb in 2002 at $166,000. During Smith's first year as director, in 2004, that number ballooned to $751,676, and by 2006, it was almost $1 million. The number of families that the nonprofit has helped through counseling and down payment assistance has also been on the rise. In 2005, they helped around 270 families, and the following year, they raised that number to 385 families. By June of 2007, the TCHP had already assisted more than 400 families and was on a trajectory to almost double the 2005 numbers. As the number of people they assisted went up, so did the group's federal funding.
However, as the cash rolled in at a greater clip, Smith and Coleman said, the fallout from what they characterized as the pervasive mismanagement of their predecessors began to take a toll on the small staff. The pair allege that as they tried to clean up the financial mess, they uncovered evidence of widespread problems. Both believe that they might have been close to uncovering even deeper problems when they were fired.
The TCHP board refused to comment on the matter, saying that doing so might compromise the pending legal case. But the board did release a statement that strongly denied Smith and Coleman's allegations, calling them "fabrications." "The board of directors unequivocally denies all claims alleged to the Fort Worth Weekly by said individuals," the statement said. "We are confident in our course of action and are moving forward." An internal document that outlined the 2006 goals for Smith says that she met or far exceeded most of the objectives that the board set for her. The Texas Workforce Commission determined her dismissal was "for a reason that is not misconduct connected with work." So Smith believes that the decision was based, in part, on her rocky relationship with Robert Ausman, the organization's controller, who oversees accounting for TCHP.
According to the two former employees, Ausman's attitude toward them became increasingly threatening. "He was always making comments about how he got the last two directors fired," said Smith. In one incident, she said, "He wrote a check to our insurance company for $15,000 for a bill that was $500. I caught it before he messed up payroll." If the $15,000 had been paid out, she said, the agency wouldn't have been able to make payroll. Fort Worth Weekly has obtained dozens of examples of bounced checks, insufficient funds notices, past-due bills, and documented disciplinary action that had been taken against Ausman. Ausman referred questions to another TCHP official, who declined to comment. "He was the accountant, so he was writing the checks and printing the checks and allowing financial numbers to be presented to the board incorrectly," said Coleman. "When I mentioned [the irregularities] to the board, they basically told me that it was none of my business and there was nothing to debate."
The conflict came to a head, the women said, when Ausman charged at Coleman with a stack of files, and then, in what Smith took to be an attempt at intimidation, repeatedly opened and closed a pocketknife while she was attempting to take disciplinary action against him for his alleged assault against Coleman. "I filed harassment charges with our human resources department on him," said Coleman. "When she [Smith] went to the board to complain about him, they told me to give him three more months [to improve his performance], and they'd revisit the issue. That was in July [2006] — they have never revisited it." According to TCHP's written statement, Smith and Coleman never reported any such incidents, and nobody remembers them happening. "There is absolutely no evidence nor does anyone have any knowledge that such an incident ever happened," the statement said. "Nothing is contained in anyone's personnel file, nor has any such allegation ever been brought to the attention of or eluded [sic] to the board by anyone."
The board took no action against Ausman, who, Smith and Coleman claim, holds an unreasonable amount of influence with the board. Smith said she, on the other hand, was micromanaged and felt handcuffed by both the board and Ausman. The controller served as interim director after Smith was fired. Smith characterized the board overall as alternately apathetic and overbearing. She said several board members never show up for meetings. The Rev. Nehemiah Davis, who served on the board for eight years, said that he had not heard about the dismissal of Smith and Coleman, but also told the Weekly that he didn't know them — although both were on the seven-person staff while he was on the board. He characterized the nonprofit as stable and organized but would not comment specifically on the firings. He contends that the board plays a very active role in the direction of the TCHP. "Everything came through the board," he said. "The board really runs the organization." He went on to say that the nonprofit had never experienced the type of turmoil that Smith and Coleman describe and that the TCHP "was doing well financially" during his tenure.
Coleman believes that there is a fundamental disconnect between the board and the people whom they are purporting to help. "These people just don't want this program to work; they don't want to have a program like this," she said. "They don't believe that there is a need, but this is a necessary organization in Tarrant County. We assist a lot of people. The year before last we built 12 homes in Arlington and helped 12 families. We distributed over $400,000 worth of grant money that we received." One grant, she said, was increased from $350,000 to $450,000 "because of Angela's leadership. She was constantly growing our organization." Breland has since rejoined the staff and could not be reached for comment. As for Smith, she wants to make sure that no one else has to go through what she's had to endure. "This is injustice, and it has to stop," she said, "because the next person shouldn't have to work in fear."