After watching Harold and Kumar Go to White Castle for the 11th time, I had high expectations for the new Krystal Hamburger that opened just east of downtown a couple of months ago.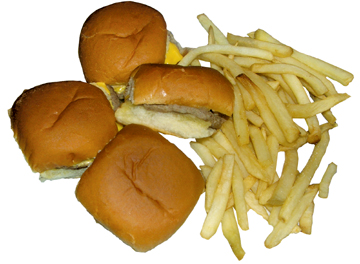 Maybe, um, too high. But it's impossible not to compare the star of Danny Leiner's 2004 movie to Krystal, a Chattanooga, Tenn.-based chain that also is open 24 hours a day and that also serves tiny, square hamburgers. The cult movie is about two college students who get stoned and crave White Castle, and their obstacles are so myriad and numerous that reaching the chain burger joint becomes like finding the Holy Grail. I assumed that my trip to Krystal would bear the same fruit. I was wrong — possibly because, unlike Harold and Kumar, I was sober. Walking into Krystal is pretty much like walking into any other fast-food restaurant in the world: bright colors, incredibly businesslike employees, the aromatic scent of boiling grease and Formula 409 wafting through the air. While other fast-food chains have struggled to make their joints look more like real restaurants, Krystal has gone in the opposite direction — their place is so old-school that as soon as I walked in, I wanted a Big Mac. I guess that at some recent point fast food became (gulp!) comfort food. I ordered the No. 1 combo, Krystal's take on the old standby of burgers (four of 'em — they're tiny, remember?) and fries.
I'm not sure what was between the buns, but it was bizarre and tangy. The meat — and I'm using that term loosely — was thin and flabby. The buns were slathered in a mustard-onion-and-pickle combo that singed my tongue as forcefully as cough medicine. I read on the internet that hot-dog-eating champion Takeru Kobayashi once ate 97 Krystal hamburgers in 12 minutes. I couldn't eat two of them in 30.Before I left, I noticed that on my box of fries was a story about how a U.S. soldier on leave from Iraq brought her platoon a bunch of Krystal burgers and then won the war. Now feeling unpatriotic, I vowed to return. But this time, I would be prepared. The reason I decided to try Krystal in the first place is that all of my friends kept telling me what great "drunk food" it is. Why go there as a sober person, I thought, when sober people apparently aren't even Krystal's target audience?
So after a night of boozing not too long ago, my designated driver and I headed to the Krystal on Beach Street. The dining room was closed; only the drive-thru was open. Disheartened but not defeated, I ordered — the chicken sandwich, which arrives as three tiny ones. When it arrived, I hunkered down on the concrete steps in front of the restaurant next to two employees on smoke-break. The chicken reminded me of hearty middle-school cafeteria fare. Like the burger, the chicken sammy was also steamed, but, instead of mustard, onion, and pickles, it came with a mayo-pickle blend that tasted and looked like tartar sauce. All in all, it was a pretty good experience — granted, I was buzzed, it was 1:30 in the morning, and I hadn't eaten since lunch. As I sat there eating my food and chatting with the two smokers, a "lady of the night" approached and asked if any of us wanted some company. Harold and Kumar got to hang out with Neil Patrick Harris on ecstasy; I got two burned-out though very funny and nice Krystal employees and a streetwalker. I'm going to White Castle next time. Now, if someone would only point me in the right direction …