Get Well is an unusually health-conscious — and healthy-sized —band.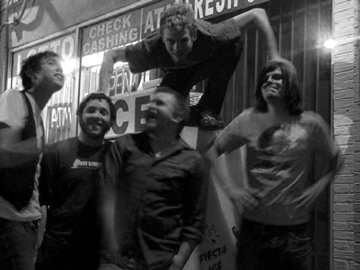 There are six people in the group, and they all generally dig one another. Before they decided on the name, guitarist Jason Travis' mom explained to her son that drug addicts use the term "get well" to mean "replenish their supply." But, no, the guys chose the moniker to represent their intention to heal others through the power of music — and they mean it. Though the sextet has been together for only about two years, they're already headlining shows. There are two main reasons: 1.) The sound, incorporating elements of funk, jazz, soul, and indie-rock, is wildly diverse, and 2.) Soon …, the band's seven-song e.p. released in the spring, is pretty spectacular.
Travis and his friend, drummer Chris Neal, started Get Well in the upstairs gallery of West Berry Street's Panther City Coffee, a joint owned by Travis' family. Bassist Eliot Arriaza was soon brought on, and when the need for a frontman came along he suggested his roommate and childhood friend, E.J. Brown. When Brown came to practice and imposed his flowing, hip-hop-style delivery over Get Well's taut melodies and rhythms, Travis knew. "It just felt right," he said. As the music evolved, the bandmembers calmly embraced the momentum they were feeding and remained levelheaded about the successes achieved in such a short span of time. "We keep it as organic as possible," Travis said. "The whole idea … is everyone doing their part of a bigger puzzle. We all know we have to work together."
"Together" is an expanding concept for them. After Neal left the group due to time constraints, Brown recruited Cory Cross, one of the singer's co-workers at an area pizza parlor. To temper the band's hearty, hip-hop- and reggae-infused funk, a fan named Landon Cabarubio offered to contribute some keyboard action. Brown, feeling somewhat constrained by his vocal limitations, gladly embraced help from a couple of guest vocalists. Get Well also stirs into the mix the handiwork of sax players Bryan Battson (ex-Confusatron) and Jeff Dazey (Villain Vanguard). Stream-of-consciousness spoken-word poet Quincy Miller is another new addition. "I genuinely like these people," Miller said. "I'd known them for a while. When I finally heard them, I was surprised at what they were doing. … We have a generally good feeling."
Although Get Well aims to motivate fans into some "bouncing, jumping, and bumping," the band also allows Brown to use the music as a vehicle for his convictions. He sees music as a tool to open minds to nonconformity — his words, he said, could "cut off the pegs of the social ladder with a chainsaw." The band defies easy categorization. While in the studio getting ready to record Soon …, the guys say they had a vision of how their diversity would take shape on disc. Opting for nearby First Street Audio and producer Bart Rose was a blessing. Soon … ended up even better than the band had hoped. Rose "is awesome," drummer Cross said. "He understood what we were doing better than we did. He took it over and did it right."
They originally planned to record in three days, but the process got more intense, moving band members to make pleas to family and friends for financial support. Supporters complied, giving the musicians three extra days to sort out the music's inherent intricacies. During the recording process, Brown realized that his natural voice might not be able to do justice to what he was imagining some parts should sound like. "I was sitting outside of First Street, feeling down about my singing voice," he said. "I wanted something better. Yendor Reese [former frontman of the local band RedTape] was walking by, on his way to the bar. He gave me advice, then offered to sing on the recording."
The track that Reese sings on, "Fighting," is full of his soulful falsetto crooning and a call-and-response between him and Brown. Reese sings, "Do you know what you're fighting for?" And Brown says: "No one needs this fucking drama / Love is supposed to set you free." Every member of Get Well believes that being in the band has helped him grow, even if growing means being freed from a desire for the spotlight. Travis retired his self-proclaimed juvenile obsession of "being the focal point." Now he favors inspiring his band. He thinks that he and his mates might be on to something big. "We feel energy playing off and feeding off each other," he said. "We make each other better people through music."
 Get Well
Fri, Aug 24, at The Rockyard, 2525 Rodeo Plaza, FW. $8.
817-624-8888.