What do you do when you're a 17-year-old young woman, you haven't graduated high school yet, and your talent is compared to that of Norah Jones and Lee Ann Rimes?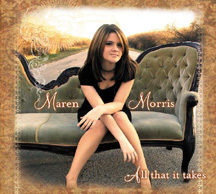 According to Maren Morris, the singer-songwriter with abilities beyond her years, you deliberately put those comparisons out of your mind. "There's nothing more I can do than I'm already doing," said Morris, who's been performing in clubs, festivals, and contests in the North Texas area and beyond since she was 10. Jones and Rimes are "amazing," she said. "But I'm not them. I can't let myself feel the pressure to become [like them]." A smart decision but one that's easier to declare than to live out, especially since so many adults, including her father and business manager Scott Morris, are betting that young Maren will follow in the footsteps of other youthful, attractive, and inordinately talented female musicians from this part of the world. The plan: Get lots of local and regional exposure, bag a major label deal, and then bypass the moronic American Idol meat-grinder to establish an enduring reputation among music-buyers and concertgoers.
A native of Grand Prairie who recently pulled out of Arlington's Bowie High School to earn her degree via a state home-schooling program, Morris is well aware that she's being watched. But she's not skerred. Her soft, high voice surprises the listener with its rhythmic sophistication, its ability to bend and break notes, and its sheer adaptability to country, roots-rock, and blues stylings. On her new album, All That It Takes, due out this week, she transcends the fancy-formal countrypolitan sound of her 2006 debut Walk On to touch on many genres while remaining firmly in the middle of the country-rock road. She sounds simultaneously confident and stranded, in a weird, commercially conscious limbo. When she speaks, Morris, not surprisingly, sounds as if she's still trying to wrap her head around the possibilities before her.
"My heart will always be in country music," she said. "I love musicians like Patti Griffin who're great singers and great songwriters. To me, songwriting is the ultimate art form, even more than singing. But if you can do both, that's a real artist: expressing your own words in your own voice."
Morris may hold singer-songwriters in high esteem, but she also appreciates artists who aren't afraid to sing other people's stuff, like Bonnie Raitt and that iconic, blues-fired volcano from Port Arthur, Janis Joplin. In fact, every time Morris writes a new tune, she hands it to her lead guitarist and co-producer Taylor Tatsch for inspection and advice. In her live sets, she also often includes a smoky version of Albert King's "Stormy Monday." So does Morris ever want to cut loose from her studio work's gentle, folksy-funky rhythms and blast out an album's worth of pure Texas blues? "I've never thought about doing a [pure] blues album, but that's interesting," she said. "Part of me is afraid, I guess. I mean, you can't just walk through [a musical genre like] the blues. You have to live it. I am only 17 years old," she said, with a chuckle.
Still, Morris is a veteran, of the studio, the club scene, and even the road. Last summer she played several events in and around London, all paid for by the publisher of Britain's Americana-lovin' rag Maverick. Her trip also included being interviewed on BBC Radio. She is currently in the middle of a radio-promo tour across Texas and Oklahoma in support of All That It Takes, chatting and performing a song or two live with her acoustic guitar in broadcast studios. The new album has been picked up for international distribution by Fort Worth's Smith Music Group, a label based in the Stockyards that specializes in so-called "Red Dirt" artists like Stoney LaRue and Cross Canadian Ragweed. "I was surprised [about the Smith Music deal], because I'm not really part of the 'Red Dirt' scene," she said. "But I have grown up around that music. When I'm writing a song, I don't think, 'Is this country or blues or rock?' I just write it, and then I sing it the way I think it's supposed to sound."